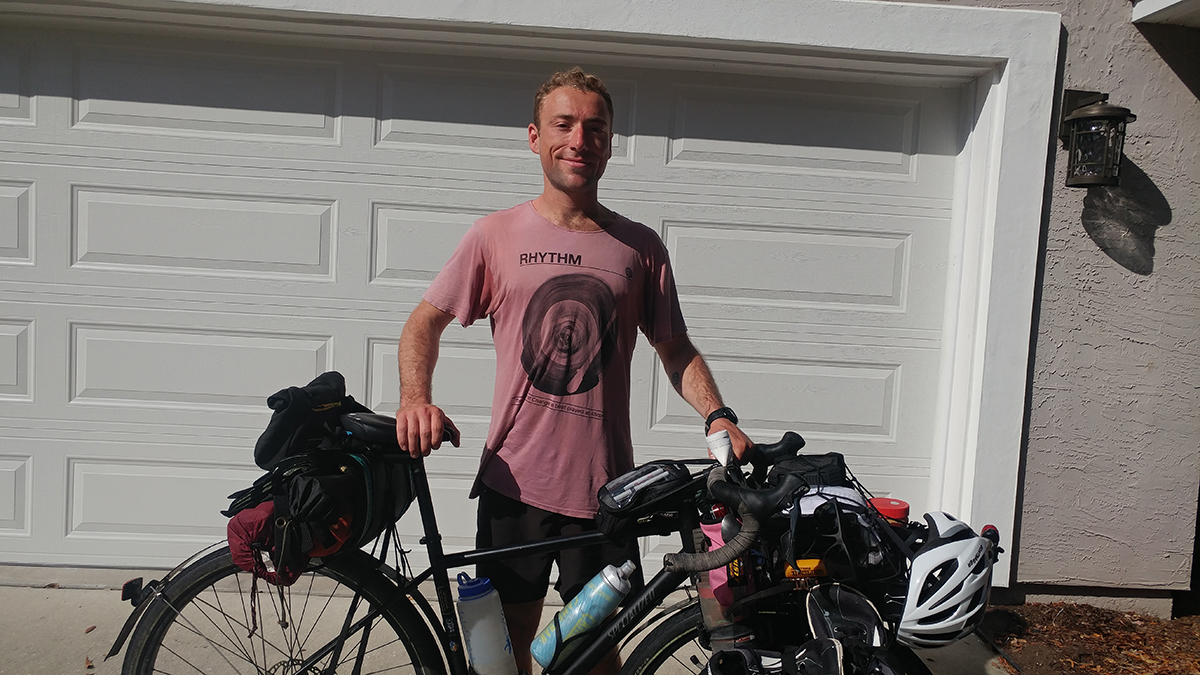 Editor's note: This is a guest article.
WILMINGTON — By March 11, the coronavirus was dominating headlines across the globe. However, Wilmington local Calvin Daughtry was not fully aware of the situation. 
That's because March 11 was 24-year-old Daughtry's 44th day on a bike ride across the United States. At the time, he did not have a functioning phone or computer. 
Riding his bike across the country was a life-long dream for Daughtry that he did not give up on easily. Even when he didn't fully understand why food was disappearing from the shelves, and why everything was starting to close, he kept pressing on. It wasn't until days after the pandemic ground American life to a complete halt that he understood the gravity of the situation and decided to navigate his way home to Wilmington. 
"In the last 15 years, I have never seen someone doing it like he was doing it," David Howell, Daughtry's mentor and veteran long-distance cyclist, said. Howell is father to one of Daughtry's close friends, Meghan Howell, and coached him across the country.
Daughtry left Wrightsville Beach with only the camping equipment that fit on his bike frame on January 28 — two days before the World Health Organization (WHO) declared a global health emergency. Daughtry started heading south on Route 17 and made it as far as St. Augustine, Florida before he started peddling west along highway 90.
Daughtry depended on the kindness of strangers through an online community called Warmshowers.org for shelter almost every night. The community connects cyclists "on tour" with members willing to host them. When he met his hosts, Daughtry said, "I would dazzle them with my good charm and good smile." 
Daughtry's goal was to reunite with Howell in San Diego then take a train back to Wilmington in time for Wrightsville Beach lifeguard tryouts in mid-April. However, things changed when he spilled coffee on his phone on his way to Tallahassee.
"I was so glad when I didn't have my phone. I felt lighter," said Daughtry. The lack of a phone forced Daughtry to rely on internet access in public libraries for navigation and to find a place to stay through warmshowers.org, but he enjoyed the freedom of not being connected to media. 
However, his limited connection to the world became dangerous as the coronavirus began to seep its way into the country. 
Two days before President Trump declared a national emergency, Daughtry arrived in Austin, Texas, to stay with a college friend, Parker Navarro. Before arriving at Navarro's doorstep, Daughtry had crossed two-thirds of the country and took several social bicycle rides — that often exceeded 100 people — all while living a lifestyle inconducive to safe hygiene.
"I was worried about him coming into my house," Navarro said. "If anyone was going to give me COVID-19, it would be Calvin." 
Navarro was worried about the coronavirus and even canceled plans to travel Nashville that weekend. Although Daughtry knew the virus had entered the country, he was not paying it much attention. "He didn't seem concerned," Navarro said. "He was still talking about taking a train back home when he gets to San Diego." 
"At the time, I had heard what was going on then," Daughtry said. "But I had a feeling they were going to close public places soon." 
Before leaving Texas, Daughtry managed to get his phone repaired and listened to his favorite podcasts for the first time in weeks. "It was an information dump, learning what was happening all over the world," said Daughtry. "Throughout the day, the loss of life was dawning on me." 
However, as he peddled across Texas, the tailwinds at on back inspired him to keep going. 
Daughtry's initial concern was finding food. On average, he was cycling 6 hours a day and had to eat roughly 4,000 calories. He was only able to carry three days of food and one day worth of water at a time. But as Daughtry learned about the developing situation across the country, his concern deepened.  
"First, I thought about making it to the West Coast without any personal contact. I even thought about just sheltering in place in, in a cave, or something in Big Bend until things cooled off," Daughtry said. "Everyone was talking about sheltering in place, which was hard, because I didn't have a place."  
In San Diego, his mentor Howell was getting concerned. "I was worried since he was utilizing the warm showers program," Howell said. "During the virus, no one would want to take him in." 
Once Howell got on the phone with Daughtry, he confirmed Daughtry's suspicions and said it would be best if Daughtry returned home. 
Daughtry made arrangements to have his bike shipped back to Wilmington before spending one last stormy night on the road. 
The next day Daughtry boarded a Raleigh bound flight from Del Rio, Texas. He carried nothing on the plane but a change of clothes, his toothbrush, three apples, and his swim goggles for lifeguard tryouts to be held the following month.
---
Colin Kern is a freelance writer and journalist from Wilmington, NC who works in Brooklyn, NY. Colin is a graduate student at the Craig Newmark Graduate School of Journalism at CUNY where he is currently reporting on life in New York City during the coronavirus.