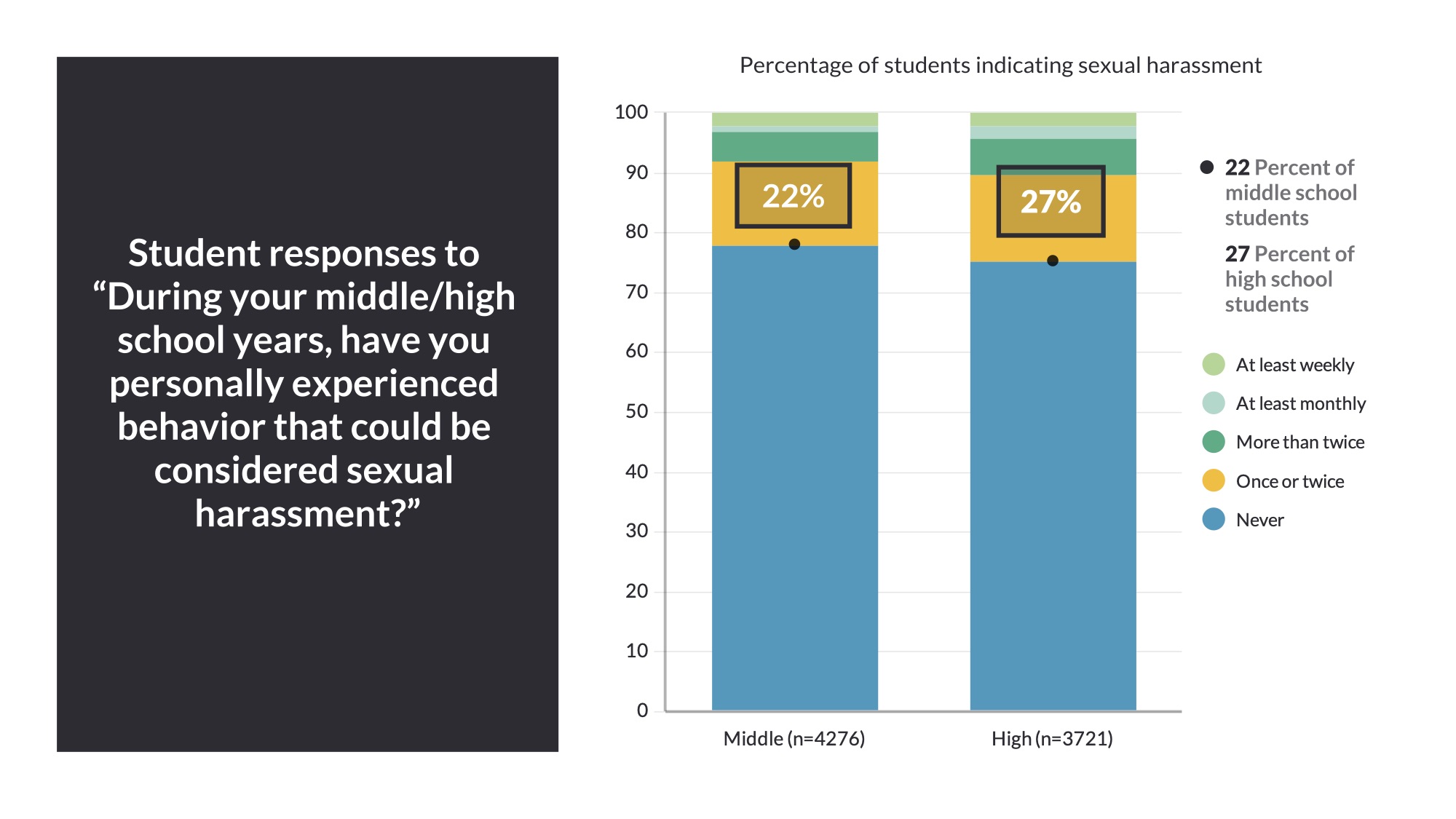 NEW HANOVER COUNTY — The results of New Hanover County Schools' long-planned Title IX survey are out, and while students' responses did not shock the district (or its expert consultant), the answers are unsettling.
Twenty-two percent of middle-school and 27% of high-school respondents reported having endured sexual harassment before. The survey provided a "textbook definition" of sexual harassment, described in a range of ways but including unwelcome advances, from touching to offensive flirtations to pressure for sexual activity.
The New Hanover County Board of Education reviewed the results Tuesday night. Data analyst Christopher Kolar, who has experience in Title IX issues, was brought in to consult on the survey. The seven-page questionnaire was distributed in November.
"These trends and patterns are not unexpected," NHCS Title IX coordinator Jarelle Lewis said following Kolar's presentation. "New Hanover County Schools has definitely been doing things to try to combat some of these issues proactively."
Here are some of the findings:
6% of students do not identify as male or female
Of the district's 13,907 middle- and high-school students, 8,046 submitted "valid responses" to the survey, a participation rate of about 60%. Respondents were 3,500 females and 3,894 males.
Nearly 500 students were of another gender identity. That's over 6% of surveyees.
"I don't know if that's a surprise or not," Kolar said. "One of the things that's really exciting the first time you do a survey like this and try to measure climate is that you find out things that you didn't know."
Students were given the option to identify as TQQIA+, which includes: transgender, genderqueer, questioning, intersexual, asexual, two-spirit or other non-conforming identities.
Kolar said only a few submissions were scrapped because of facetious answers; otherwise, it appeared students took the survey seriously. Even though the surveyees were also able to skip questions or stop answering as they pleased, 92% who started the questionnaire followed through. Parents also were informed of the survey and could opt their children out, according to the presenters.
The rates of sexual harassment are 'troubling'
Broken down by gender, in middle school, 14% of boys, 26% of girls and 29% of transgender and gender-nonconforming students reported experiencing behavior they considered sexual harassment, based on the definition given.
In high school, the differences were more pronounced, Kolar noted. Nearly half of the transgender or gender-nonconforming students, 35% of females and 10% of males reported sexual harassment.
In most cases, the incident happened only once or twice. Some students did report the behavior occurring three or more times, at least monthly or even weekly.
"The distributions are in line with what I've seen before, but these are definitely troubling numbers," Kolar said.
Most sexual harassment goes unreported
Follow-up survey questions gauged how well the school support systems worked for students. About a quarter of middle-school students told an adult at NHCS about their experience, which leaves three-quarters of sexual harassment cases "off the radar of any kind of official reporting mechanism," Kolar said.
The likelihood one would report such behavior diminished even more in high school. Only about 15% of students who reported enduring sexual harassment said they told an adult.
"This is not surprising to me, but it's not very good," Kolar said. "It's telling you the students are not really comfortable coming forward and raising this as an issue."
Kolar stressed the district must be upfront and transparent about what a Title IX complaint entails. He also saw a need for improved trust between students and staff, to reduce the fear that reporting would only exacerbate a bad situation.
Those who did tell an adult were asked how comfortable they felt throughout the process. Of 184 middle schoolers and 98 high schoolers, 13% of middle-school students and 21% of high-school students were "not comfortable at all." Twenty-one percent of middle schoolers and 11% of high schoolers were "very comfortable."
"The degree to which that's ever a comfortable conversation is probably very low," Kolar said. "But what this is telling me is that the staff who were contacted, handled it in a way that the student felt like it was a good exchange or experience."
Students are either afraid to report or have normalized sexual harassment
The survey also questioned why students chose not to report inappropriate behavior. Most said they didn't need the help, leading Kolar to believe they either didn't deem it serious or felt capable of navigating the situation independently. Otherwise, students most commonly opted out of reporting to avoid unwanted attention or retaliation, the report shows.
"Some of the kids wrote in the margins, 'I don't want to be a narc,'" Kolar said. "Part of this is the social pressure to not call people out who are doing wrong things."
One hundred fifty-five middle schoolers and 151 high schoolers said the behavior was "all in good fun" and playful, and 109 middle schoolers and 177 high schoolers said it was "just normal." Kolar said it will take programming for staff and students to counter these views.
'A significant cultural issue': TQQIA+ students, females face high rates of gender-based harassment
The survey also asked about gender-based harassment, described as unwelcome conduct based on sex or a failure to conform to stereotypes.
In middle school, 73% of transgender and gender-nonconforming students felt harassed over their gender. In high school, 60% of the TQQAI+ population had at least one experience.
Almost 40% of female students reported that type of misconduct in high school and over 20% did in middle school, while males were less likely to report such an experience, at 14% in middle school and 11% in high school.
Kolar called this a significant cultural issue. In the case of gender-based harassment, the report revealed students were also unlikely to come forward, especially in high school. The reasoning to keep the information to themselves came down to concerns of confidentiality and fear of retaliation.
Still work to do
Kolar said it's important to address these issues since sexual harassment and gender-based harassment acts as "a multiplier for the odds of students committing suicide."
For now, Lewis said NHCS has taken steps to correct these issues. It is establishing training for staff and operates two reporting systems, including Say Something and Ethix360. Students also go through programming related to Title IX issues at various points in their education.
Middle schoolers are delivered the "Shifting Boundaries" program, which addresses attitudes and behaviors associated with bullying and harassment. In high school, students in health class undergo the "Bringing in the Bystander" curriculum, which promotes self-advocacy to prevent sexual and interpersonal violence and harassment.
"Safer, Smarter Kids!" — an abuse prevention program — is on the way for elementary schools.
"We can always utilize more, but we do have some [programming] and will continue to review the effectiveness and any modifications we can implement," Lewis said.
The Title IX Committee will review the survey more in-depth at its next meeting on Monday, Feb. 21.
Review the summary of the results here.
---
Send tips and comments to alexandria@localdailymedia.com