UNCW's senior economist says the best greater Wilmington can hope for in this slow-plod economic recovery is that the unemployment rate has peaked out, and won't incline over the next year.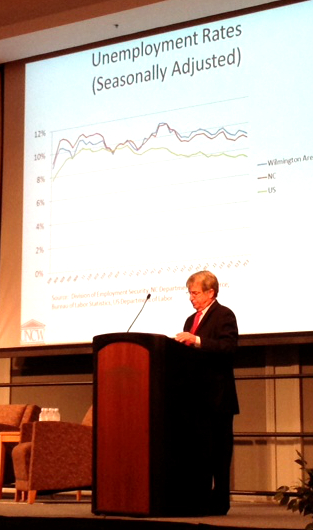 "The good news is, if there is good news here, is that the unemployment rate has been declining since the third quarter of 2012," Woody Hall of UNCW's Cameron School of Business reported during his annual economic outlook, delivered at the university Thursday morning.
The latest available jobless rates, not seasonally adjusted, are from August and show New Hanover County's rate that month at 7.9 percent, a 1.2 percentage point improvement over the year. Brunswick County's rate was 8.7 percent and Pender County's was 9.4, both being reductions.
Recent story: Jobless rates decrease locally and across state
But the economy might not grow briskly enough for meaningful declines in unemployment. Hall has projected the Wilmington area–inclusive of Brunswick and Pender counties–will experience 2.5 percent economic growth in the next year.
That's just shy of the rim.
"There's a magic number out there of 3 percent. If history repeats itself, the economy needs to grow about 3 percent per year, real terms, in order to keep the unemployment stable," Hall told about 200 attendees at UNCW's Burney Center. "So I think the best we can probably hope for is that the unemployment rate has peaked out, will not increase over the next year, will not increase over the next 18 months."
A release from UNCW summarizing Hall's 2014 talk said it may be the first year since 2010 that this area's economy matches the national growth rate. It's expected to rise by 2.3 percent.
"On the downside," the release said, "the Wilmington area unemployment rate has been above 8.5 percent since year-end 2008. This is the longest period of time that the rate has been this high since the mid-1980s."
Hall said Thursday the recession-high unemployment rate for New Hanover County hit in August 2011 at 10.5 percent.
Brunswick County's hit in October 2009 at 11.9 percent.
Pender County's was in September 2011 at 13 percent.
North Carolina's recession high was 11.3 percent in October 2009, the same time the nation hit its peak of 10.1 percent.
Hall said time will reveal the accuracy of his 2.5 percent growth projection for 2014, here; on that note, he referred to the projection he'd cast for 2012.
2013 is forecast for 2 percent growth, he said, on level with 2012's actual rate.
His forecast for 2012, he said, was 1.7 percent growth.
"So we missed it by 30 basis points," said Hall, "and that's about the spread between a 20-year and 30-year treasury bond, which is not too bad, at least in this particular type of environment."
He said his economic reports would be available soon at csb.uncw.edu/cbes/newsletter/index.htm.
Ben Brown is a news reporter at Port City Daily. Reach him at ben.b@hometownwilmington.com or (910) 772-6335. On Twitter: @benbrownmedia