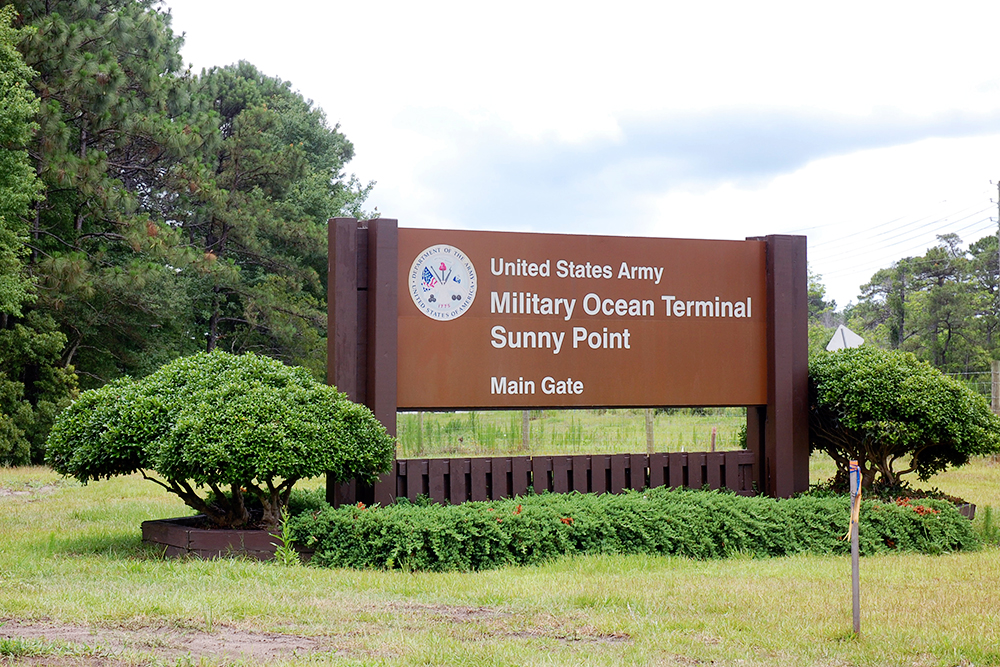 SOUTHEASTERN N.C. ––– Local governments are poised to renew an endeavor to be better neighbors to the largest munitions terminal in the world.
In the summer of 2019, consultants wrapped a years-long joint land-use study (JLUS) focusing on a 3-mile radius surrounding the base at Military Ocean Terminal Sunny Point (MOTSU) and a three-quarter-mile buffer area straddling its rail line.
RELATED: Rezoning case presents 'lesser of two evils' as development density surrounds MOTSU property
The JLUS involved the coordination and participation from two counties and five municipalities that fell within the study area: Brunswick County, New Hanover County, Southport, Leland, Boiling Spring Lakes, Carolina Beach, and Kure Beach.
Soon, the local governments will resurrect the JLUS policy committee, formed while the study was still underway. With new appointees from each local government, officials are forming a new MOTSU Intergovernmental Council.
"The new name is just an opportunity to reflect that the group's purpose is evolving," said Allen Serkin, Cape Fear Council of Governments director.
A neighborly council
For the most part, activity within the local municipalities has grown at odds with the military's mission. Nestled amid 8,600 acres on the west side of the Cape Fear River and a 2,000-acre buffer zone on the east side in Pleasure Island, MOTSU sought to be the safest operational environment for handling hazardous cargo when it was first constructed in 1955, designed with the 1944 Port of Chicago disaster in mind.
Even with lush buffers on either side of the terminal, MOTSU's positioning within the fastest-growing county of the past decade is less than ideal for its mission. Over the past couple of decades, densely packed development has crept closer, even butting right up against the 16-mile rail line.
Aside from development, MOTSU has security concerns, with nine rail line crossings. In all, the military came up with 53 recommendations from the study, most centering around enhancing security and reducing public access and/or density surrounding its assets.
In the JLUS process, MOTSU representatives acknowledged the base's covert presence in the region and committed to conducting more public outreach; at the same time, they aired concerns about local governments ignoring a 5-mile statutory notice requirement for land-use changes near its rail line and base.
One of the recommendations out of the JLUS requested the formation of an "enduring regional organization" that would provide a "forum and advocacy group" for civil-military relations. The recommendation proposes to hold annual command briefings and offer tours of MOTSU to new local elected officials and sitting state and federal legislators; hold semi-annual meetings with senior administrative staff; create a website for MOTSU-related public information; form a staff-level public safety committee; and extend participation to other nearby local governments.
A permanent partnership would be critical to carry out the JLUS, according to the recommendation.
The MOTSU Intergovernmental Council will comprise one elected official from each local government in the JLUS study area and an ex-officio MOTSU representative, according to Serkin. Local governments are currently in the process of identifying who will be appointed to serve on this council.
Once established, meetings will likely take place in Leland –– a centralized location for participating jurisdictions, Serkin said. Meetings may take place annually, semi-annually, or more as needed.
"We have not yet determined a meeting schedule or frequency," Serkin wrote in an email. "I do expect the meetings will be public."
The Department of Defense has awarded the Cape Fear Council of Governments (CFCOG) a grant to carry out the implementation of the JLUS recommendations. "It just provides a little funding to us to facilitate the process," Serkin wrote. In 2018, the Department of Defense granted CFCOG $270,000 to carry out the initial JLUS.
Serkin said CFCOG staff will likely participate in the venture, "but exactly how that will work is still evolving."
"We look forward to working again with the Cape Fear Council of Governments and our neighbors to implement recommendations from the JLUS," said Steve Kerr, deputy to the MOTSU commander.  
Top-line issues are still a work-in-progress. "That is something we will meet to discuss, but presumably issues of mutual interest to multiple participants," Serkin wrote.
---
Send tips and comments to Johanna Ferebee Still at johanna@localdailymedia.com