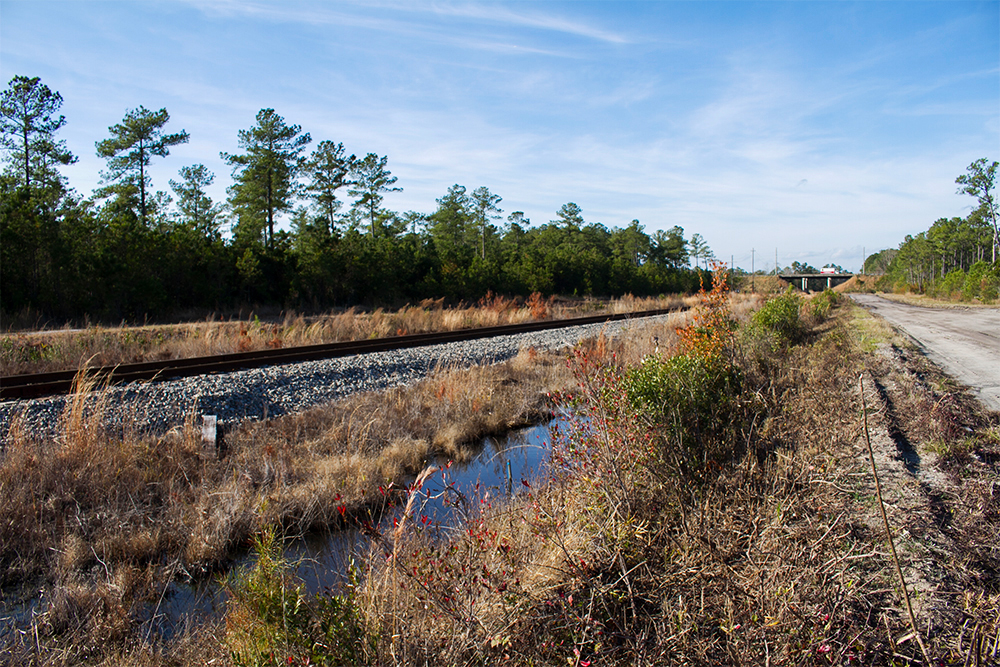 BRUNSWICK COUNTY — A new bill filed by new Representative Charlie Miller would expand Military Ocean Terminal at Sunny Point's police powers along its 17-mile rail line.
From the Leland Rail Yard to MOTSU's base on the Cape Fear River, the military's rail line crosses well-traveled roads and hugs densely developed neighborhoods.
RELATED: Rezoning case presents 'lesser of two evils' as development density surrounds MOTSU property
The rail line's physical positioning — rather, rapid development surrounding it — puts the military in a less-than-ideal position in attempting to ward off potential trespassers.
"It's dirt roads in the middle of the country," Rep. Miller said.
As chief deputy of the Brunswick County Sheriff's Office, Miller has seen reckless misconduct along the rail-line corridor. "For years, it's always been a problem with people just four-wheeling, partying on weekends at night, out in the middle of the woods."
As a primary sponsor of House Bill 386, Miller initially couched the proposed rules within a 1985 right-of-way hunting bill he now plans to scrap. Scheduled to be reviewed Tuesday by the transportation committee, the bill was withdrawn so Miller can rework and reintroduce it.
Instead of focusing on unlawfully discharging a firearm along the rail-line right-of-way, the revised bill would expand MOTSU's police powers.
"It's not really a hunting issue," Miller said. "Ain't no way I'd mess with hunting laws — I'm a hunter myself."
Limited jurisdiction
As the largest military terminal in the world, MOTSU personnel handle inbound munitions from the rail yard that are temporarily staged as they prepare for export at the coast.
Security along the rail line and base is MOTSU's chief concern. For decades, the base was protected by a civilian security guard team. The terminal hired Department of the Army Civilian Police officers in 2007 and had a fully staffed team within three years. Credentialed like any municipal police officer, MOTSU officers can enforce both state and federal law along its jurisdictional boundaries.
However, their police powers do not fully extend outside the base.
"There are aspects of the rail line that we can enforce, but we do not have full law enforcement capability out there on the rail lines," said Steve Kerr, deputy to MOTSU commander. "If somebody needed to be arrested for a violation, we did not have the authority."
These officers can, for example, write a ticket for trespassing on federal property, but can't arrest folks for breaking state or federal laws outside their jurisdiction. This gap in jurisdiction also applies to MOTSU's over 2,000-acre buffer zone in Pleasure Island, where its police force frequently patrols.
"We have authority as property owners, as any property owner would have, out there," Kerr said of the buffer zone.
MOTSU is currently awaiting one last Department of Defense approval signature before its request to expand its jurisdiction to the Pleasure Island buffer zone gets sent to Governor Roy Cooper, Kerr said.
Security along the rail
The base asked Rep. Miller for assistance in expanding its jurisdiction on the Brunswick County side of the river.
"It helps the sheriff's office when there is an issue on the railroad, or there's a problem, then Sunny Point will be able to do it and won't have to call a deputy," Miller said.
MOTSU employees have found shell casings along the rail line, where folks are known to use berms for target practice. Stray bullets present a security threat for rail traffic and personnel.
While possibly more effective, a fence isn't an immediate solution, given funding and logistical issues surrounding its nine public rail crossings. "We would love to put a fence up around the railroad tracks, but of course there's a lot of problems with that," Kerr said.
While the new rule would provide MOTSU with an extra layer of enforcement power where it's currently lacking, Miller admits it's not a major issue (a BCSO spokesperson said they've had just a few calls in the past couple of years related to four-wheeling along the rail line).
"Our whole attempt here is to do nothing more than provide us with the capability to secure and protect our rail line as best we can — as best as our assets allow us to," Kerr said.
---
Send tips and comments to Johanna Ferebee Still at johanna@localdailymedia.com
Comments