WILMINGTON — Keep New Hanover Beautiful has partnered with the City of Wilmington in an effort to curb and recycle cigarette waste in the Port City.
The goal of this program is to divert some of this waste away from our waterways, streets and landfill. To this end, the city has installed 110 new cigarette butt disposal canisters in and around Wilmington, aimed to catch the eye of smokers who may normally toss their butts aside.
"When Keep New Hanover Beautiful approached me about the program, I was quite receptive to the idea of redirecting cigarettes from the landfill," said David Ingram, City of Wilmington Solid Waste Manager.
Although small, cigarette butts contribute to a significant amount of litter. According to a study by Longwood University, because they're made of a type of plastic fiber, butts can take anywhere from 18 months to 10 years to biodegrade in the environment.
While cigarette smoking has been on a steady decline in the US for the past 20 years, North Carolina, where a significant amount of Tobacco is grown, remains a bastion for the smoking population. According to the Center for Disease Control, 19 percent of adults in North Carolina smoke cigarettes, nearly 4 percent higher than the national average of 15.1 percent.
According to Dick Brightman with Keep New Hanover Beautiful, cigarette butts are the most littered item in the world.
"During our monthly clean-ups, we saw we had a problem with the amount of cigarette butts littered around Wilmington," Brightman said. "So, we looked into options to divert this litter from our environment and our landfill."
"When these cigarette butts are thrown out, often times they end up in our waterways," Brightman said. "Fish, turtles and even pets can end up ingesting these if they're hungry enough. Not to mention, they're not doing any good sitting in a landfill."
Recycling the waste
The city will collect the disposed butts in five-gallon buckets, and volunteers from Keep New Hanover Beautiful will mail them to "TerraCycle," an international company based in New Jersey that offers a free waste collection and recycling programs.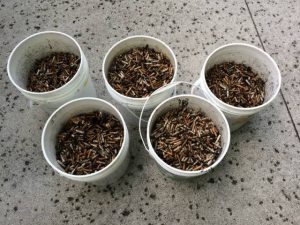 According to the official TerraCycle website, once collected, the cigarettes and packaging are separated by composition and melted into hard plastic that can be remolded to make new recycled industrial products, such as plastic pallets and building materials. The remaining ash and tobacco are separated out, and composted in a specialized process.
With each of the collected buckets weighing in at approximately 8 pounds, the "Keep New Hanover Beautiful Cigarette Litter Recycling Campaign" expects to recycle more than 2,000 pounds of cigarettes within the first year.
To put that into perspective, Brightman said TerraCycle reports each pound is approximately 1,000 cigarettes. That's right around 2,000,000 cigarettes recycled in one city, in one year.
According to Brightman, the pilot program, which has been in place the past few months, has been a great success.
If Keep New Hanover Beautiful has its way, this effort in Wilmington will be just the beginning. Talks are underway with the towns of Wrightsville Beach, Carolina Beach and Kure Beach, as well as Wilmington International Airport, Cape Fear Community College North Campus and Wilmington Downtown Inc., to have receptacles installed in those areas.
For more information on Keep New Hanover Beautiful and its ongoing projects, visit the organization's website at keepnhcbeautiful.org. To get your organization or business involved in the cigarette butt recycling program, contact Dick Brightman at knhcbeautiful@gmail.com.