WILMINGTON — A crowd of veterans, loyal service canines and supporters who lost loved ones to health hardships linked to their overseas deployment gathered along the Wilmington waterfront Thursday. In front of the Veterans Memorial, they held signs and spoke through bullhorns in advocacy for a bill that would extend medical care and compensation to former soldiers now facing health repercussions for living, sleeping and fighting near toxic burn pits.
Two Texas nonprofits — Grunt Style Foundation and Burn Pits 360 — planned the summit to raise awareness for the Honoring our Promise to Address Comprehensive Toxics (PACT) Act of 2021, which is headed to the U.S. Senate after success Mar. 3 in the House. Organizers say holding the rally in Wilmington was strategic as they look to draw in at least nine Republican senators to pass the bill.
The legislation would automatically presume 23 diseases are related to burn pit exposure when diagnosed in veterans who served in the Middle East, North Africa and Central Asia. For decades, veterans have been challenged or encountered denial of government health care assistance when fighting illnesses they believe are linked to their time in service.
After a string of heartfelt and fiery speeches, the group waited an hour for the arrival of its guest of honor: comedian and political commentator Jon Stewart. The ex-host of "The Daily Show" has ramped up his advocacy work throughout the years on behalf of 9/11 responders and veterans. Finally, after a three-and-a-half-hour choppy helicopter ride touched down in Wilmington, Stewart met the crowd and apologized for his delay. His first flight had mechanical issues.
But the irony wasn't lost on him: "You know, it's funny, I'm late. But, man, you folks are used to waiting, and we wait no more."
From there, Stewart and his strong turnout — many of whom have advocated for justice on behalf of veterans for years — walked in unison to Sen. Richard Burr's office in the Murchison Building on North Front Street, next to where Pour Taproom serves brews on the bottom floor. It's one of the senator's four offices across the state.
"Hey, everybody, here's what I did not realize: the senator's office is a taproom," Stewart joked as the crowd stopped at its destination.
There, representatives of Burr's office came down the steps, and Stewart hand-delivered papers with 17,000 signatures in support of the bill. The aides listened as Stewart put the message directly into a red and white megaphone:
"Our government poisoned our own troops. They did things that you could never do here. They dug pits, and they burned everything. From plastics to toxic materials to body parts to ammunition to weapons, and they burned it with jet fuel. I saw what that did to the first responders in New York. Ground Zero was the original burn pit."
The gaping holes are sometimes 10 acres.
"Just everything and anything that — like here, in the town of Wilmington, is segregated and safely disposed of — over there, was 24 hours of burning with jet fuel," co-founder of Burn Pits 360 Rosie Torres said in an interview.
The use of burn pits has been scaled back. From the start of military operations in Afghanistan and Iraq in 2001, up until the mid-2010s, it was common for troops to inhale these toxins constantly where they were based. After returning home, many realized they were suffering from aftereffects and developed rare cancers and illnesses. Some were dying at young ages. Torres calls it "the war that followed them home."
"The last 24 hours before he passed, he told my daughter, he was a soldier," Susan Zeier shared with the crowd. She recounted the story of her son-in-law's passing, an Army medic who stood guard 20 yards from a football-field-sized burn pit every day for three months.
"He didn't know how to give up. But he knew he was gonna die soon," she said. "And my daughter held him on top of her on the living room floor for seven hours because he wanted her to help him sit up so that he could breathe. He fought for every breath. He never gave up. He took his last breath. He was still fighting to breathe when he couldn't breathe anymore."
Zeier said the symptoms revealed themselves when her son-in-law came home; it started with fatigue while exercising, then daily gushing nosebleeds. Next, he was bleeding from his ears. Dozens of doctors couldn't diagnose him, until one finally identified it as a rare autoimmune disease that typically only affects elderly women.
Zeier's son-in-law passed in May 2020 but not before Veterans Affairs denied him coverage for medications and imaging and comprehensive caregiver benefits. One denial letter explained he could not prove it was related to the burn pit but acknowledged his lung cancer was connected to his service, Zeier said.
An estimated 3.5 million veterans were exposed to burn pits and other airborne hazards, according to the Department of Defense. Zeier said the 174 Republican Congress members who voted no "gave up."
"You gave up on all these veterans," she said.
"They went over there to defend this country," Stewart expressed later in his speech, "and they came home and had to fight their own government to get the health care and benefits that they've earned."
Although President Joe Biden is pen-ready to sign the act, advocates must overcome the hurdle of earning Republican support in the Senate. The bill passed the House with all Democrats in support and 34 Republicans joining in. Opponents question whether the measures are fiscally responsible with an estimated price tag of $208 billion for the next decade.
Stewart and others pointed out trillions are spent on war and hundreds of billions in the Department of Defense's budget.
"And you know what they told our veterans?" Stewart said. "'How do I know these lung nodules are from burn pits? Where's your lawyer? Where's your doctor? Where's your note?' They put these soldiers into a court case about their own health. They made them defendants while the Pentagon and the war machine escaped scrutiny completely."
The legislation would also mandate research on military-related environmental exposures and create new registries, which would help collect data on the toxins' long-term impacts. It would also allow those who came into contact with contaminated water at Camp Lejeune in North Carolina to file claims in court.
After the speech, Stewart stressed to the office aides they were just nine senators away from passing the bill.
"We have to let people know that this isn't just an abstract thing. These are North Carolinians," Stewart told the aides. "Like these are thousands of North Carolinians that are on the burn pit registry and have lung issues … but it's a travesty. The more you look into it the more you see. It's utter injustice."
Burr's office did not respond to a request for comment Friday morning.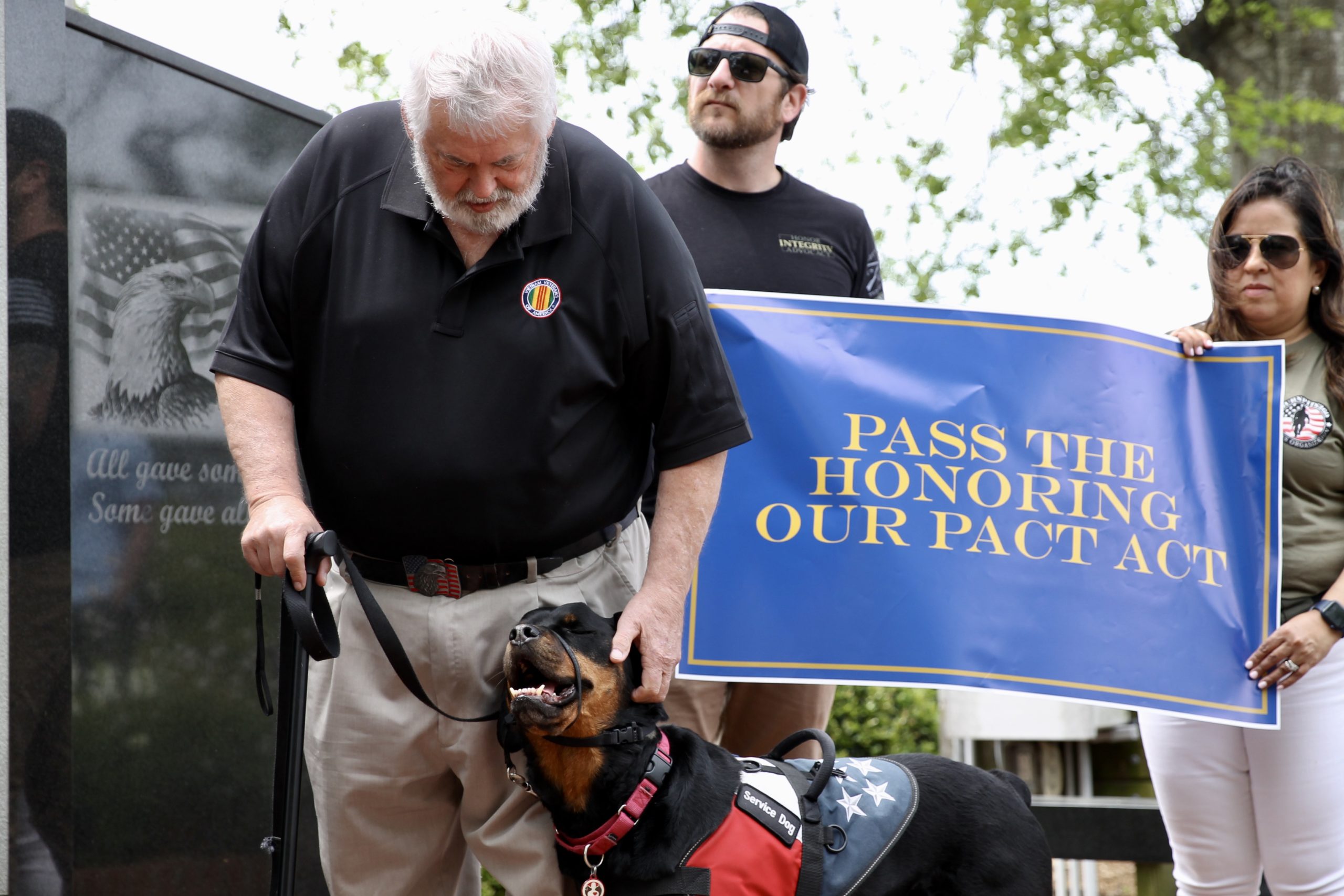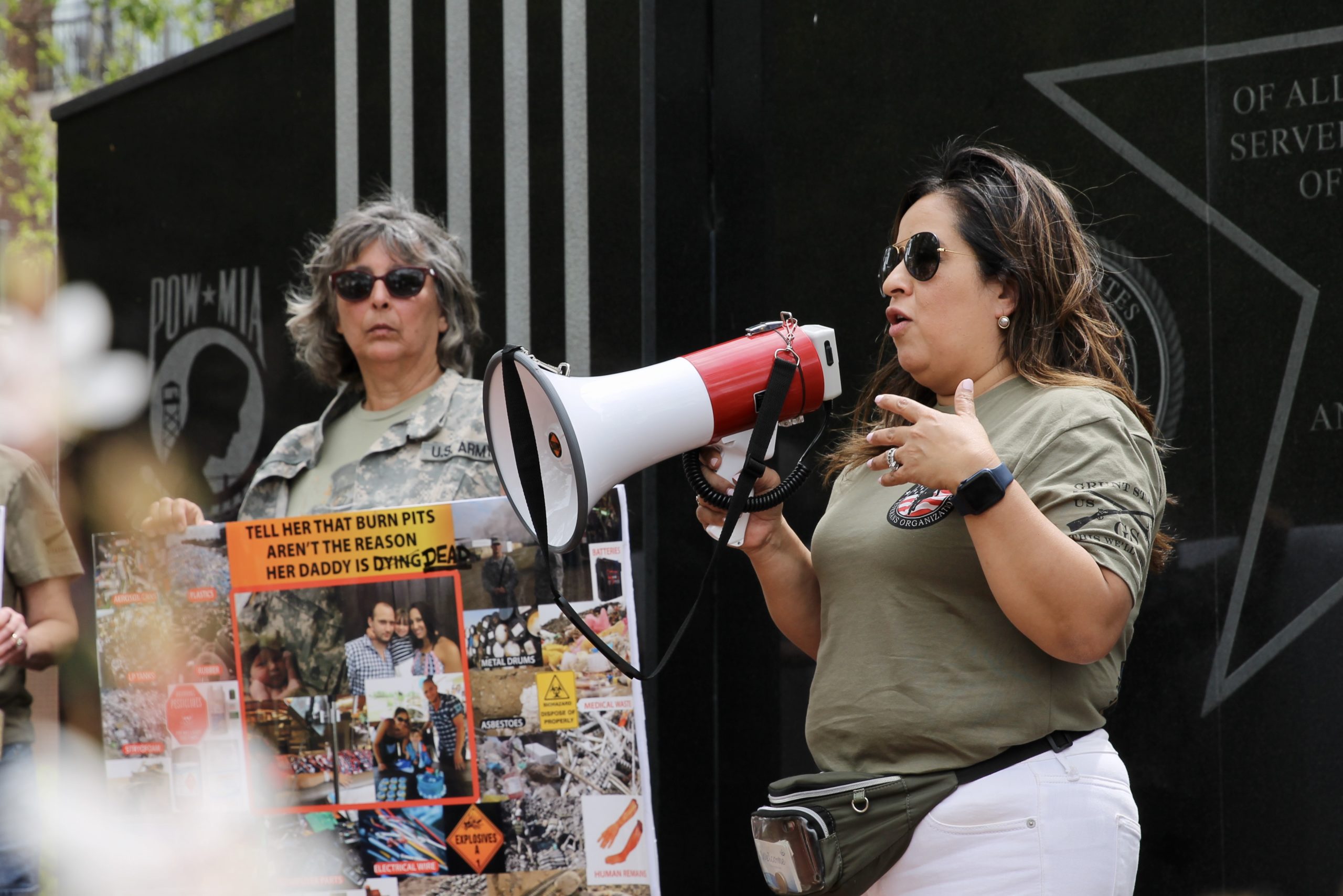 ---
Send story ideas, news tips or comments to alexandria@localdailymedia.com
Want to read more from PCD? Subscribe now and then sign up for our morning newsletter, Wilmington Wire, and get the headlines delivered to your inbox every morning.