WINNABOW — "I was at Lowe's food at 6:30 a.m. picking up about 300 turkeys," Chris Dabideen said days before Thanksgiving. "And either tonight or tomorrow morning, I'm gonna go get the rest."
"The rest" is 600 frozen turkeys to complete his annual Turkey Drop.
It all started two years ago as an idea to help feed Thanksgiving dinner to neighbors in need across the community. Chris, a local business entrepreneur who operates The Kitchen Man in Winnabow with his wife, Amanda, decided to give back by providing meals for 75 families.
"We just wanted families to come together because that's the most important part of Thanksgiving," Chris said.
The Dabideens provided the turkey and all the traditional sides and a dessert for families to prepare a traditional holiday dinner.
"That first year I went to Costco and could buy everything I needed — easy," he said.
When he took on the same task in 2020, the second year, he tripled the goal to 350 people. Demand superseded it, as the pandemic had increased food insecurity across the area. The Dabideens ended up feeding 500 people.
"Last year in November, when I went back to Costco to buy 500 turkeys, they said, 'Are you out of your mind?'" Chris recounted. "We called every supermarket and nobody could fulfill the order, so we had to drive every single day for a week-and-a-half and pick up two turkeys at a time because that was the limit most supermarkets had."
Still, he pulled it off with his Kitchen Man crew, his wife, their four children — Isabella, Angelina, Jaelyn, and Mia — and 20 employees. Volunteers also help pack the cars and trucks, and hand-deliver every meal to families nominated throughout the month of November
2021 is turning out to be the Turkey Drop's biggest year yet. The Dabideens were more prepared and began assessing the growing needs as Covid-19 continued to rage in the early part of the year. Chris and Amanda decided to secure products in February and placed an order for 1,000 turkeys.
"In January, we called about 25 different places," Chris said. "And I'm talking from US Foods to Costco to Walmart — we called everybody — and Lowe's was the only one that entertained us."
He placed the order for 1,000 turkeys and all necessary side items through the South College Road location. Nominations opened at the end of October and by mid-November more than 950 people had entered.
"It's not a contest," Amanda clarified. "If they enter, we feel they need it. It's on an honor system."
She and The Kitchen Man administrative team remove only duplicate entries and PO addresses — which they can't deliver to. They then organize the drop-offs by zip codes to most effectively and efficiently help crews along their routes.
"They take two or three trips a day," Amanda said.
By Friday, Nov. 19, The Kitchen Man showroom and warehouse had turned into a food-packing assembly line. Bags upon paper bags were filled with a box of stuffing, gravy mix, cans of green beans, corn, and cranberry sauce, and brownie mix.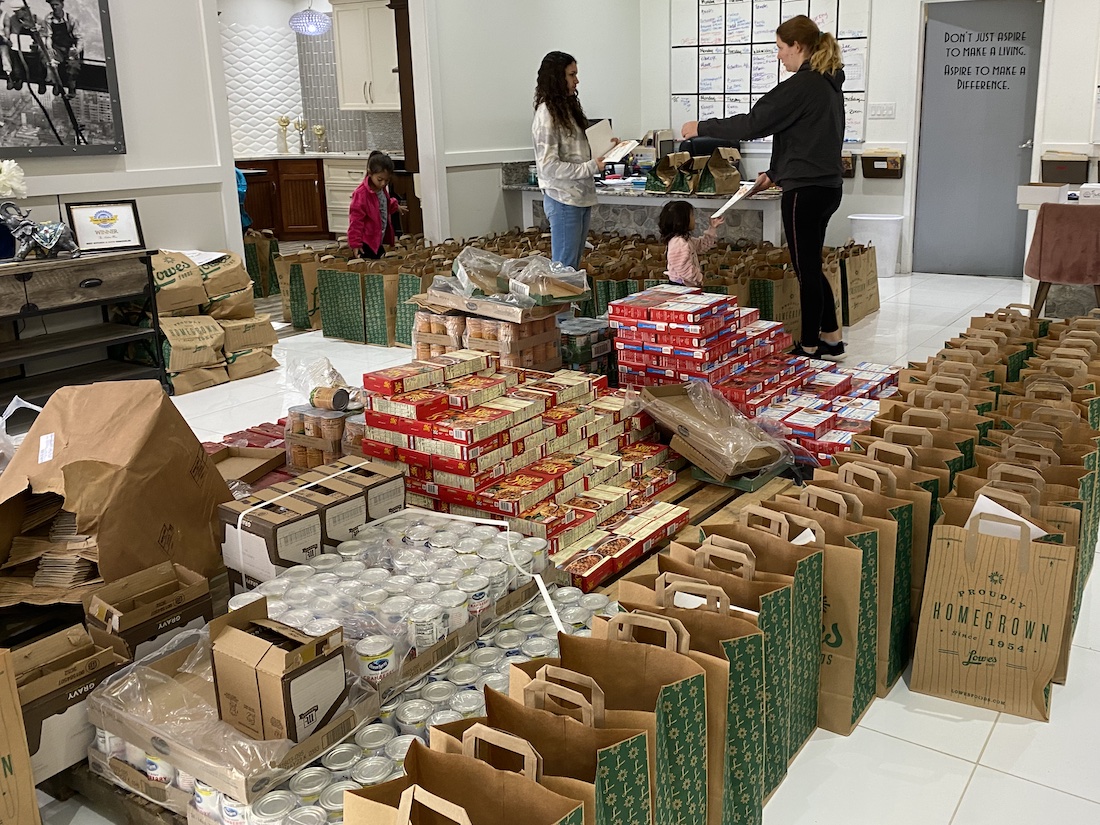 "We began picking up the canned goods two weeks ago," Amanda said. "We have been packing bags daily."
Her daughters were dropping notes, wishing the families a happy Thanksgiving, into each meal kit.
Out front, Chris pulled up with a trailer filled with bags of potatoes to unload, as others were loading boxes of frozen turkeys into multiple cars, SUVs, and trucks of the volunteers and employees.
"Someone just dropped by because he heard about what we're doing," Amanda said. "So he took 14 to his area — he lives in Carolina Beach."
In one day, 300 meals had been delivered to families within an hour or so radius of the Highway 74 shop. Crews delivered as far up to Jacksonville, into Myrtle Beach and Tabor City, out to Ashe and Atkinson.
"We will work 7 a.m. until midnight to deliver them all if we have to," Chris said.
The businessman covers all expenses and manpower of the operation on his own. As it continues to grow with the needs of the community, he is looking to begin partnering with others to pull off the tradition and organize it with more gusto.
"Everything I do, even in my business, is around family. The kitchen is the most important part of the house — that's where family gets together, and they eat and they laugh and yell at each other and embarrass each other," Chris said with a laugh. "I think Thanksgiving is the perfect holiday to give back and help others sit around that table."
---
Have tips or comments? Email info@portcitydaliy.com
PCD offers live briefs for free. Want to read more from our staff? Subscribe now and then sign up for our newsletter, Wilmington Wire, to get the headlines delivered to your inbox every morning.