Thursday, Nov. 25
Friendsgiving Potluck
The Last Resort, 600 N Lake Park Blvd. • Free
At Carolina Beach's The Last Resort, an annual Friendsgiving potluck is hosted for the community. The restaurant will have Boston butts and turkeys cooking, and everyone else is encouraged to bring side dishes or desserts to share.
The festivities kick off around 4:30 p.m. and the restaurant also will provide paper products and utensils. Plus it has buffets, pans and sternos for attendees to use.
Free and open to the community.
ALSO HAPPENING THURSDAY
Buzz's Roost Free Thanksgiving — Also in Carolina Beach, at 8 Pavilion Ave., Carolina Beach, the owners of Buzz's Roost are serving Thanksgiving dinner on the house to anyone in need. Buzz's Roost will have pork tenderloins, ham, potatoes, stuffing, vegetables, gravy and all other goodies from noon – 9 p.m.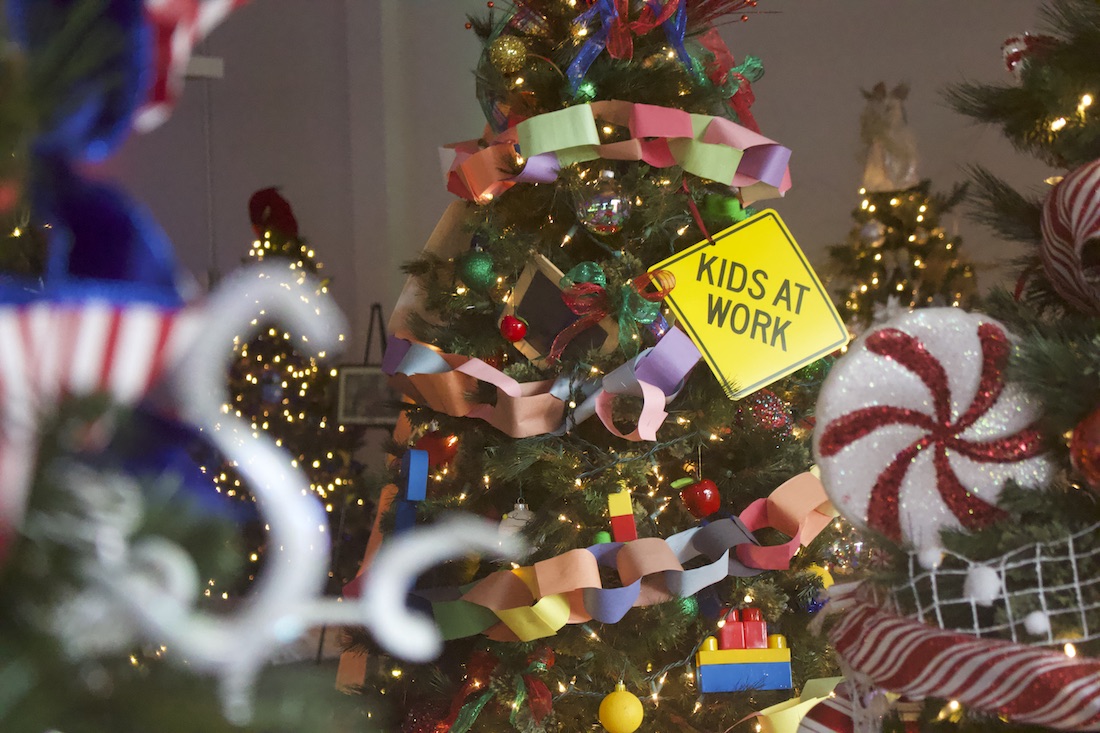 Friday, Nov. 26
Cape Fear Festival of Trees
N.C. Aquarium at Fort Fisher, 900 Loggerhead Rd. • Tickets: $10.95-$12.95
Kicking off Friday is the annual Cape Fear Festival of Trees to benefit the Lower Cape Fear LifeCare (LCLFC), which provides care to patients with serious or life-limiting illness, as well as offers support to families. Trees are sponsored by local businesses, organizations, families and other community groups, each who pick a theme and decorate the trees.
All visitors who purchase an aquarium ticket will be allowed to view the trees, which will be on display Monday through Sunday, 9a.m. – 5 p.m.   through Jan. 3, 2022 (closed Christmas Day). LCFLC doesn't benefit from aquarium ticket sales, so donations are welcome. There is also a memory tree on display for families to write names of departed loved ones on paper dove ornaments to hang on the tree. 
ALSO HAPPENING FRIDAY
Record Store Day — Yep, Black Friday is also Record Store Day in 2021. So all those music lovers on your gift list will benefit from your generosity to shop Nov. 26 and score one-of-a-kind releases. Numerous artists are represented across multiple music genres — Billie Eilish, Jason Isbell and the 400 Unit, Miles Davis, Sam Cooke, Carole King, U2 and others. Call area record stores to find out if they're participating and hours open.
Fourth Friday Gallery Nights — The Arts Council of Wilmington and New Hanover County will host its monthly Fourth Friday Gallery Night on Nov. 26. Over 20 businesses and galleries stay open after hours, 6 p.m. – 9 p.m., to showcase new exhibits, host meet-and-greets with artists, and welcome the public to see new work while also enjoying refreshments. It's free to attend, and all participants can be found here.
Cape Fear Chordsmen — The Cotton Exchange (21 N. Front St.) will be open for Black Friday, decked out for the holidays. The Cape Fear Chordsmen, a barbershop-style singing group of men founded in 1983, will perform holiday music and carols from 10:30 a.m. – 11:30 a.m.
Downtown Wilmington Tree Lighting — At the foot of Market Street in downtown Wilmington, the City of Wilmington will light its Christmas tree. A live countdown will take place, beginning at 6:28 p.m. The night also will feature a visit from Santa and Mrs. Claus. There will be free hot cocoa while supplies last. The event lasts from 5:30 p.m. – 8 p.m. Downtown's Hanukkah menorah will be lit the first night of Hanukkah on Nov. 28, with a candle lit each night through Dec. 6.
A Very Merry Mayfaire Christmas — Opera House Theater Company will present a holiday musical revue from the Piano Men, Brian Whitted and Nygel Robinson. The two Broadway performers will be singing through holiday classics at Mayfaire Town Center, 6885 Main St. Performances will take place Nov. 26-28, Dec. 2-5, and 9-12 at 7:30 p.m. Tickets are $25 for general admission but also $60 for two at a VIP table, or $120 for a party of four.
Holiday Train Expo — The annual train expo takes place at Independence Mall (3500 Oleander Dr.) and showcases more than 12 layouts and over 30 trains. Plus there will be a Polar Express. Cost is $4-$6.
Battleship Ho Ho Ho — The Battleship N.C. (1 Battleship Rd.) will host a holiday event, complete with Santa welcoming everyone aboard. There will be activities, such as kids typing their wish lists on vintage typewriters, calling the North Pole from the radio room and even tracking Jolly Ol' St. Nick's deliveries in the Combat Information Center. Tickets are $6-$14.
Wrightsville Beach Christmas Season Kick-off — At the island's town hall, the annual Great Town Tree will be lit and Santa Claus also will be on site. Santa visits are offered as a drive-thru again in 2021; kids can talk to him from the car or they can bring their Christmas lists and the Jolly Old Elf will hand-deliver it. Santa may even have some early gifts to disperse. The drive-thru opens at 5:30 p.m. and takes place in the town hall parking lot.
Saturday, Nov. 27
North Carolina Holiday Flotilla
Motts Channel, 4 Marina St., Wrightsville Beach • Free
After a year of skipping the lighted boat parade, the holiday flotilla will return, showcasing water vessels decking the halls with hundreds of lights and displays. Starting at 6 p.m., decorated boats parade down Motts Channel to Banks Channel and then to the Coast Guard Station. After the parade, fireworks will light up the sky.
The public can vote for their favorite boats by texting "BOAT+Letter" to "24587" (ex: BOATA, BOATB).
The Door to Dock contest also will return in 2021. Commercial and residential docks will be decorated for the holidays along the channel. It, too, is open for the public to judge through Dec. 5. To vote, text "DOCK+Letter" to "24587" (ex: DOCKA, DOCKB). Winners will be announced Sunday, Dec. 5.
Earlier Saturday, 10 a.m. – 4 p.m., at Wrightsville Beach Town Complex, a Day in the Park will get underway ahead of the flotilla. It's free to attend and will feature live music from 11 a.m. – 3 p.m. A car show also will be set up, with registration from 10 a.m. – 11:30 a.m.; judging begins at noon, with awards at 2 p.m. There will be inflatables and other fun games for children, as well as food vendors.
ALSO HAPPENING SATURDAY
Randy McQuay — The Cape Fear bluesman will be playing at Outer Dunes Brewing (7976 Market St.) beginning at 6 p.m. McQuay performs original blues and roots tunes on guitar and harmonica, and covers tunes by John Hiatt, Bob Dylan ("I'll Be Your Baby Tonight" is a standout), Sam Cooke and Sam "Lightnin'" Hopkins. Show is free of charge.
Nathan Kornegay — Kornegay's country-Americana sound will take over the Wrightsville Beach Brewery beer garden (6201 Oleander Dr.) from 3 p.m. – 6 p.m. Kornegay writes music inspired by Guy Clark, Townes Van Zandt, and Jason Isbel. Show is free of charge.
Holiday Market at the Barn — The Barn at Rock Creek in Leland (5900 Rock Creek Rd.) will host a market on both Saturday and Sunday, 10 a.m. – 5 p.m. It will feature gift ideas from 50 local artisans and makers, as well as vendors serving food and cocktails. Santa and Mrs. Claus will be available for visits, and live holiday music will be performed. Admission is $5; kids under 12 are free.
The Groove Holiday Market — Watermans Brewing (1610 Pavilion Pl.) at Wrightsville Beach is celebrating Shop Small Saturday, showing support for local vendors and businesses. It will host a brunch and market outdoors, with artists selling handmade goods like candles, jewelry, beauty products and more, 11 a.m. – 3 p.m.
Daredevil Improv: Ready … Set … Go — Dead Crow Comedy Room (511 N. 3rd St.) hosts improv Saturday from 2 p.m. – 3 p.m. The show relies on audience participation and engagement — a live-action "Whose Line Is It Anyway?" experience. Kids, aunts, cousins, uncles, the whole family is welcome to join in on the fun this holiday. Admission is $3.
Sunday, Nov. 28
A Charlie Brown Christmas
Mayfaire Town Center, 6835 Conservation Way • Tickets: $12
The Charles Shultz holiday classic can be enjoyed in more ways than one in 2021. Before the original animation airs, catch "A Charlie Brown Christmas" live. Opera House Theatre Company's apprentice theatre will perform the show at 9:30 a.m. and 1 p.m. on Nov. 27, Dec. 4, and Dec. 11, and at 11:30 a.m. and 5 p.m. on Nov. 28, Dec. 5 and Dec. 12.
The show follows the Peanuts Gang as they put on a Christmas play and along the way help Charlie Brown find the true meaning of the holiday. Tickets to the Opera House show are $12; kids 6 and under admitted free.
ALSO HAPPENING SUNDAY
Pet Santa Photos — Kids aren't the only ones who can enjoy a picture with the man in red this holiday season. Unleashed in Landfall will have Santa Claus on site so Fito can smile for the camera and bark out his own bones wishlist. A $10 donation is requested to benefit Savings Lives 4 Betty's Sake. Bring your own camera or phone to snap the pic.
Hanukkah Film Fest — The Wilmington Jewish Film festival is holding an inaugural Hanukkah Film Fest, featuring 11 films to stream for $48. All titles will become available each night of Hanukkah, Nov. 28-Dec. 5, and the entire series will be available for 14 days. Films include "The Broken Candle," "UnRaveling," "Xueta Island," "Latter Day Jew," "Mish Mish," "Leona," and others. See the full lineup here.
---
Have events to consider for Li'l Friday? Email info@portcitydaliy.com
Comments