WILMINGTON — On Saturday evening, Alfred Wheatley will officially unveil a two-year endeavor that will be the first of its kind in the greater Wilmington area. The Sorrow Drowner is an immersive tiki-bar experience at the corner of 10th and Dock streets.
It welcomes barflies to escape from modern woes and embrace whimsy and imagination all through an adventurer's theme. Staff serve freshly-squeezed tiki cocktails and pu-pu platters (vegetarian options available) but go beyond refilling drinks; they remain in character to entertain audiences with a backstory Wheatley has penned, as various artists rotate and perform comedy, dance, music, and burlesque on stage.
Former Disney Imagineer Brandon Kleyla, a.k.a. Tiki Brandon helped Wheatley design the space. They took inspiration from Kleyla's work from Disney's Trader Sam's Enchanted Tiki Bar and Trader Sam's Grog Grotto (Kleyla, an actor who appeared in "Children of the Corn," now works for Universal).
READ MORE: Former dinner-theater spot transforms into 'tiki noir' adventure club, with Disney Imagineer touch
Over 3,000 antiques and artifacts decorate the 6,200-square-foot, two-story building. Maps, tribal masks, field guides, Fiji mermaids, books, 10-foot tikis, magnifying glasses, hats, binoculars, buoys, even a boat and a fiberglass shark hang from the ceiling. It looks very much like walking into a collector's castle of sea-faring exploration.
Along with his brother and father, Wheatley bought the former TheatreNOW venue for over a million dollars in 2020. The family has been working on its six-figure renovation throughout Covid, building different rooms for diners to explore. Each showcases unique furniture, antique photos, handmade pieces, and original art — including portraits of the Wheatley men's and Kleyla's alter egos in The Sorrow Drowner.
"Some items really should belong in a museum," Wheatley said, tipping his hat to a quote from none other than Indiana Jones (who, along with actor Brendan Frasier, has a picture hidden somewhere on the walls of the building for diners to find). Wheatley — who used to work in the film industry — scoured estate sales and markets for two years to build the collection, though a third of it came from his father, he said — "all the skulls and the horns."
One of the most exciting moments in erecting this imaginary world, Wheatley said, was stumbling upon the estate of a deceased archaeology professor's home in Raleigh. His collection lived in a secondary 2,000-square-foot house and featured everything he had acquired over 50 years.
"Pre-Columbian-American artifacts and all of this oceanic stuff that nobody even looked at," Wheatley said. "So we got it all, including a collection of 19th century Polynesian weapons and oceanic pieces from Vanuatu and Papua New Guinea. I mean, they're old, like pre-World War One."
The Sorrow Drowner acts as an abandoned building where a society of adventurers once gathered — historians, scientists and archaeologists — to share their findings as they went in search of a lost continent in the Pacific Ocean.
"​​Our story starts about 15 years before the building exists," Wheatley explained. "When our director, Edward Bartholomew Wheatley, III [Wheatley's father in real life], found a temple with a piece of evidence that proves an ancient society really existed. And, now, here we are, 15 years later, but Edward is missing."
As such, the adventurers he left behind, who call themselves The Sorrow Drowners — consisting of Wheatley and his staff — have gone rogue upon fending for themselves. They have let the outside world in and turned their once beautiful institute and library into a bar.
Wheatley has hired local actors from UNCW's theater department to live the tale, fully in costume, as they serve diners. He said they perform as essentially "lower staff" of this fictitious tertiary institute.
"They're not allowed in 'the field,'" he explained, meaning the outside world. "Either they're incompetent, or they know too much, or they know too little."
(Kind of like "The Rocky Horror Show" but for tiki lovers and adventurists, he confirmed.)
"The staff has a script, but it's really a set of bullet points — an improv experience," Wheatley explained.
Wheatley wrote the sketches in the vein of a vaudeville-style variety show, popular a century ago. Each sketch is around five minutes, with longer performances taking place between. It's different from having to focus for three hours on a movie or one show, Wheatley said: "It's short-attention-span theater — like theater for Tik-Tokkers."
He is bringing in music to reflect the Golden Age, such as French jazz of the '20s or '30s or ragtime pianists. This Saturday a gypsy jazz band out of Chapel Hill, Onyx Club Boys, will perform, along with standup comedian Shannon Perez. There also will be a burlesque dancer and French cabaret troupe, La Big Bouche, taking the stage.
It's $5 to get in but the entry fee is waived for anyone with a tab that exceeds $100. The show runs Friday and Saturday only by reservation, while other entertainment will be rotated throughout weekdays. Wheatley has plans to do a "nerd night," he said, wherein he would invite professors and historians to talk about research from their specialized fields and in between have musicians perform a set.
As well, weekend shows will evolve as artifacts are discovered (i.e. as Wheatley continues to build upon the collection).
"This place is never going to be finished," he said. "It will continue to change with every new find."
The immersive adventurer-tiki experience has two seatings each weekend, 7:30 p.m. and 9 p.m. To make a reservation, call 910-769-8013.
Here's a sneak peek into The Sorrow Drowner; scroll down to see the photos.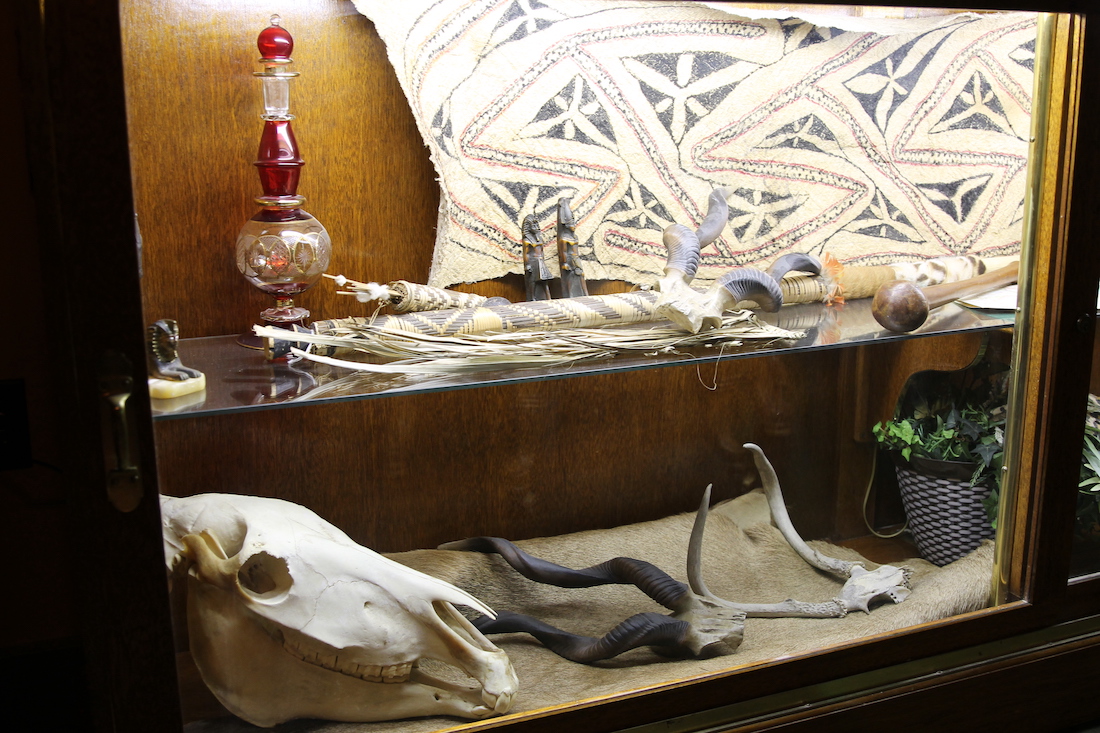 ---
Have tips or comments? Email info@portcitydaily.com
Subscribe now and then sign up for our newsletter, Wilmington Wire, and get the headlines delivered to your inbox every morning.