NEW HANOVER COUNTY — New Hanover County leaders joined before an audience Thursday to discuss the future of the Cape Fear River's western banks. As is, the land is largely made up of unincorporated tracts zoned for industrial uses, but two proposed projects are seeking to change that.
On one side of the room were environmentalists, concerned about the risks of developing at high densities on a floodplain, so close to expanding wetlands. On the other side of the aisle was the development team, confident in its plans to successfully construct high rises on Point Peter, envisioning a new skyline opposite downtown Wilmington.
KFJ Development Group's project is known as "The Villages at Battleship Point" and consists of three towers, withholding 800-plus residences and commercial space, to the north of U.S.S. North Carolina. To the south, another project for a 100-foot-tall hotel is in the works and is permitted by right under the property's current zoning, meaning officials have much less say in the matter.
EXPLAINER: What to know about Battleship Point
While the work session was called for commissioners to curate a vision for the unincorporated side of the river, it focused heavily on flooding concerns and the viability of actually building in that area.
There were two overarching messages that emerged from the invited speakers:
First, scientists predict that the land in question will be underwater by 2050. (The developers behind Battleship Point, who didn't speak during the meeting, reject this notion.)
Secondly, anyone can build anything, anywhere, if there's enough money at hand.
"People live in the Frying Pan Tower, right?" commissioner Jonathan Barfield said. "In the middle of the ocean. AirBnb!"
Following two hours of questions and answers, the commissioners agreed they needed more time to absorb the information. The commissioners were first privy to the Battleship Point plans in the fall and tabled the discussion in January in favor of this work session. Now they are directing the planning staff to prepare for a subsequent meeting to present possible actions they could take related to zoning. Those options could span from redistricting the entire area as a conservation space — a move that could set the county up for a court battle — or tweaking the standards of the "riverfront urban mixed-use zoning" proposed by developers in an application.
"I think it's only being fair to the development community that we provide some guidance or clear direction," commissioner Rob Zapple said at the roundtable, "whether that be, 'No, we want conservation, preservation' or 'Nothing over five stories or 10 stories.'"
The date for the next meeting has yet to be determined.
Meanwhile, in Leland, the Battleship Point developers are continuing pursuits to annex its 8-acre property into the town in hopes of earning swifter acceptance of their project. Leland's planning board and staff have already recommended its council adopt a new riverfront urban mixed-use zone and annex the land into the district. Doing so would effectively allow for the project. It also strips New Hanover County of its control over the zoning.
At least one Leland council member, Veronica Carter, was in attendance. The town's council will consider the developers' request in either April or May during one of its monthly meeting.
"We're trying to stay in communication with the Town of Leland and Brunswick County, etc., with the same thought that we all have as elected officials: that the decisions we make now will last for generations to come," Zapple told reporters after the work session. "That's the kinds of things that wake me up at 3 a.m. in the morning, saying, 'Oh, Lord, please, let's make a good, wise decision using all of the input.'"
For this week's work session, New Hanover County brought in its utilities and transportation experts and representatives from the N.C. Division of Coastal Management to talk about permitting development in that area. CAMA's representatives clarified that FEMA flood and zoning is handled on the local level, and every jurisdiction is slightly different.
Dr. Rob Young, the director of Western Carolina University's Program for the Study of Developed Shorelines, shared "cautionary thoughts" about development on the west banks. He said his center communicates science to decision-makers at all levels, from individual property owners to public bodies, and has studied the vulnerability of structures from the Statue of Liberty to outhouses in the Everglades.
He said the frequency of nuisance flood days in the Point Peter site is accelerating. Right now, the rate is around 80 days, meaning nuisance flooding occurs on the site nearly a quarter of the year, Young pointed out.
"I'm not saying that that makes the site completely unbuildable," Young said. "But [if] you want to spend enough money, you can build a hotel in the river if you wanted to. I have a very high level of confidence in the ability of engineers and architects to creatively do things like that."
But people still need to be able to get in and out. Young said the economic impacts of a proposed development can be "eye-popping," but the county also needs to weigh the costs of emergency management. Commissioners asked staff to prepare an idea of their financial responsibility for deploying first responders or finding ways to access the property when there is major flooding and people are in need.
"The site is only as workable as your lowest point on any road that folks will use to get in and out of there," Young said.
There are also cumulative impacts to consider. If developers find a way to block water from inundating the property, it has to flow someplace else, Young said. That "someplace" could be downtown Wilmington.
"There's no doubt in my mind that by 2050, if nobody does anything over there, that entire Point Peter or northern bank area is going to be wetland," Young said.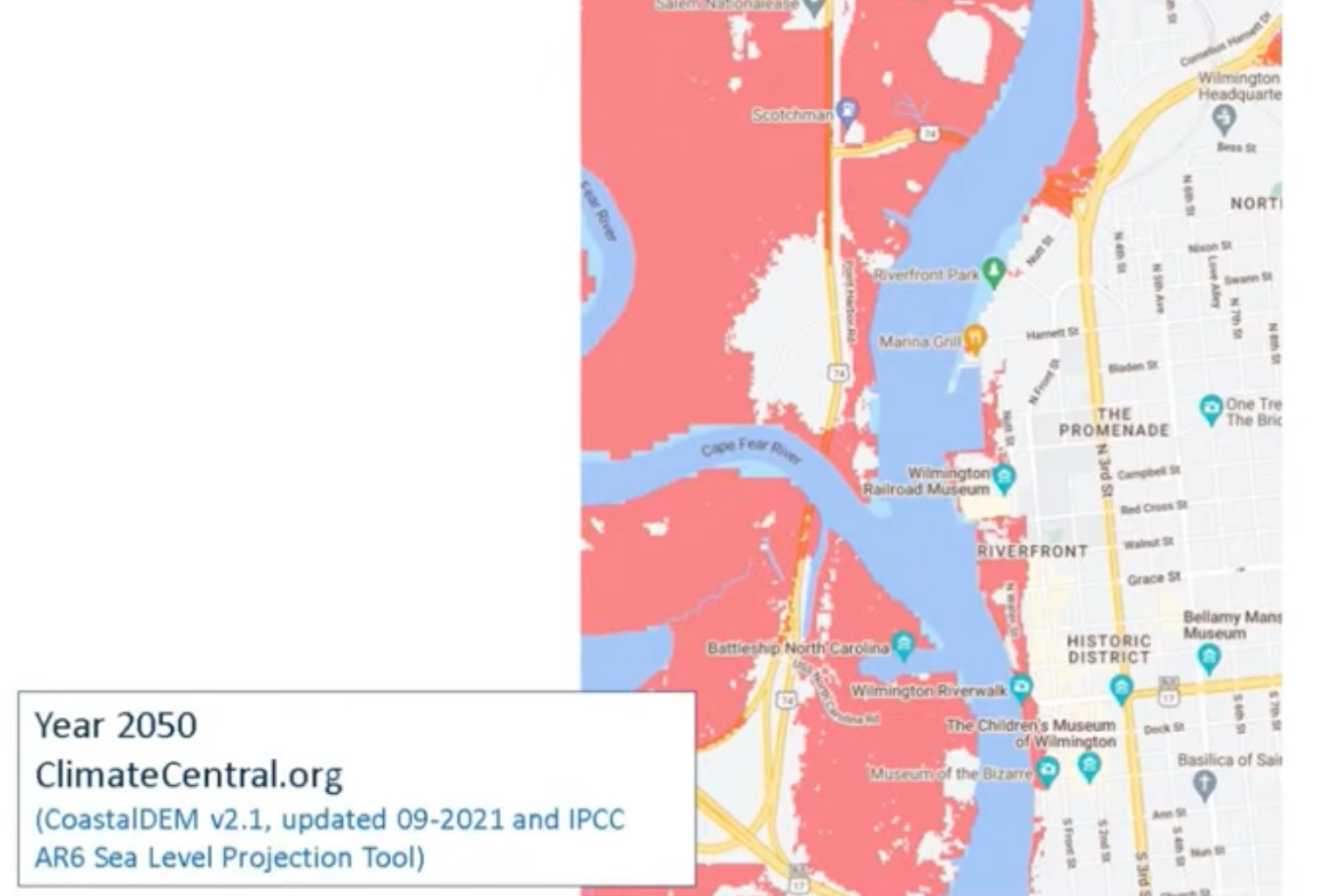 Sea level rise not only moves the shorelines but it raises water underneath the site, drowning upland vegetation, which is then replaced with wetland vegetation, Young explained. The Charleston peninsula is encountering this problem as water rises out of the ground during king tides.
Asked after the meeting if they believed their property would be underwater, KFJ development team members Kirk Pugh, a real estate broker, and Jim Lea, an attorney, gave a firm "no."
Lea expressed his disappointment in the management of the meeting and the county hand-picking the experts. According to emails obtained by Port City Daily, Pugh asked for KFJ's resilient development specialist Dena Prastos to have a platform, but she was not provided a link to join the virtual meeting. Prastos' online biography describes her as having an "appreciation for nature and mankind's ability to design, build, and create infrastructure in some of the world's toughest conditions."
"We've worked hard on this for a year. We cleared this property up. We've done all the work, and we were silenced in that room completely," Lea said. "We have a solution to all of the issues they have out there, and we keep getting talked at instead of to. And it's very frustrating to hear that. We had to sit there on our hands and not be able to respond to anything."
UNC Wilmington geologist Roger Shew, who is vocally against the project, was invited to give his opinion at the podium. Shew said officials should consider the area as a conservation, recreation and education zone to complement the Battleship. Shew put it more directly than other speakers claiming to be impartial: "Any time you put fill in a flood plain that is a bad idea."
The risks of corrupting natural and cultural resources are perhaps some of the loudest arguments in this debate. Opponents of the project are also worried about preserving history as the area and its surroundings are within the Wilmington National Register Historic District and have ties to the Gullah Geechee and rice plantations. The Historic Wilmington Foundation has an interest in the potential consequences for the Battleship.
HWF issued a statement after the meeting: "As a memorial to the over 11,000 North Carolinians who gave the ultimate sacrifice defending our nation during WWII, New Hanover County bears a responsibility to preserve the Battleship's setting, maintain its resilience to climate change, and protect access to the National Historic Landmark for roughly one quarter million visitors each year."
When the second work session takes place, the planning staff is expected to present ​​options. That could include a new base zoning district applied to the entire area, which would regulate the types of uses that are allowed and whether extra permits calling for further review are required. The county could also implement an overlay district with more stringent design standards.
Alternatively, New Hanover County commissioners could move forward with approving an application by KFJ Development to create the "riverfront urban mixed-use district" and tailor the parameters to their liking.
At one point Zapple asked if the county has the power to zone all the land to a conservation district. The board does have broad authority over zoning determinations, but staff indicated it could run into legal trouble if they prevent "reasonable use" of a property. Still, planning director Rebekah Roth explained, "there's not a hard line."
"It is the type of thing where you do something, you get sued and then that's when the determination is made," Roth said, "as whether or not you've crossed that line."
---
Send story ideas, news tips and comments to alexandria@localdailymedia.com
Want to read more from PCD? Subscribe now and then sign up for our morning newsletter, Wilmington Wire, and get the headlines delivered to your inbox every morning.