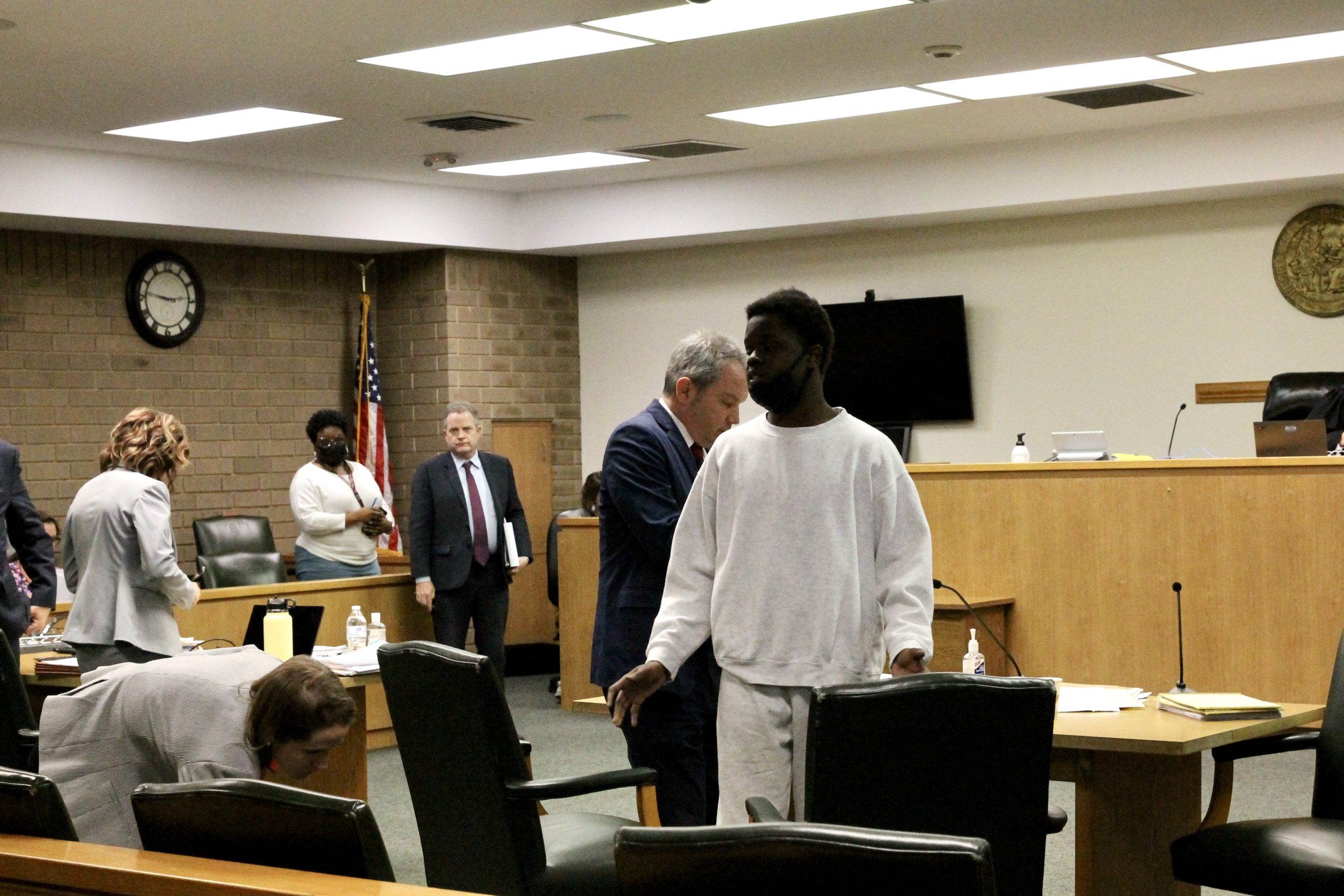 NEW HANOVER COUNTY — Law enforcement officials say the "message was sent" Monday after the student who opened fire in New Hanover High's crowded catwalk last August was tried as an adult and sentenced to roughly four years in prison. Chance Deablo had a message of his own for his loved ones and the community as he left the court.
"My life's not over, and I want you to know that. I want everybody to know that. My life is not over." Deablo turned to the audience as he spoke, where his mother was dabbing tears during parts of his court appearance.
He then reiterated the message directly to a news camera on his way out of the room: "My life is not over. At all."
Debalo pleaded guilty for his actions Aug. 30 when he injured another 15-year-old student with a shot to the left leg and hand while on campus. He was 15 at the time and has since turned 16. By the time he is released — as a 21-year-old — all students who went to New Hanover High the day of the shooting should have graduated. The fashioning of the punishment was strategic, according to district attorney Ben David.
"We're cheering for him moving forward," David told reporters after the sentencing. "But we have to be firm with how he's being punished today. We hope that this doesn't define him, but that his response does."
READ MORE: Coverage of NHHS shooting
Upon arriving in court, Deablo searched around the pews for his mother, who initially had walked into the wrong courtroom. The hearing paused and resumed once she was present. Deablo's plea included two offenses: intent to kill with a deadly weapon, resulting in injury, and discharging a firearm on school grounds. Both crimes can result in a maximum of 24 years in prison, the judge told him. Deablo received the mandatory minimum, 48 to 70 months.
"I don't want to be sentencing 16-year-olds," Judge Tom Wilson told Debalo. He then urged the teenage boy to better his life when he gets out and serve as an example one day to other young men.
The defense attorney told the judge Deablo was accepting responsibility for his actions and asked him to accept the plea.
"This isn't Columbine. This isn't Sandy Hook," defense attorney Brian Moore said. "This isn't somebody walking in with a gun, and wearing a mask, and trying to shoot as many students as they can. That's not what happened at all."
Moore explained that Deablo was a student who was bullied and took "inappropriate" steps to defend himself with a gun, as has become "something we do" in American society.
Assistant District Attorney Ashton Herring, the prosecutor, recounted what happened leading up to the shooting and the day of. She said within four hours of his first day of school, Aug. 23, Deablo got into a fight and was expelled for five days. Both attorneys said Deablo indicated to others he wouldn't lose another fight again. One student reportedly heard him say, "Shit is going to be different when I come back," according to Herring.
Herring acknowledged Deablo's father went to New Hanover High to address bullying accusations and threats against his son, but she said the father declined to speak with anyone besides Deablo about the issues. (Around this point, Deablo's mother briefly left the courtroom. She previously accused the school district of failing her family and her son after they confronted an administrator and the head of security about the first fight and asked for a plan to be put in place.)
The assistant DA then explained how Deablo left the conversation with his father in the hallway outside the front office. During the next class change, just after 11:20 a.m., Herring reported Deablo and another student started "talking smack" and a fight erupted, with others jumping in to help. Herring said surveillance videos show Deablo breaking away from the brawl with his Under Armour backpack on, walking through double doors and, as the fight was ceasing, he returned without the backpack and fired a gun three times.
According to Herring, the firearm was never located and was not in the book bag Deablo deserted on campus when he fled the scene. A search of Deablo's cell phone uncovered text messages with photos and videos of the gun and conversations about Deablo exchanging it for money and drugs, Herring said.
After he fled, Deablo came home hours later, almost immediately following a phone call from his mother — an action his attorney suggested he should get credit for.
Viral videos surfaced after the shooting showing students scrambling to get away from the scene. Herring described teenagers helping peers who had fallen so they wouldn't get trampled, hiding in rooms where they didn't know if they were safe, and warning others to "turn away, turn away" after the gunfire. The high school was locked down and armed officers in SWAT gear escorted students to the nearby Williston Middle campus, ordering them to evacuate with their hands up.
"I saw that hallway after students had vacated, and I saw all the bags and the cell phones and the papers that were just left discarded, that kids left there when they were running in panic to try and get to safety," Herring told reporters.
Herring stressed Deablo's actions had ripple effects on the community, making other campuses anxious about possible retaliations or fearful of going to class. Some parents even pulled their kids out of public school, the prosecutors said.
"It has impacted our community in a way I don't think we can even fully grasp at this moment in time," she said in her statement to media. "We've seen some of the physical ramifications: the trauma that kids have experienced, the nightmares that they've described to me, the hearing of fireworks and thinking that they're gunshots, and then we've seen them bringing weapons to school in order to protect themselves."
From her juvenile caseload, Herring said she knows students who have brought knives, tasers and other weapons to school and try to justify it by citing the Aug. 30 shooting. Sheriff Ed McMahon said each high school has four school resource officers, and that any student caught with a weapon is charged. Those cases, since they involve juveniles, are usually handled out of the public eye.
After the hearing, district attorney David gave a statement to the media in front of the memorial of homicide victims in his office of the courthouse. He cautioned a young person's photograph could have been added to the wall. Instead, the injured student endured surgery to place screws in his hand and attended physical therapy. Herring shared the victim's mother was "looking on the bright side" and felt the incident had brought her and her son much closer.
"This is a case that could have been so much worse," David said. "This was not because of the mercy of the defendant but because of bad aim."
David applauded Deablo for pleading guilty just seven months removed from the incident.
"He also, for his part, I think needs to deserve some credit today," David said. "He walked like a man. He was not only tried as an adult, but he acted responsibly in taking full account of what he did."
In the fall, Judge J. Corpening listened to testimony from 11 witnesses and concluded there was probable cause to transfer the case to Superior Court and try Deablo as an adult. The defendant appealed, but Superior Court Judge Phyllis Gorham upheld the decision.
David repeated that he would not tolerate and continue trying youth as adults for life-threatening conduct. He said he agreed with Moore that this case is distinguishable from Parkland and other high-profile school shootings, but he rejected the narrative that Deablo was motivated by bullying. He referred to Deablo's actions as gang violence and "community violence crossing the invisible barrier into the classroom."
"When you change the trajectory of people's lives — and shoot them into homeschooling or on to other campuses or transferring away — there needs to be a message sent on that," David said. "And so what we tried to do today, again, was walk a very delicate line between rehabilitation and punishment: Not giving up on a young man who was 15 at the time of the offense, but also making sure that — for all of his other classmates and people watching right now — that if you commit a crime like this, you're going to be treated like an adult and you're going to prison."
Deablo will receive credit for approximately one month served before the trial. Originally, he was out on bond, but that freedom was revoked after he failed to report that his ankle monitor was nonfunctioning for 10 days, the DA said.
While in custody, Deablo must obtain his GED and undergo a psychological assessment. He can never return to New Hanover High and is forbidden from contacting the victim. The first 90 days after his prison release, he is ordered to wear an electronic monitoring device.
This article was updated with more information since its original posting.
---
Send news tips and comments to alexandria@localdailymedia.com