WILMINGTON — This past March, the Coastal Carolina Wildlife Rehab Center took in two baby River Otters, "Junior" and "Delilah," who were displaced by a dock reconstruction project in Ocean Isle Beach.
Young otters are entirely dependent on their mothers care as infants. Jennifer Leonard, owner of the rehab center, was awake around the clock making sure the babies went to the bathroom, were groomed, fed and happy.
Jennifer operates the Wildlife Rehab Center with her husband Dave, and a small crew of volunteers.
According to Natalie Johnston, public relations consultant and volunteer coordinator, these young otters are progressing right on schedule. Now several months old and having more or less mastered walking around freely, the otters are learning to swim in the bath tub.
After their bath, the otters have to be hand dried, helping balance the oils and pH in their fur.
The Coastal Carolina Wildlife Rehab Center is seeking volunteers for the summer months. By June, they expect to have a large influx of baby deer, and are already fostering their first fawn, "Bruce."
According to Johnston, the center is run solely on donations.
"We get no assistance from the government at all, we rely solely on donations from our community," Johnston said. "Some people donate five bucks and that helps a lot, some people donate more. We're really happy for anything."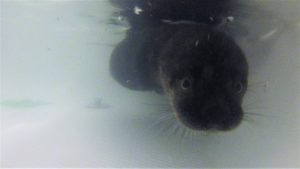 The Coastal Carolina Wildlife Rehab Center is in need of volunteers, and are holding a volunteer orientation and work day on Saturday, June 3.
"We really need volunteers for manual labor, basic cleanup, pen repair, stuff like that," Johnston said. "We also need help with spreading the word, writing grants, finding unique ways to raise money, publishing information, writing articles, all that stuff."
"We can't allow people to handle all of the animals when they volunteer, but we are specifically looking for a fawn team right now so that we can have people help us with the every two hour bottle feedings around the clock," Johnston said. "When we have 15 or 20 fawns that can be really challenging."
The Coastal Carolina Wildlife Rehab Center is a fully permitted 501c Non-Profit Organization. They work closely with Paws and Claws Animal Hospital for veterinary care, and the Cape Fear Raptor Center for the carnivorous birds. Port City Produce donates their blemished fruits and vegetables (the animals can't tell the difference), and the center is happy to accept donations in the form of animal feed.
The center accepts most types of wild animals, aside from rabies carriers like bats, foxes, raccoons, and coyotes. In extreme cases, the center will take in exotic animals, but its main purpose is to rehabilitate wild animals and release them back into their natural habitat.
For more information, or to volunteer, visit the Rehab Center's Facebook page.