WILMINGTON — Retirement for Ash Aziz is running four restaurants in town rather than six.
That's the most he's ever overseen at once during his two-decade career as a restaurateur in Wilmington. His latest establishment, Origins, will celebrate its official opening to the public Friday evening.
READ MORE: In other food news
Located in Autumn Hall, the fine dining restaurant focuses on carefully curated light fare, designed by executive chef Mark Piscitello in concert with Aziz.
"We wanted a menu that wouldn't leave customers feeling heavy after a meal," Piscitello said.
The self-made chef has worked with Aziz for years — first at Circa 1922, which opened in downtown Wilmington in 2003. He then moved on to Brasserie du Soleil and trained under Tripp Engel.
"I learned a lot from him — classic French techniques," Piscitello said, and pointed to a weeklong apprenticeship he did under James Beard award-winning chef Sean Brock in Charleston as another eye-opening experience.
Piscitello blends his favorite flavor profiles — Asian, French, Mediterranean and Southern — on a menu divided into appetizers, salads, raw bar, pastas, butcher block, and seafood.
It leans heavily into seafood — and not by accident. Piscitello works with local purveyors he has built relationships with for years, including Henry Temple and Ronald Sheffield, two oystermen he trusts to provide the best product.
The oysters are served on a seafood tower or individually. Piscitello also offers them as a dish, cold-smoked with celery heart, lemon and crème fraîche.
Pickled shrimp is piquant from citrus, backed by an exotic earthiness of turmeric and bright shaved fennel and carrots, served over crusty baguette.
Entrees include seared scallops over spaetzle with parsnip puree and pickled apple — a mouthfeel of complementary textures.
"Putting it with spaetzle is genius," a guest told general manager Adona Baker during Origins' soft opening Tuesday night.
"They're seared on both sides," she responded. "A lot of places you go to, they only sear one side. But this way, both get the outer crust without sacrificing the soft middle."
Baker recently moved to Wilmington from West Virginia after working in the hospitality industry, at both Greenbrier Resort and Omni Homestead. She almost relocated to Charleston, S.C., to continue her passion in the industry but landed in Wilmington because she appreciated its small-town vibe.
"I want to know my guests instead of only seeing them two times a year," she said, referring to Charleton's heavier tourist population.
Along with Aziz, Baker stopped by each table to check in with diners and offer insight on the menu, from preparation to freshness of ingredients.
"The beef is coming from the Midwest, the smaller farmers," she said.
Chef Piscitello works with local farmers, too, such as Shelton Herb Farms and Black River Organics. Microgreens are growing in the kitchen, ready to punch up color to every dish, as seen on the beef tartare. A layer of whipped tallow tops the diced beef along with pickled mushrooms, while truffled egg yolk is at the base.
The menu — priced $14 to $85 — includes about six starters, four seafood dishes, three pastas, three salads, eight market sides, and a handful each of raw bar and butcher block offerings. Piscitello and Aziz refined the particulars, down to cast iron skillet serving each cauliflower gratin.
"Every time we had conversations about this place, we were almost finishing each other's sentences on menu design and the kitchen layout and what kind of equipment we wanted and the direction we wanted to go in," he said.
One priority is to provide layered flavors, the chef said. He pointed to the charred octopus, which has a heartiness from the char balanced by the sweetness of the mollusc. It's paired with chickpeas, pickled chiles, preserved orange, saba (a syrup made of unfermented grape juice, similar to Balsamic), and salsa verde to provide textural depth.
"It's refreshing," Piscitello described. "I learned how to pickle a lot of stuff [under Sean Brock], so that's what goes over the octopus dish."
The chef has plans to change Origins' menu seasonally but will keep staples, dictated by what customers respond to.
Piscitello's creativity will be put to the test again when Aziz opens Origins for lunch and brunch, slated in coming months. The restaurant, to run seven days a week, seats 150 people inside with an outdoor area to comfortably fit an additional 60 guests. Glass doors retract in the main room to create an open-air experience.
"I feel very strongly that people go out to eat for a memorable dining experience, from concept, to design, to food," Aziz said. "It's all about attention to detail."
Origins is restaurant number 22 in Aziz's portfolio. His first, Rialto, opened in 1998 in Wrightsville Beach. Since, he has operated many downtown eateries — Prima and Hell's Kitchen, and of course Circa. In 2019, he sold three restaurants on the north side of town, Osteria Cichhetti, Brasserie and Boca Bay, to Urban Food Group, and Junction 421 on the south side to Jonathan and Shirena O'Donnell.
Currently, Aziz still runs Circa and Il Forno Pizzeria, the latter having opened in Barclay Point in 2017.
"The plan was to retire," he said. "But the people at Autumn Hall kept asking me to consider a space here. And I couldn't pass it up — I love this side of town."
Attentive waitstaff tended a handful of tables during the soft run, to brush up on the nuances of the menu and space. Aziz said they will serve around 50 people a night for three nights to ease into operations before doors officially unlock to the public this weekend.
His team ups the ante to fulfill his vision, he said.
"We are a family here. Everyone is equal — from the dishwasher to the chef to the waitstaff."
Many have worked for Aziz for years, such as pastry chef Chris Marville. Marville runs the dessert program for all of Circa Restaurant Group eateries. He elevates traditional sweets and infuses fun into each dish. For instance, ice cream gets an oomph when created with cereal milk and transforms into frozen Fruity Pebbles. Homemade Pop-Rocks may also make an appearance as an accoutrement.
Aside from engaging happy, returning customers, conceptualizing is one of the most exciting parts of the restaurant process, Aziz said. He is fueled by the creativity involved when approaching a new concept.
"I like to create a restaurant that: 1. I would want to go to; and 2. That when guests come, they know they are somewhere that is special," he said.
The luxe design of Origins is accentuated by art deco touches, wood, metal and glass, combined with blacks, golds, and beige. Its centerpiece is the open kitchen, which also manages to be contained. Diners can see the chefs at their four stations — the hot line, garde manger, raw bar and pastry. Yet, customers can't hear any chatter or the sizzles, stirs and plating of orders.
The kitchen, with its deep blue tiles and bright silver new equipment, shines behind a glass partition. Chefs move in syncopation, each at the behest of the tickets making their way from the wait stations. Every zhuzh of Bourdelaise or dollop of crème fraîche is placed just so to provide a feast for the eyes before the first bite.
"People make the place," Aziz said, a two-fold comment referring to impeccable service and food he expects his guests to enjoy but also for his staff to deliver.
As Origins launches, Aziz isn't slowing down anytime soon. He has another restaurant, Raw 32 in Renaissance Park off Military Cutoff Road, opening in four months. The oyster bar concept is like "Boston meets Wrightsville Beach," he said. It will be more casual, also focused on seafood, with 75 or so seats.
"The more restaurants, the stronger the dining scene," he said. "I like more."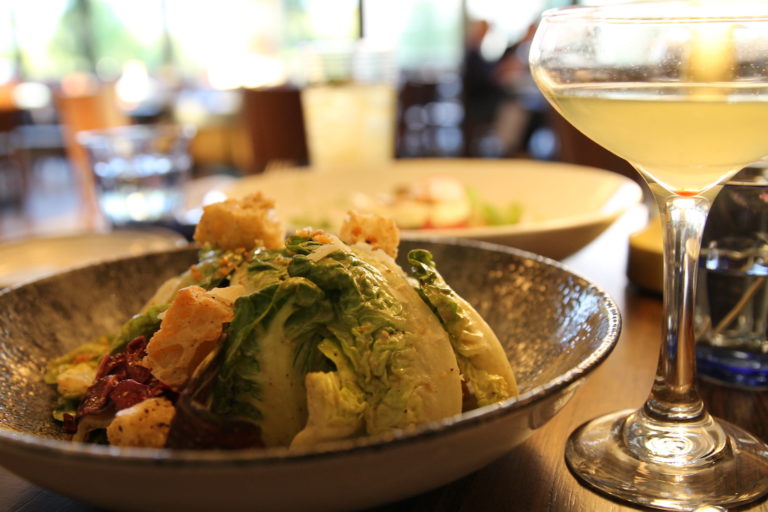 ---
Have food news? Email shea@localdailymedia.com
Want to read more from PCD? Subscribe now and then sign up for our morning newsletter, Wilmington Wire, and get the headlines delivered to your inbox every morning.