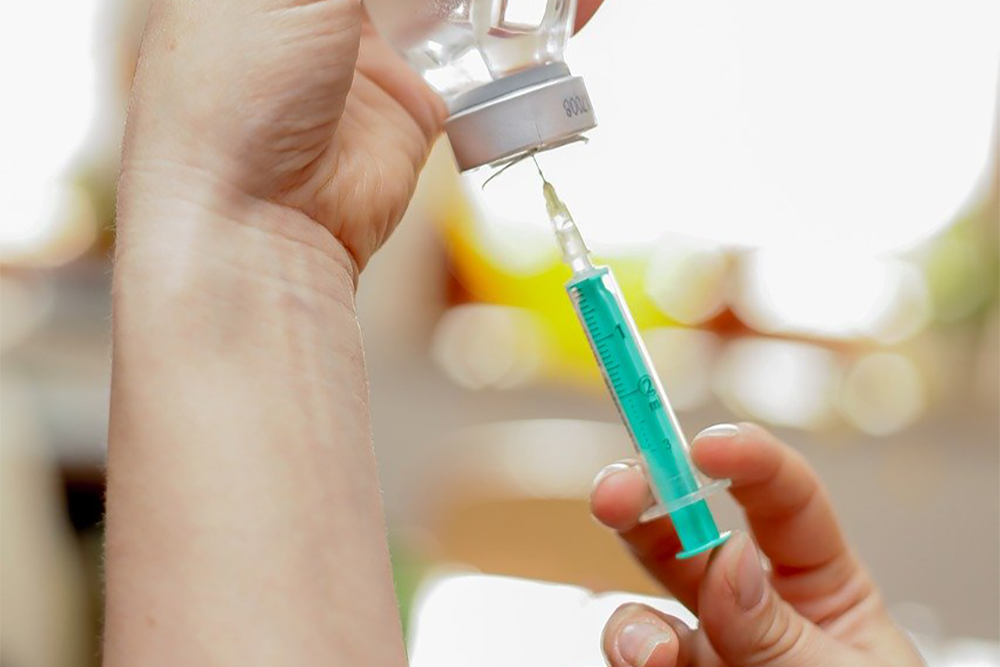 The delta variant continues to strain healthcare resources across the country, with local hospitalizations continuing to peak. New Hanover Regional Medical Center is treating around 132 hospitalized individuals daily as of last week, up from 104 in late August, then its highest-ever number of Covid-19 patients.
Across Novant Health systems, 94% of all patients requiring life support or intensive care are unvaccinated.
Monoclonal antibodies on the rise
Last week, Cooper passed an executive order to increase access to monoclonal antibodies, or mAbs.
These treatments are available to high-risk individuals after they contract the virus and can help dampen its adverse effect if taken within 10 days of the start of symptoms.
mAbs are lab-produced molecules that can aid the body's immune system in fighting the virus by replacing natural antibodies. They are injected intravenously or via a shot. Available evidence suggests mAb treatment can lower an individual's viral load, which can reduce the severity of symptoms and likelihood of hospitalization.
There are two mAb products on the market, each available through a drug order (similar to a prescription): ​​Sotrovimab, authorized in May by the Food and Drug Administration for emergency use, and Casirivimab + Imdevimab, authorized in November 2020 for emergency use. These treatments are available to eligible patients for free.
A handful of Wilmington-area clinics offer mAbs, according to a national database.
They are not available to those who are already hospitalized for Covid-19, weigh less than 88 pounds, or are under 12 years old. High-risk teens and adults may be eligible for the treatment.
The treatment shows the importance of getting tested, Cooper said, given the 10-day timeframe required in order for it to be effective. Those who have tested positive for Covid-19 with moderate symptoms should talk to their healthcare provider, he said.
Over the past week the state has seen a 73% increase in the number of mAb treatments administered compared to the last week of August, state health director Dr. Mandy Cohen reported.
Record hospitalizations
Hospitalizations are the state's most concerning trend. "Our hospitals are strained," Cohen said.
For two weeks in a row, the state has seen more than 900 ICU hospitalizations, the most since the pandemic began. In the southeastern region, about 78% of hospital beds and 80% of ICU beds are in use, according to N.C. Department of Health and Human Services data.
New Hanover County reported eight deaths from Covid-19 in the first week of September, with total deaths reaching 213. The county saw 630 new cases that week, with average daily new cases at 94, up from 84 last month. The county's 14-day positivity rate is 13.9%, up from 10.1% in mid-August.
In the tri-county region, Pender County has the lowest vaccination rate, at 47% of the population with at least one dose; Brunswick County's is 59%, with New Hanover at 61%, according to the latest state data.
Statewide, 59% of the 12 and older population is vaccinated, with the highest vaccination rate among those 65 and older at 86%. All counties statewide are marked "red" in the Centers for Disease Control's viral transmission mapping system (in fact, nearly the entire nation is designated as high risk, with very few rural areas reporting low risk).
"Most all deaths now occurring are preventable," Gov. Roy Cooper said in a Thursday press conference. More than 15,000 state residents have died from Covid-19 and 3,815 are hospitalized. Half of those hospitalized are under 49 years old.
"How many more people have to get sick and die because people don't get this miraculous, God-given, effective and extraordinarily safe vaccine?" Cooper asked. "If you're still unsure about getting one, how about get off social media and get on the phone with your doctor. That's the best place for accurate medical information."
Booster shots are currently available to immunocompromised individuals. The third shot will open up to the general public later this month, but details are still forthcoming.
Youth cases on the rise
Masks remain optional for local school districts in N.C. An estimated 96% of school-aged children attend school where masks are mandatory, an individual effort adopted by 109 school districts statewide, Gov. Roy Cooper announced in a press conference Thursday.
Case rates are highest among children and teens 17 and under, Cohen reported at the conference. Cases in this age group made up nearly one-third of all new cases statewide for the week ending Sept. 4, the highest since the onset of the pandemic.
"We are definitely seeing more children needing ICU-level care," Cohen said. "It's particularly those children that likely have some underlying medical conditions."
New rules, treatments
Thursday afternoon, President Joe Biden announced new federal requirements, mandating businesses that employ more than 100 people to require vaccinations or weekly testing. Businesses that don't comply could face steep fines. All federal employees are also required to get vaccinated, with no alternative option for weekly testing.
State employees in N.C. are not required to get vaccinated –– yet. "All options remain on the table," Cooper said Thursday, adding there are no plans at the moment to roll out such a requirement.
---
Port City Daily offers all Covid-19 coverage for free. However, we value the time and effort our journalists put into their work. If you agree, please, consider a monthly subscription for access to all of PCD's in-depth reporting, and sign up for the free morning newsletter.
Send tips and comments to info@portcitydaily.com