SURF CITY — It started when a group of neighbors on the south end of Topsail Island decided to start the year with a cold dip.
"It was just a few people who decided they were going to jump in the ocean on New Year's Day," the event's new organizer, Dawn Ellis, said. "And it just grew from there."
RELATED: Southern Roots Grille food truck keeping it simple, southern in Surf City and Hampstead
The inaugural dip included roughly 20 people. Last year's event attracted an estimated 2,000 — including a Spiderman, a squirrel, and a man wearing a horse's head — all making a rush for the water at the firing of a starting pistol at noon.
And it was last year when the event's founders, Brian and Rebecca Moxey, decided it had grown so large that it was time to pass it on. For years they had sent proceeds from sponsors and merchandise sales to local nonprofits like the Lower Cape Fear Hospice, Wounded Warriors, and Share the Table. The latter, founded by Ellis, was gifted the event as an annual fundraiser.
Brian Moxey said the name came to him on the spur of the moment.
"I wanted to get an article in the Pender Post," Moxey recalled. "I bought a reporter lunch. She asked what it was called and I just made up 'Dolphin Dip Extravaganza' on the spot."
Last year's large crowd was a result of sunny weather and a community wishing to come together after months of Hurricane Florence repairs, according to Ellis.
"They were ready to start a New Year fresh," Ellis said.
Ellis started Share the Table in 2011. Now it feeds an average of 1,000 people in Pender and Onslow County every week through its food pantry, soup kitchen, and school backpack programs, according to Ellis.
For Ellis, taking over the event was not only a fundraising opportunity but also a valuable marketing platform.
"It's just a good way to let the community know that we're there and what we're doing," Ellis said.
Trophies for best costumes are designed each year by an art teacher at Topsail High School. Last year the winner for the adult category was a mermaid while a group of students dressed as the old Surf City Swing Bridge won the kids' category.
The event is free to attend and begins at Surf City's Roland Avenue beach access at 11 a.m. on Wednesday, January 1. At noon, a countdown will end with the firing of a starting pistol, signaling a dash to the ocean.
Proceeds from the event will support Share the Table. T-shirts can be purchased (with cash or checks) for $25, long-sleeves for $30, and stickers for $3. Designs for the stickers and shirts are chosen through a contest at Topsail High School.
View more pictures of the 2018 event, captured by local photographer Les Atkins, below: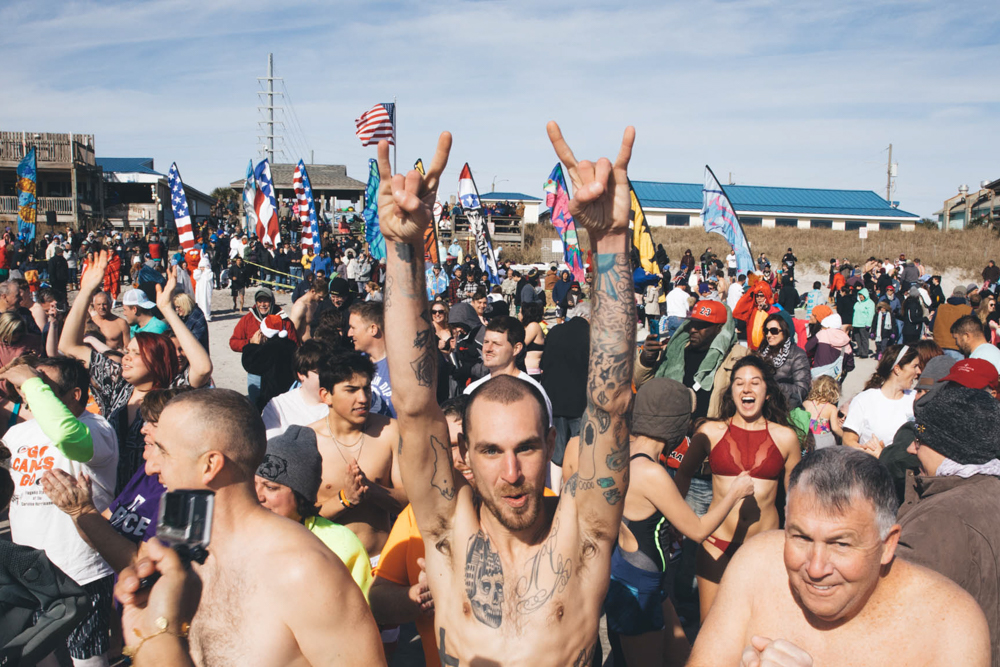 ---
Mark Darrough can be reached at Mark@Localvoicemedia.com or (970) 413-3815