RALEIGH — Governor Roy Cooper on Friday vetoed House Bill 467, the so-called Agricultural and Forestry Nuisance Bill.
House Bill 467, filed in the House by primary sponsors representatives Jimmy Dixon of Warsaw, Ted Davis Jr. of Wilmington, David Lewis of Dunn and majority leader John Bell IV, would limit the compensation a person could seek in private nuisance lawsuits against agricultural and forestry operations.
According to the bill, this is "an act to clarify the remedies available in private nuisance actions against agricultural and forestry operations."
The bill was passed by the North Carolina General Assembly April 27, but was vetoed by Governor Cooper Friday morning. The House will now seek to overturn the veto.
According to Kemp Burdette, Cape Fear river keeper, the bill limits the compensation a homeowner could seek in damages in if someone is harmed by something like a hog or poultry farm.
"The majority of people affected by these operations are poor people of color who don't have a ton of voice in the government, and don't have the clout or money to do anything about it," Burdette said. "All they can do is file these nuisance lawsuits to make up for the loss of quality of life."
The bill states "If the nuisance is a permanent nuisance, compensatory damages shall be measured by the reduction in the fair market value of the plaintiff's property caused by the nuisance, but not exceed the fair market value of the property."
According to Burdette, property values drop when a home is in close proximity to a COFA farming facility. Many people who are affected are already living in small homes that have been in their family for generations, he said.
The bill goes on to state that, "If the nuisance is a temporary nuisance, compensatory damages shall be limited to the diminution of the fair rental value of the plaintiff's property caused by the nuisance."
"They're trying to take away the rights of people," Burdette said.
According to a 2014 study by the University of North Carolina, the types of farms in question "house animals in confinement, store their feces and urine in open pits, and apply the waste to surrounding fields.
"Air pollutants from the routine operation of confinement houses, cesspools, and waste sprayers affect nearby neighborhoods where they cause disruption of activities of daily living, stress, anxiety, mucous membrane irritation, respiratory conditions, reduced lung function, and acute blood pressure elevation," the study states. "Prior studies showed that this industry disproportionately impacts people of color in NC, mostly African Americans."
Burdette says that these farms affects between 100,000 and 300,000 people in North Carolina.
According to a study by the EWG and The Waterkeeper alliance, Pender County alone has 96 animal feeding operations, producing over 289,000,000 gallons of wet waste per year.
Brunswick County operates 15 animal feeding operations, resulting in over 66,000,000 gallons of wet waste produced per year. Data from New Hanover County was not readily available.
"It doesn't matter if it's a hog or poultry farm, they smell horrible either way," Burdette said. "Not only that, but some of these homes are as close as 50 feet from these farms. You could be sitting on your back porch, and depending on the wind, have hog (expletive) sprayed on your kids."
The problem, according to Burdette, is that people are getting sick.
"There are numerous studies from Duke and Chapel Hill that show people who live in counties with high concentrations of factory farms, they get sicker more often, and for longer, flu season comes early for them," he said.
"Eighty percent of antibiotics produced in the US go to factory farms," Burdette said. "These farms are constantly feeding antibiotics to the animals, because they're living in such squalor and in such close proximity to each other, one animal getting sick leads to all of them getting sick."
However, Burdette noted, when introduced to such massive quantities of antibiotics, the viruses adapt and evolve into more antibiotic resistant strains.
When the animal waste is then sprayed over fields and into the air, it becomes possible for people to ingest these viruses and bacteria, resulting more people being sick, more often.
In addition to this, when large storms such as 2016's Hurricane Matthew hit, rivers like the Cape Fear flood, and waste that is stored in these facilities makes it's way down river, into drinking water and eventually the ocean.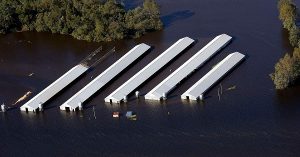 Though the bill was vetoed, it had initially passed by a plurality large enough to override that veto.
Port City Daily reached out to Rep. Ted Davis Jr., one of the primary sponsors of this bill. Calls were not immediately returned. Visit ncleg.net to view the full bill.