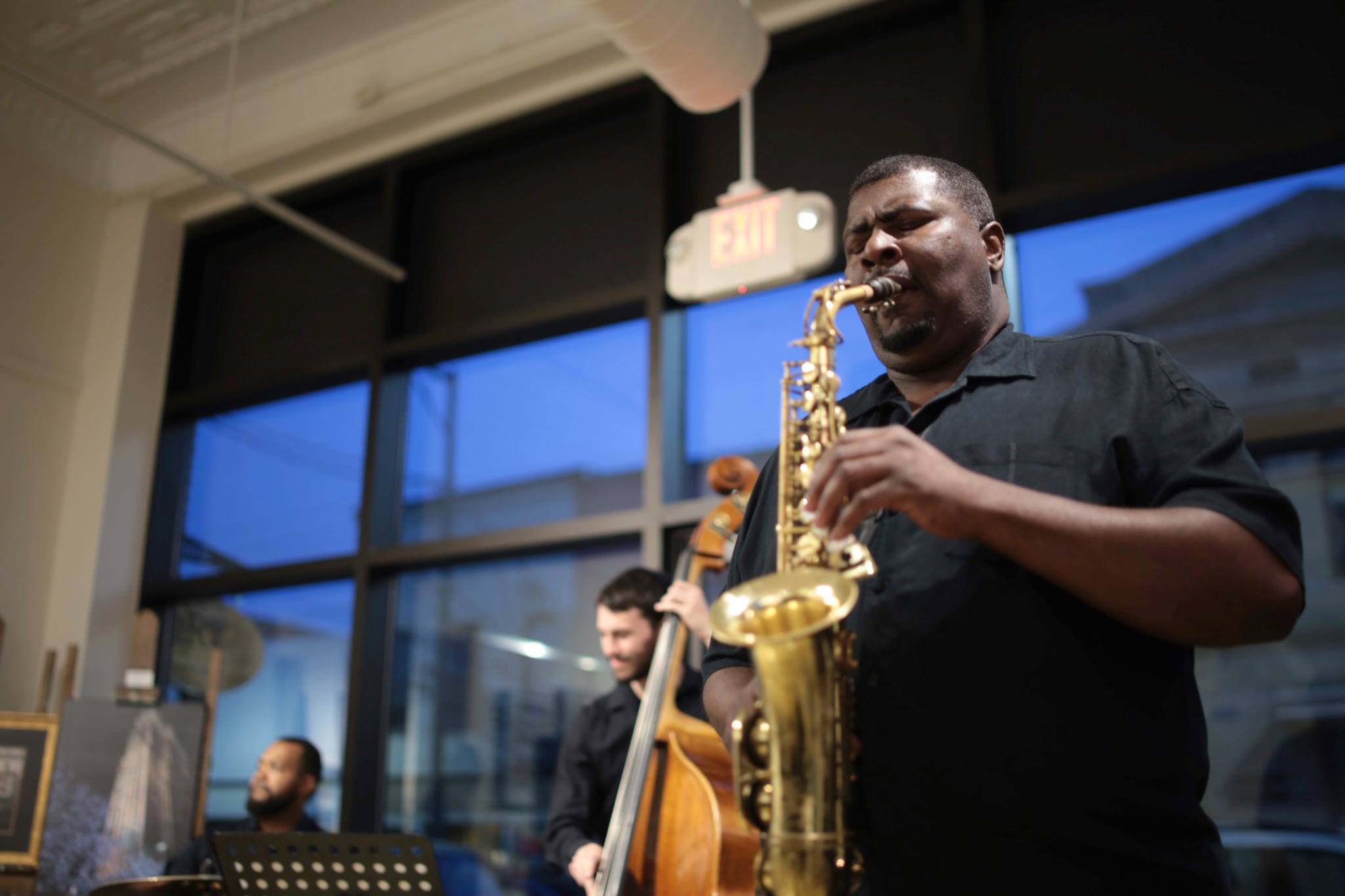 Thursday, Dec. 2
Jazz at CAM with Benny Hill
Cameron Art Museum, 3201 S. 17th St. Ext. • Tickets: $15-$25
As part of the Cape Fear Jazz Society's series at Cameron Art Museum, saxophonist Benny Hill will perform unplugged from 6:30 p.m. to 8 p.m. For 20 years, Hill has performed jazz in solo gigs, with groups from orchestra pits to cruise ships, and has led open jams.
An adjunct professor at Cape Fear Community College, Hill has performed with notable musicians, such as trumpeter Ray Codrington, guitarist Melvin Sparks, trombonist and arranger Slide Hampton, and bassist Percy Heath, and played with the groups such as New Orleans' Dirty Dozen Brass Band and RatDog, featuring Bob Weir and Rob Wasserman. Hill also has taken the stage with James Browns' Soul Generals.
Tickets are $25 for society and CAM members, $30 for nonmembers, and $15 for students and military.
Friday, Dec. 3
Holiday Flea at BAC
Brooklyn Arts Center, 515 N. 4th St. • Tickets: $5
The time has arrived for the annual three-day, one-of-a-kind shopping event, featuring vintage, retro, upcycled and artisan goods at Brooklyn Arts Center. The Holiday Flea at BAC will take place Friday through Sunday, featuring over 50 local and regional vendors selling records, home goods, clothes, jewelry, art, and the like. The vendor booths will be set up in the church and adjoining Annex.
Admission is $5 for all three days and includes a raffle ticket (kids 12 and under, admitted free). There will be food trucks, a bar serving up 'ritas, mimosas and coffee, and free parking in the Brooklyn Arts District along Fourth Street.
The flea's hours are Friday, Dec. 3, 4 p.m. – 9 p.m., Saturday, Dec. 4, 10 a.m. – 5 p.m., and Sunday, Dec, 5, noon – 5 p.m.
MORE FRIDAY HAPPENINGS
Carolina Beach Christmas Parade — Taking place from 7:30 p.m. – 9 p.m., the island's parade will travel from Atlanta Avenue down Lake Park Boulevard to the Federal Point Plaza in Carolina Beach. Floats, bands and Santa Claus will be there to add to the festivities and provide a night of entertainment for families.
New York Ballet for Young Audiences "The Nutcracker" — Performing at Thalian Hall both Friday, Dec. 3, 4 p.m. and 7 p.m., and Saturday, Dec. 4, 10 a.m., "The Nutcracker" features a cast of 13 dancers, including four children and a narrator. Choreographed by Harriett and Edwin Kinter, with music by Tchaikovsky, the holiday classic follows the story of Clara, who, with her Nutcracker Prince, travels to the Land of Sweets, ruled by the Sugar Plum Fairy, for a night of royal celebration. Tickets are $32.
Christmas Unplugged — Twelve musicians will take over the Bourgie Nights (127 Princess St.) stage to perform three songs each — two holiday numbers and an original tune. Christmas Unplugged will have eggnog flowing, singalongs on deck, and it's a Toys for Tots fundraiser, so entry is one new, unwrapped toy or a $10 suggested donation. Read more here.
Operation Pretty Things Christmas Event — Operation Pretty Things is preparing over 350 holiday gifts to ship to domestic violence shelters. The nonprofit collects cosmetics, such as mascara, eyeliner, and lipstick, and self-care items, like nail polish, nail files, facial cleanser and moisturizers, to send to survivors of domestic abuse. The annual Christmas event welcomes community members to help assemble gift packages; a suggested $10 donation is welcome to help with shipping costs. For more information, go to www.operationprettythings.org.
"Elf" — The Will Ferrell holiday comedy will be showing for free at Wrightsville Beach Park (1 Bob Sawyer Dr.) at 6:30 p.m. Buddy the Elf will take audience members through the "seven layers of the Candy Cane forest, through the sea of the swirly twirly gumdrops and through the Lincoln Tunnel," in search of his biological father. Rated PG; runtime is an hour and a half. Picnics, blankets and chairs are welcome.
Saturday, Dec. 4
Leland in Lights
Founders Park, 113 Town Hall Dr. • Free
The "Grand Illumination" of Leland in Lights is a free event held Saturday at 6 p.m., featuring one special guest dressed in a jolly red suit — Santa! Santa will be the switch-turner to light up Founders Park, bringing cheer to families along the way.
Beverages and desserts will be served from Brown Dog Coffee and Momma Rock's Desserts. Santa's Workshop will be open for kids to share their wishlights or to hop aboard a train to tour through the park's lights. Off-site parking will be available at First Baptist Church of Leland and a shuttle will bring guests to the event site.
Each weekend thereafter, the Leland Express schedule will run both Friday and Saturdays, 6 p.m. – 8 p.m., through Dec. 18.
Also, Leland will set up a holiday edition of its "Movies in the Park" series, surrounded by the park's lights. The Dec. 11 screening features "Elf" and starts at 5:30 p.m. Picnics, blankets and chairs welcome.
MORE SATURDAY HAPPENINGS
Christmas by the Sea — At the festively decorated Carolina Beach gazebo, Santa Claus will welcome kids to share their lists, plus they'll get a candy cane and ornament craft. There will be pony rides, and the green Volkswagen Bus Photo Booth will be parked onsite. Fire pits will be set up by the Carolina Beach Fire Department, offering hot chocolate with marshmallows. Christmas by the Sea will take place both Dec. 11 and 18, 5 p.m. – 7 p.m.
Raleigh Ringers — An internationally acclaimed handbell choir, directed by David M. Harris, will take over historic Thalian Hall to perform yuletide favorites. Included will be Vince Guaraldi's "A Charlie Brown Christmas" score and other holiday classics. Tickets are $53.50.
Belville Lights by the River — The town's annual Christmas tree lighting will take place 4:30 p.m. – 8 p.m. Santa arrives at 5 p.m., and the Coastal Dance Academy will perform at 5:15 p.m. At 6:15 p.m. the movie "Elf" will screen. Trolley Stop will have hot dog carts parked and hot chocolate, tea or coffee will be sold for 25 cents; plus there will be free popcorn. The event is free and will take place at 580 River Rd. SE.
Holiday Tree Light and Festival of Trees — The Marina Village in Riverlights also will light up Friday evening. Five nonprofits — Communities in Schools, Eden Village, paws4people, Cape Fear River Watch, and Honor Flight — have teamed up with the community to decorate trees that showcase their organizations in a creative way. Onlookers vote for the best decorated tree and Riverlights will donate $1,000 to the winning organization. Donations from the community at large will also be accepted during the tree lighting event. Kids will be able to visit with Anna and Elsa from "Frozen," and complimentary cookies and hot chocolate will be served. Wilmington Ballet Company even will perform a scene from "The Nutcracker," and kids will have an opportunity to decorate an ornament and take a photo with Santa inside the Riverlights Information Center.
Clyde's Holiday by the Sea — Cameron Art Museum is hosting its 12th annual Clyde's Holiday by the Sea, with participants able to either purchase and pick up Clyde's Critter Art Kit and drop off their completed creation by Dec. 4. The finished critter will be added to Clyde's Holiday by the Sea Community Installation, on display on CAM's grounds throughout the holiday season. Local nonprofit Kids Making It cut the critter templates in a variety of sea-themed shapes, and participants paint and decorate the wooden creatures. Staff will finish off the pieces with lacquer so it fares well outdoors. In-person participation is available from 10 a.m. – 11 a.m. or 11 a.m. – noon as well; registration required. The kits are $25-$35.
Island of Lights Flotilla — Starting at 6 p.m., fishing boats and other crafts donned in lights and decorations will illuminate the Intracoastal Waterway as they cruise from Snow's Cut to Carolina Beach Boat Basic and back. The Island of Lights also has judges to determine the best decorated vessels.
The End: A Celebration of New Beginnings — Fermental will be moving operations to the Cargo District in early 2022. But it's official send-off party from its current Ogden location takes place Saturday, noon – 10 p.m. There will be multiple food trucks — Grimm Burger, noon, and Platypus and Gnome, 5 p.m. — and live music on deck. Kyle Lindley will play at 2 p.m., with Starlight Speedway following at 2 p.m. and Boba Funk at 6 p.m. An inventory sale will take place outside and there will be giveaways and other surprises.
The Supercalifragilisticexpialidocious Magic Cheese Film Festival — DREAMS students, mentored by the Cucalorus Film Festival, will host a film festival starting at 4 p.m. Saturday. Over a dozen films will screen, under 10 minutes each, showcasing comedy, animation, scary movies, action movies "but nothing boring like history or math," according to the crew. The festival will take place at Jengo's Playhouse (815 Princess St.) and admission is $5.
Holiday Arts Market — Leland Cultural Arts Center (1212 Magnolia Way) will host a local, handmade arts market from 10 a.m. – 3 p.m. Food trucks will be on site, and the local duo Two Bucks will perform. It's free to attend, though food and gifts are individually priced.
Sunday, Dec. 5
Carols, Cookies and Hot Chocolate
Hannah Block Historic USO and Community Center, 120 S 2nd St. • Free
A holiday choir will set up at the Hannah Block Historic USO/Community Arts Center to perform two shows Sunday at 3:30 p.m. and 4:30 p.m. Voices in Community Arts Center Choir will perform carols and 1940's swing, ballad and jazz standards outside. Free cookies and hot chocolate will be served in the center's lobby and USO museum.
Having started in February 2020, choir director Silivea Johnson, a jazz vocalist (pictured) leads Voices. The group has been practicing virtually throughout the pandemic and welcomes singers of all ages and experience. Their holiday show is free and open to the public.
MORE SUNDAY HAPPENINGS
Tuba Christmas Carols — Annually, around the holidays, Independence Mall (3500 Oleander Dr.) fills with the low hum and buzz of tubas from over a dozen tubists set up near JCPenney. All skill levels and ages perform holiday classics, as directed by Daniel Johnson of UNCW's Department of Music. The concert is free.
Riverlights Holiday Home Tour — On Saturday, from 10 a.m. – 5 p.m., and Sunday, noon – 5 p.m., nine decorated model homes in Riverlights will be open and available to tour. Classic, coastal, modern, rustic, and colorful, the homes will have every banister lit and window tinseled for the holiday season. To visit, stop by the Riverlights Information Center, located in Marina Village to pick up a holiday map. A holiday photo booth will also be set up and visitors will receive a complimentary Riverlights mug (while supplies last) to enjoy a sweet treat from the hot cocoa bar.
City Ballet's "The Nutcracker" — Taking place at 2 p.m. and 7 p.m., City Ballet's 10th anniversary season of "The Nutcracker" is a two-hour performance for all ages. The show draws on the original tale by E.T.A. Hoffmann, and features a local cast of talent, of all ages. Tickets are $15 and can be purchased at wilsoncentertickets.com.
---
Have an event to consider for Li'l Friday? Email info@portcitydaily.com