WILMINGTON — Delia Valenti Eveland, a self-described "crazy cat lady," has wanted Wilmington to have its own "cat café" for a long time. So, she's going to build one.
Eveland moved from Guatamala to North Carolina about 12 years ago. She came to Wilmington to attend Cape Fear Community College and then University at North Carolina Wilmington.
"I fell in love with Wilmington, it's hard not to," she said.
One thing Wilmington lacked, was a cat café. Eveland, along with her husband Terry, set about work on building The Scratching Post Café. The couple hopes to have it up and running in about six months.
"It's been a passion of mine for a long time," said Eveland. "But not everyone even knows what a cat café is. I have to tell them, 'yes, it is a thing.' And then, when I tell people about it, they said, 'well, I guess I could put my cat on a leash or something.' But you don't bring your cat. You bring yourself to enjoy our cats."
Inside a cat cafe
Quite simply, The Scratching Post Café, which is Eveland's passion project, will be like other cafes – except it will be full of cats, all available for adoption. The Scratching Post will serve coffee – sourced from Eveland's native Lake Atitlan, Guatemala – alongside snacks and light meals, leaning heavily on vegetarian food.
Eveland said she was inspired by the success of Crumbs & Whiskers in Washington, D.C., and the Blue Cat Café in Austin, Texas, and wanted to create a similar place for the "cat people" of Wilmington.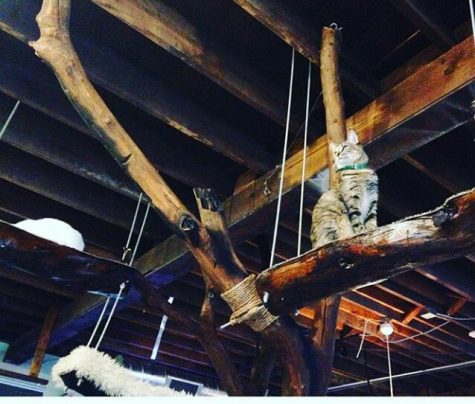 The owner of four cats (and two back home, in Guatamala) Eveland said, "maybe you can't have your own, because of roommates or allergies, or maybe you have your own and wish you could have more, like a lot more."
Eveland has secured financing to lease a location; the next hurdle was the Health Department.
"They want at least two walls between any food production and the cats," Eveland said. "So, that means a wall, a hallway or a room, and then another wall, which is a lot of space you can't use for cooking or for cats."
Eveland's solution? A shipping container. Ironically, Eveland had to go a little further than the Port of Wilmington to get one.
"I originally wanted to do a food truck," Eveland said. "But I started to see shipping containers used for this, I'd seen them set up with awnings and bar stools – they're big enough for a whole kitchen. Ironically, even though the port is right there, you can't buy the containers there. I ended up tracking one down in Utah. It's perfect, but I'll have to get it shipped here."
Shipping containers being used as homes? Here's one in Carolina Beach
Eveland and her husband plan to park the shipping container in front of a renovated space that will hold the Cat Café proper.
"You won't have to run out in the rain or anything like that, we'll bring the food to you – it'll just be prepared outside the café," Eveland said.
Eveland is looking at the former Uprising Bakery spot near the end of Wrighstville Avenue at South 17th Street.
"What I like about the spot is that it has a lot of interior rooms," Eveland said. "We'd like to have one room just for litter boxes that's away from the customers. That's both for the customers, to keep the smell away, and also to give the cats a chance to take a break from humans if they want. And the rest of it can be nooks and crannies, the perfect places to curl up with a cat."
Once renovated, the building would feature multi-level cat ramps, "to allow the cats to look down on us, if they want," Eveland said.
There are also plans for a camera system, to allow Eveland and her staff to check on the cats around the clock, and to allow customers to check up on their favorites.
It's a cats' world
The cats themselves, Eveland said, would be the center of attention; some house rules would protect the felines: no flash-photography, no harassing shy cats and definitely no waking of sleeping cats.
A $5 cover-charge would cover costs of feeding and caring for the cats.
"Caring for the cats would be the most important thing," Eveland said. "I'm prepared to hire employees for that, but I've also had a lot of volunteers. People have told me, 'I love it, I'll scoop the poop all day.' So that's been really encouraging."
She plans on adopting about 20 adult cats from Wilmington-based Adopt an Angel, specifically cats that the organization has had trouble placing.
"When I called the first time, they said 'all we have are blacks cats,'" Eveland said. "No one wants to adopt black cats apparently, but I said I'll take them all. And not just black cats. One-eyed cats, older cats. I don't want just kittens. These are cats that might not get adopted, but if you spend you time with them, you'll fall in love with them."
As part of The Scratching Post Cafe's mission, all of the cats at The Scratching Post Café will be available for adoption through Adopt an Angel.
"It's a chance for these cats, who might not get adopted or even seen, to get some exposure, and for people to fall in love with them," she said.
Eveland is currently running an Indiegogo campaign to raise additional funds, saying: "I hope the campaign stirs up some interest, and lets people in Wilmington know this is going to happen."
Among the perks of larger donations include VIP status or an invitation to the planned grand opening. For a more modest $10 donation, Eveland said, "we'll put the name of your ex on one of the litterboxes so that, well, you know."
That is, if you're feeling catty.
Keep up to date with what's going on, follow us on Facebook and Twitter.