WILMINGTON — This week, Hi-Wire Brewing will open its fifth location with an upfitted taproom on Princess Street.
The Asheville-based brewery will bring a variety of beers to the Wilmington market to be enjoyed in an expansive, nearly 12,000 square foot, pet and kid-friendly taproom.
Related: Asheville's Hi-Wire Brewing plans to open taproom in Wilmington's 'Soda Pop District' this fall
"We love Wilmington," Hi-Wire's co-owner, Chris Frosaker, said at the taproom's soft opening Saturday afternoon. "We felt like Wilmington is a sister city to Asheville"
First eyed and purchased by Andy Hewitt of Charleston-based Paramount Real Estate in August 2019, construction crews began renovations in July. The space was previously a car dealership and carburetor shop, sitting on the corner of Princess and 11th streets, just behind New Hanover High School.
"I bought it knowing it had a lot of potential to be a really cool project," Hewitt said. "I would say, this is by far the coolest project that we've done."
Something for everyone
Along with his wife and Hi-Wire co-owner, Bryna, Frosaker said the team identified Wilmington as a like-minded market.
"We look at markets that feel like Asheville. Great food, great beer, great culture — combined with markets where we're growing distribution-wise," he said.
Between its two breweries in Asheville and taprooms in Durham and Knoxville, Frosaker said about 10% of the company's volume and 30% of its revenue comes from the tap. The remainder comes from its distribution sales, which many in the Wilmington market may already recognize as a shelf staple in area grocery stores.
Hi-Wire's best-selling beer is the Hi-Pitch IPA, followed by its Low-Pitch Hazy IPA. Its third-best sellers come from the brewery's Session Sour Series, which feature low alcohol, tart, fruited beers. The pink lemonade and blackberry limeade sours rank highest in the sour category, Frosaker said.
From sours to lagers to IPAs, Frosaker said Hi-Wire creates at least 100 unique beers every year in its Asheville breweries.
"We do everything," he said. "When people come in here, the goal is we have something for everybody. Any type of beer that you may like, we want you to fit in. We want you to have a place."
The taproom highlights a wide selection with 24 unique taps, fit with three non-beer options: a prosecco, red, and white wine. Most taps will constantly rotate, with a few core staples set to stick around.
"I always push people towards our lagers," Frosaker said. "For me, what I think is really special is our lagers. Lagers are harder to make than ales. They take a long time, there's nothing to hide behind in it because they're just so simple. They're clean, they're clear — we make awesome lagers. For a craft brewery our size, that's pretty unique."
If a customer takes to a particular brew, they can hope to find it in the taproom's beer cooler, which will include between 20 and 30 different canned options to-go.
The Wilmington taproom is a bit more creative than the company's other locations, Frosaker said, complete with expansive, circus-inspired murals and bright colors. It also has a life-sized soccer pool set (think: kickable Billards) and an outdoor drainage-issue-turned beer garden.
Each time we build a place, I think we get better at it," Frosaker said. "This is — I think we all agree — our favorite taproom we've done."
Pending final ABC permit approval, Hi-Wire hopes to open its Wilmington taproom to customers Wednesday, Dec. 23. It's located at 1020 Princess Street in downtown Wilmington.
Outside of Covid-19 hourly restrictions, the brewery plans to keep typical weekday hours of 3 p.m. to 10 p.m. Monday through Thursday. On Friday, the brewery will stay open at 3 p.m. until midnight; Saturday, noon to midnight; Sunday, noon to 10 p.m.
Keep up with Hi-Wire Brewing's Wilmington taproom on its Facebook page.
View more pictures of Hi-Wire Brewing from its soft opening Saturday. Click to enlarge and scroll: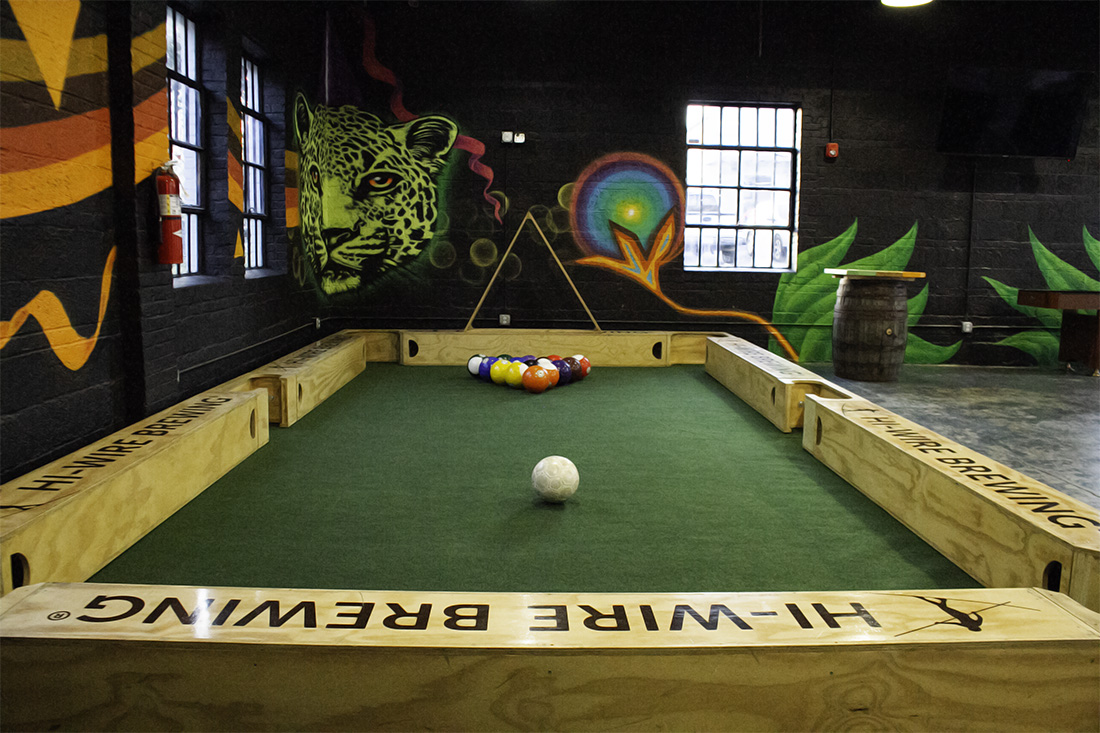 ---
Send tips and comments to Johanna Ferebee Still at johanna@localdailymedia.com