PENDER COUNTY — Topsail Middle School has entered its second school year mired in public outcry about growing mold problems, leaving many parents asking why the school board and district has yet to remediate issues.
The lack of urgency has parents frustrated. Yet, compounding their irritation is a reported lack of communication from school officials.
READ MORE: Remediation begins on air quality issues at Topsail Middle
ALSO: Mold persists at Topsail Middle
"They don't acknowledge us," said Courtney Fowler, parent of a Topsail Middle seventh grader, of school administration and board members. "We can't let it go; it's our kids' health."
Since last year, Pender County Schools has hired two different consulting firms to perform both HVAC assessments and indoor air quality tests across its 15 campuses, with preliminary results from three schools showing mold and elevated CO2 are still detected.
Yet, the company reviewing all HVAC systems has yet to turn over its full assessment to the school board, who has noted it will not sign off on any cost-related maintenance until results from all 15 are in hand.
During a Sept. 13 board meeting, members questioned a Cheatham representative about the year-long timeline. Board chair Brad George noted there wasn't a deadline in the contract.
"This thing seems to have drug out a lot longer than anyone thought it would drag out," George said at the meeting. "I would appreciate if we could hurry up and move this along to get to what we've got. And get the most [out of the money]."
The Cheatham representative explained every assignment the company takes on is based on what other projects the company also has in the works.
"We try to keep on task with it but we're pulled in various ways," the firm's representative told the board. "But that's not an excuse."
Cheatham and Associates, hired in October 2021 for $87,855, issued a list of critical need schools in early August, 10 months into its contract.
However, chief officer of auxiliary services Michael Taylor told PCD Cheatham's work started early after being hired.
"Onsite visits may not have started, but there was a lot of as-builts and other research that had to be done prior to entering the buildings," he explained. "These assessments are very complicated and time consuming.
Topsail Middle, Pender High and Surf City Elementary and Middle were top priorities due to the overdue life expectancy of their equipment and preliminary cost estimates for replacements. Port City Daily accessed reports for those facilities, all of which indicate some needed equipment repairs.
Other priority schools include CF Pope Elementary School, Topsail Elementary School, Malpass Corner Elementary School and Burgaw Middle School.
Despite those reports being available, suggested mitigation cannot begin until the board receives data on remaining facilities, plus operational and administrative buildings. Members want to understand the full scope of the district's problems and allocate funding accordingly.
An anonymous parent of a seventh grader at Topsail Middle School reached out to PCD in September expressing concerns about the "ongoing stalling efforts of air quality tests" and the board's "lack of responsiveness and collection of data."
The parent wished to keep her name out of the story because she is an educator and doesn't want to "burn any local bridges."
She said her daughter has been having daily headaches and congestion.
"But 'tis the season, so it's hard to track where and why those things are occurring as well," she added. "I'm really advocating for data. Let us see what the numbers look like in the air and then we'll go from there."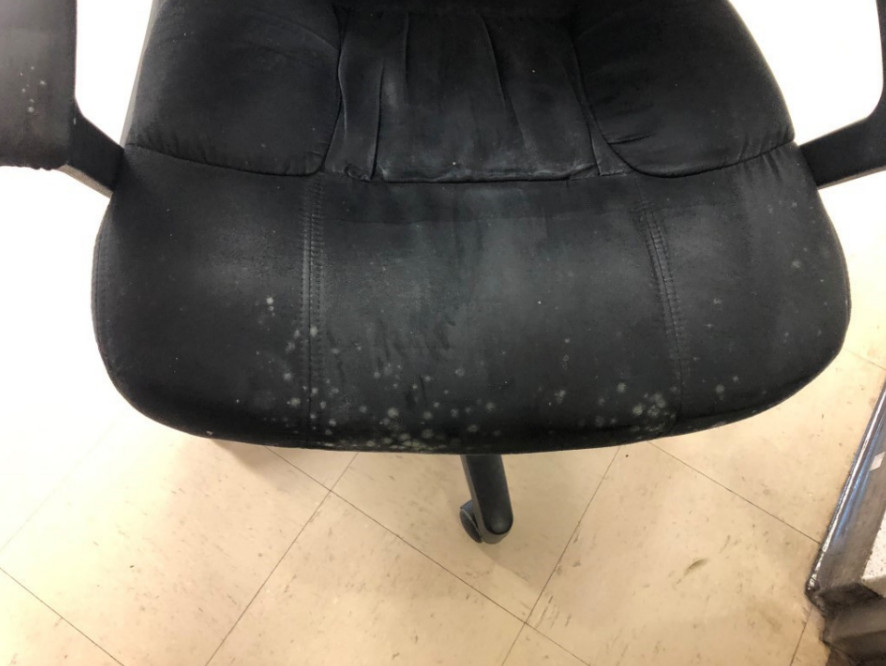 The history of lingering problems
Mold at Topsail schools has made headlines over the last two decades. In the 2002-2003 school year, parents filed four separate toxic mold lawsuits against Pender County Schools alleging their children became ill due to mold exposure while attending North Topsail Elementary School, South Topsail Elementary, Topsail Middle School and Topsail High School.
At the time, there were ongoing complaints from parents and teachers about visible mold and allergy symptoms. The plaintiffs dropped the lawsuit in 2005, when the schools agreed to spend more than $1 million in cleaning and air quality improvements, according to media reports at the time.
Similar problems from 20 years ago resurfaced at the beginning of last school year following a routine air quality and mold test conducted. Parent Ashley Sitorius began to complain in December 2021, after her child was experiencing allergy-like symptoms (he tested negative for Covid at least four times) and missing school days because of it.
Sitorius' outreach resulted in the school officials agreeing to do another air quality test in January. A report released by industrial hygienist company ECS Southeast recommended a consultation with a HVAC contractor to correct elevated carbon dioxide levels; for all surface mold to be cleaned with an EPA-approved antimicrobial; replacement of the water-stained ceiling tiles; and a more in-depth evaluation performed on the gymnasium to locate the source of moisture.
Contractors began cleaning mold, installing air scrubbers and remediating HVAC issues after school and on the weekends. The school's HVAC system and exhaust fans were adjusted to increase run times, and air flow dampers to regulate intensity of airflow, opened 24 hours a day,helped alleviate ventilation issues.
Yet, Sitorius' children, including her son and now her daughter, the latter of whom has terminal brain cancer, began complaining of similar symptoms this year. Her daughter's oncologist recommended keeping her home.
"I can't send my daughter to school in that toxic environment," Sitorius said.
The oncologist sent a note to the school, shared with PCD: "It is our belief that she should be allowed to be out of the school environment until the mold situation is resolved, due to her underlying condition."
Sitorius began contacting Pender County Schools again this month. Her mission to ensure safety and health for her two children at Topsail Middle has gained traction with other concerned parents coming forward.
During a board meeting Sept. 13, parent Mark Fowler, told members his seventh grade daughter complains daily of headaches and nasal congestion. He added the school nurse acknowledged she was not the only one suffering from these symptoms.
Since the start of the new school year, the Topsail Middle School nurse reported 128 student visits, 90 resulting in sending kids home sick.
"We're talking about the safety, health and well-being of hundreds of children, teachers and staff," Fowler told the board. "It's inexcusable. This issue needs to be resolved immediately."
His wife, Courtney Fowler, said their daughter has been out for two-and-a-half days this year — behavior that is "out of character" — complaining of headaches, dizziness and watery eyes.
According to N.C. Department of Health and Human Services certified industrial hygienist David Lipton's presentation on mold growth, children are more susceptible to the health impacts of mold — coughing, wheezing, respiratory infections, asthma, shortness of breath, allergic rhinitis, inflammation, sneezing, runny nose, sore throat, red, itchy watery eyes.
"I can't express enough the guilt of sending my child in there every day," Fowler said. "But I know she needs to be in school, needs socialization, needs to be learning."
'Spinning our wheels'
According to Cheatam's assessment, it could cost the school district more than $1.6 million or more to make the Topsail Middle repairs by the time the board approves it. The middle school comprises five independent buildings, all requiring some form of air quality improvements.
Cheatham's preliminary report for Topsail Middle found several spaces or areas problematic for high CO2 levels. It said levels drop 10 minutes after students leave classrooms. The computer lab reports continued high amounts of CO2, even without kids in it.
It also indicated elevated mold spore counts and noted improving indoor air quality can help stabilize the issues.
Results from Topsail Middle show multiple buildings have outdated equipment and negative air pressure, meaning air leaks into the buildings.
"The real question is, didn't we know they were old and outdated a year ago when they tested poorly?" Sitorius said to Port City Daily last month. "What has been fixed or done? It didn't even sound like someone was keeping a close eye on the system."
The sixth grade building requires more outside air for proper ventilation. There is no A/C or heat in the kitchen, leading to negative air pressure and a lack of humidity regulation.
The seventh grade building needs to be properly sealed from exterior air. High levels of CO2 and elevated mold-spore counts remain.
To resolve the issues, the report suggested ensuring HVAC systems are optimized to increase outside air for ventilation. It also recommended using higher efficiency filters and air cleaning technologies, such as ultraviolet lamps or Needle Point Bi-Polar Ionization devices.
NCDHHS' Lipton reviewed the HVAC assessment, briefly, earlier this month. According to emails shared with PCD, he expressed concerns to his colleagues about the company's recommendations to install UV light technology and ionization systems in the air ducts.
He said they are difficult to monitor for effectiveness and also have the possibility of emitting ions and oxidative chemicals, with limited information about resulting health effects.
What's next?
As the firm makes its way through the rest of the district's schools, millions more will be needed to upgrade each facility, according to Cheatham's findings.
"I just won't understand how a town can not have a plan for schools like this," Sitorius said to PCD. "We know when the school was built, and we know things won't last forever. Why are we in 2022 with so many things on a to-do list? I have a feeling the bond won't pass … then what?"
Renovations to Topsail Middle are to be covered in the $173-million proposed school bond to appear on the ballot this November. However, even if it passes, $22 million in upgrades won't be completed until 2026.
Once two new schools are built, children at Topsail Middle will start filtering into those facilities while the renovations are underway. Superintendent Dr. Steven Hill said the middle school would be prioritized.
During a Sept. 19 Topsail Middle School PTO meeting, the superintendent mentioned nearly $3 to $6 million in ESSER funds available to Pender County Schools for HVAC and air quality maintenance. The message left parents even more frustrated as to why repairs have not yet been completed, especially over the summer when the buildings were empty.
"I'd like to know why they didn't start using ESSER funds with the very first report in September 2021 when they found mold on a teacher's chair and high CO2 in the seventh grade building," Sitorius said. "So many questions."
Fowler asked during the virtual meeting how repairs would impact students' day-to-day activities. Hill said the work shouldn't disrupt classroom time but also indicated schools would do whatever is necessary. Mobile classroom units are on standby if certain rooms need to be temporarily emptied.
"If they tell us to do it, we do it," Hill said of Cheatham's recommendations. "It's up to the professionals."
Sitorius sent an email to the superintendent, school board and chief officer of auxiliary services, Michael Taylor, Sept. 19 — a day her son was sent home sick.
"Enough of the excuses," she wrote. "How long will Pender County allow this to continue before we stage a walkout?"
Taylor clarified to PCD he responded to Sitorius that a third-party vendor — different from Cheatham who is doing HVAC evaluations — was contracted to perform an indoor air-quality assessment for all 15 Pender County school campuses, starting with Topsail Middle on Sept. 23.
The county hired consulting firm EI Group earlier this month for $37,500 to develop a summary of findings for each school building in the district.
"All buildings will be tested by collecting several samples throughout the building," Taylor wrote in an the email shared with PCD. "All findings and recommendations will be available for public review upon completion."
Sitorius posted a poll on social media Sept. 21 to gauge the number of parents facing similar issues: "I'd like to see how many kids are experiencing issues at TMS that are not due to an actual explained illness."
It's already received more than 130 responses: 34 said their children had headaches, 25 noted runny noses, 38 indiciated congestion, nine had eye irritation, 13 reported a cough, 13 reported sneezing, four indicated itching or skin irritation. Many checked off multiple symptoms.
Current and former teachers and employees of Pender County Schools have responded to the poll as well.
In the meantime, Fowler said she "feels defeated."
"We're spinning our wheels and getting nowhere," she said. "What can we do next?"
Sitorius confirmed to PCD she has begun research into what parents did legally a decade ago.
"It may end up in a lawsuit after all," she said. "Time will tell."
No Pender County school board members returned requests for comment via email or phone.
---
Tips or comments? Email amy@localdailymedia.com.
Want to read more from PCD? Subscribe now and then sign up for our morning newsletter, Wilmington Wire, and get the headlines delivered to your inbox every morning.