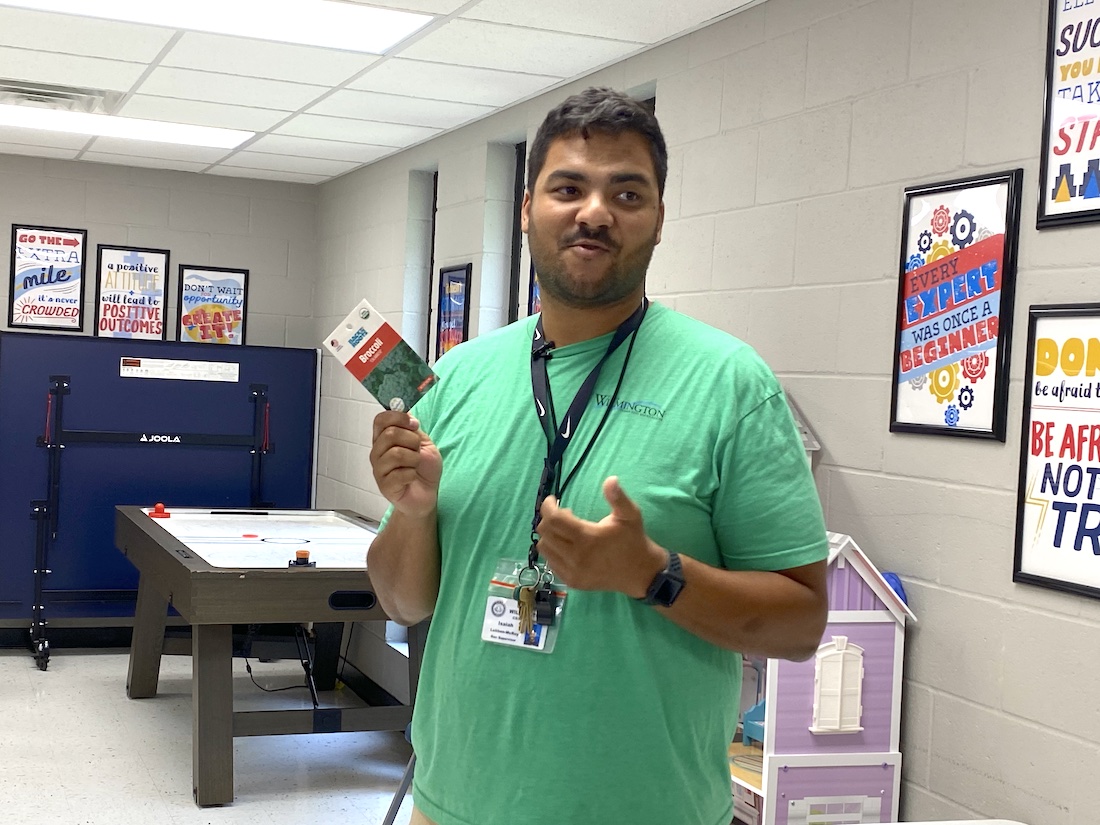 WILMINGTON — A new initiative on the eastside of Wilmington is budding to combat food deserts and reduce food insecurities many face in the county.
Isaiah Lubben started Maides Park Seed Library in hopes of impressing upon others the ease and accessibility of growing one's own food. Lubben took his position as the recreation supervisor of Maides Park with the City of Wilmington in April. He arrived from Sampson County Parks and Recreation, where he ran a gardening program for at-risk youth.
READ MORE: County accepts city land donation for Northside grocery store
While there, Lubben said he learned under master gardener Joni Torres, from the N.C. State University Cooperative Extension, who started a seed library. She collaborated with 86 area gardeners and built a catalog of thousands of seeds to give back to the community at large.
As Wilmington's first seed library grows, Lubben hopes to receive the same support. The library took root in late spring when Walmart offloaded 1,294 packets of seeds to the park for free — a donation worth $2,500.
"We currently have about 60 varieties of flowers, herbs and vegetables," Lubben said.
Beets, broccoli, cantaloupe, carrot, chives, cilantro, cucumber, dill, okra,, onion, parsley, parsnip, pumpkin, radish, rutabaga, squash, tomato — some also have multiple varieties
Seed library members, who sign up for free either online or in-person at the park, are welcome to visit every day of the week, if they choose, and can procure up to three packets a day. They will be handed a seed report to document what they "borrow," as well as any seeds they bring back later.
"At the end of the growing season, the goal is to harvest the seeds from the plants and return them to the library," Lubben said.
So far, more than a dozen have signed up for the program. Members receive a folder of information provided by the NCSU co-op extension, which features planting and rain schedules, as well local environmental changes. Details are provided when to plant and harvest crops throughout the seasons, how to transplant, and even suggest ideas on how to cook fresh produce; it also instructs on ways to protect and gather seeds.
"Take broccoli, for instance," Lubben explained. "If you leave a broccoli head sitting after you plant it and you don't want to eat it necessarily, or harvest it, just leave it and little flowers will bloom and they'll pollinate hundreds of little seeds, similar to bird millet. Just string them off, put them in a Ziploc bag, label it, and bring it back to us."
While the last step isn't necessarily required of card-holding members, by adding seeds to the library, it helps lessen the constraints of area food deserts and protects local agriculture and biodiversity in the region.
It also supports the slow food movement, encouraging people to buy and eat crops sprouted within their communities. The movement prevents the dissolution of local food cultures and traditions, while tackling people's tendency to go for the convenience of processed foods over healthy offerings of freshly grown produce and vegetables.
After a summer program ended a few months back at Maides Park, Lubben said the need for a seed library seemed more clear when interacting with a school-age child. There was an abundance of apples left over from snack time when the boy came into the park's Davis Center one afternoon and Lubben offered him the whole fruit.
"And he said, 'What's an apple? I've never seen one of those,'" Lubben retold. "We're in a food desert here, so it got me thinking: What if he doesn't know what carrots are? What if he doesn't know what zucchini is? That was the motivating factor behind this because, right now, 63.7% of New Hanover County is either obese or lacks the awareness and knowledge of healthy food."
According to the Food Bank of Central and Eastern NC, 16% of New Hanover County's population face food insecurities, meaning there isn't enough food in a household to feed every member. Some of those homes face more barriers accessing healthy food if there isn't a grocery store nearby
The USDA defines a food desert as "a low-income tract where a substantial number or substantial share of residents does not have easy access to a supermarket."
Maides Park and the surrounding neighborhood are over a mile from the nearest store. The closest to the eastside is a community garden, as well as local nonprofit NourishNC's newly opened mini mart, Mom on Market, which launched earlier in the year for food-insecure families.
"Our end goal is to promote awareness and knowledge and give back to the community," Lubben said.
Maides Park is highly visited, with more than 300 people coming through its doors daily to participate in pickleball, basketball, and activities like Bingo, he added. It also features outreach programs, including within its pollinator garden, created with the help of Cape Fear Community College, to expose youth to the benefits of gardening. 
Next door at the all-girls charter school GLOW Academy, Chef Gwen Gulliksen and the gardening club were among the first to sign up as seed library members. Lubben hopes to attract more school-aged children and has plans to take the message into classrooms to promote its latest program.
"You want to catch them young," he said. "Because if you start in youth, they incorporate these practices. Also, it's fun; kids are amazed by what they learn — like when you tell them they can make rosemary mouthwash."
(Two cups of water boiled with a teaspoon of fresh mint leaves, a teaspoon of cloves and rosemary leaves will concoct a creation to be gargled in much the same way as commercial rinse.)
Yet, the seed library isn't only for kids; all ages, from seniors to teens to gardening enthusiasts far and wide, are welcome. There aren't restrictions on county residency either. Lubben said last week someone driving through to Raleigh stopped in to grab a few packets.
A small display of hundreds of offerings is on a table in the library of the Davis Center. Lubben hopes to see it expand to take up a corner bookshelf, as he witnessed under the tutelage of Torres in Sampson County. He said Walmart's first donation provided seeds to last through the end of the year, but more are on the way to boost inventory.
"It doesn't matter what skill level you are, your background, education," Lubben said. "We want everybody to be on the same page when it comes to local and environmentally friendly planting practices."
The long-term goal is to host workshops, afterschool programming and events, like seed planting sessions and seed swaps. Lubben mentioned doing cooking demonstrations and showing people firsthand the cost savings gardening provides.
He also is looking to secure local partnerships with area organizations, such as the Northside Food Co-op, which the county donated land to near Fanning Street downtown to build the area's first grocery store in over a quarter century. The co-op hosts free Thursday night dinners on the Northside and has established relationships with area farmers and foodmakers.
"Our hope is to collectively work together to make this bigger, better," he said.
---
Have comments or tips? Email info@portcitydaily.com
Want to read more from PCD? Subscribe now and then sign up for our newsletter, Wilmington Wire, and get the headlines delivered to your inbox every morning.