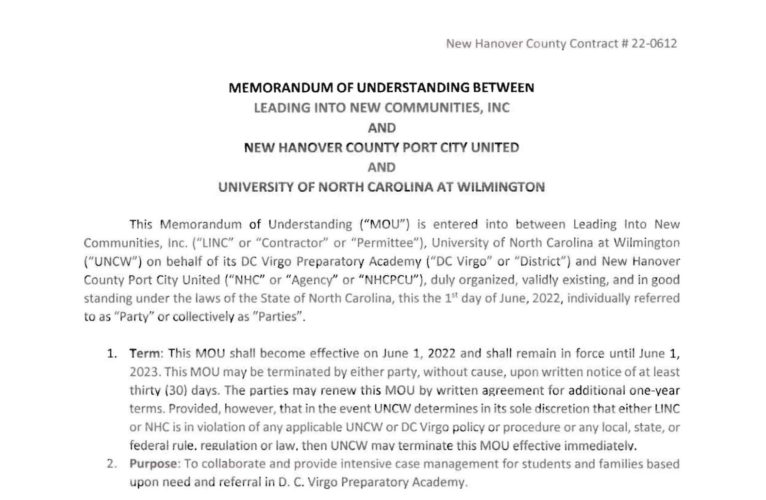 WILMINGTON — UNCW, LINC and Port City United have officially partnered up to support students affected by family incarceration at D.C. Virgo Preparatory Academy in a memorandum of understanding signed this month.
The agreement charges LINC, a nonprofit focused on supporting at-risk youth and rehabilitating formerly incarcerated people, with providing one or more community resource coordinators to D.C. Virgo. The position will work with 20 to 40 students with a parent, sibling or family member that has been incarcerated.
PCU will spend $94,000 to fund the program, paying out installments each quarter for a year. It will also hire a resource coordinator liaison to be paid through the county.
UNCW, who opened the D.C. Virgo in 2018, will supply the space.
The initiative is part of PCU's three main focus areas for the department — "collaborations with local nonprofits to put coordinators in schools to help families gain equitable and easy access to services."
In April, the county announced that 22 coordinators would be placed in seven "impact-zone identified schools," including D.C. Virgo.
Three positions were designated to LINC, 15 with Communities in Schools of Cape Fear and four with Voyage, formerly known as the Blue Ribbon Commission. The latter has worked closely with Northside schools in the past to provide community resources.
According to the memo Port City Daily accessed from internal emails, students will be referred to a coordinator by the school district following parent approval. Each student will receive an individualized plan to connect them with needed resources, including referrals to mental health therapists. Coordinators will have regular meetings with students and attend school events to integrate into their school's community.
To track progress, the staff member will supply quarterly reports on students' grades, attendance, test scores, suspensions and behavioral issues, along with service referrals to district staff.
The memo states LINC will be in charge of overseeing those day-to-day operations while PCU will carry out broader supervision with its liaison.
Port City United was formed after the August 2021 shooting at New Hanover High School with the intention of addressing root causes of violence. Aside from in-school resource coordinators, the county-funded department sends violence interrupters into downtown and low-income neighborhoods to offer resources and alternatives to violence. Last week it launched PCU Connect, a call center that community members can call to make connections to needed services, such as mental health experts, food sources and housing options.
Before its merger with UNCW, D.C. Virgo was Virgo Middle School. The school has operated in Wilmington's Northside since 1965, when it was an all-Black school. The school was shut down in 2011 due to low enrollment, but it reopened the next year as a magnet school. UNCW took it over four years ago to adapt it as a lab school, which are created with an experimental curriculum and provides teaching opportunities for UNCW's Watson College of Education students.
Several schools are set to receive coordinators, including the International School at Gregory, Snipes Academy of Art and Design, Forest Hills Global Elementary, Rachel Freeman School of Engineering, Williston Middle School and New Hanover High School.
---
Reach journalist Brenna Flanagan at brenna@localdailymedia.com
Want to read more from PCD? Subscribe now and then sign up for our newsletter, Wilmington Wire, and get the headlines delivered to your inbox every morning.