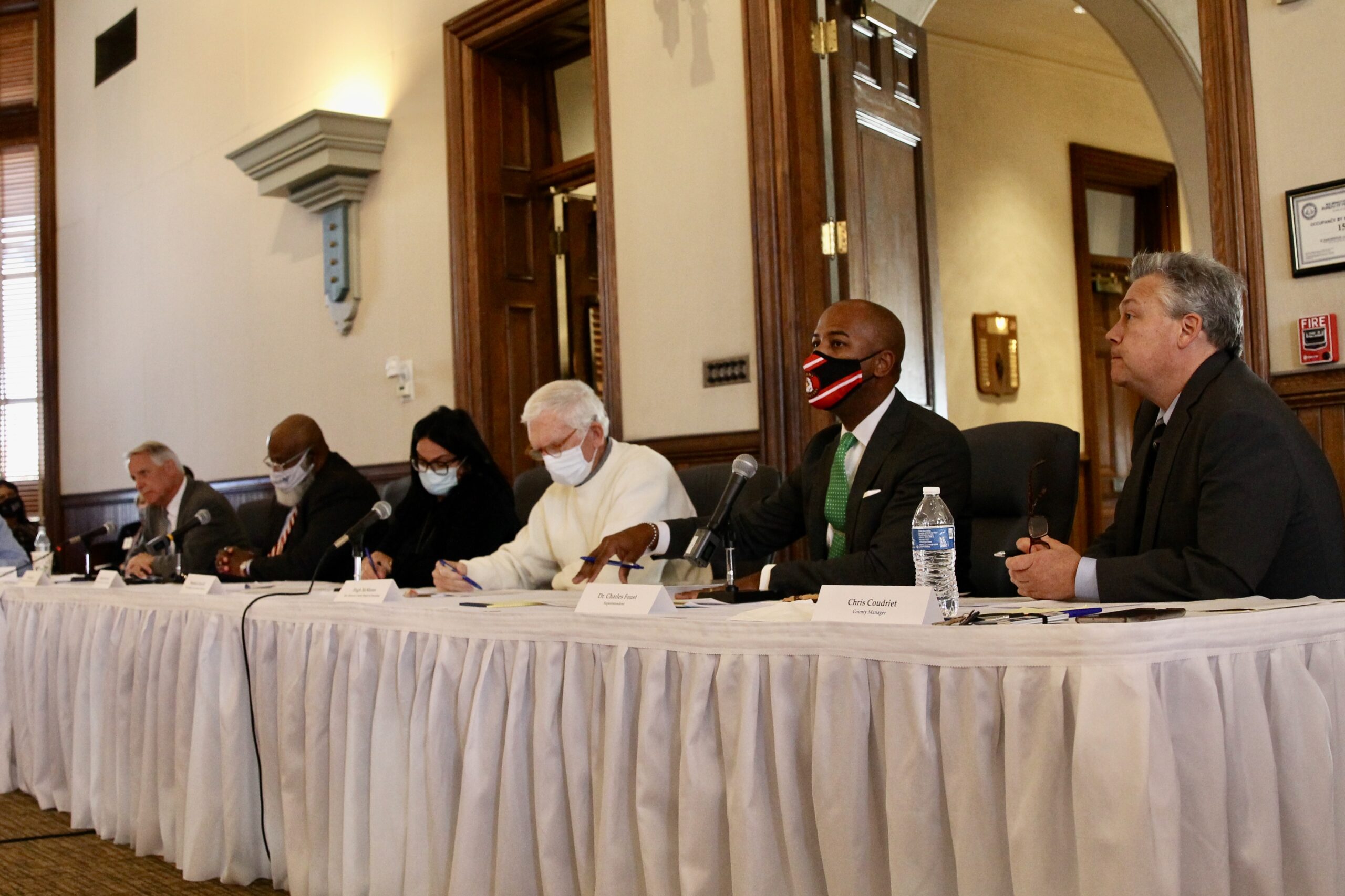 NEW HANOVER COUNTY — New Hanover County is considering the revelations of a recent survey as it formulates plans to put forth millions to mitigate community-wide violence and, in turn, the threats it poses to schools.
The board of education and county commissioners met Tuesday to hear an update from the county manager on a $36.5-million spending strategy, which includes people-centric investments, such as easing the burdens of pursuing higher education and opening more seats in free pre-K, as well as increasing the number of school resource offices and employing social media surveillance software.
Among the key takeaways of the survey was that the community considers bullying a significant problem in schools. While the majority of people feel comfortable reporting incidents to law enforcement and administrators, most are doubtful their reports will lead to corrective actions.
After the New Hanover High shooting –– the incident that sparked the county's violence intervention efforts –– the alleged shooter's mother told reporters she had contacted the school system multiple times about her son being bullied.
The school and community safety input survey opened for two weeks in October and harvested 2,240 responses. Demographically, the participant population appeared to match up with the county's racial makeup, though overall the majority of participants were white mothers.
When broken down by race, the differences in answers were stark, commissioner Rob Zapple pointed out.
Significantly fewer Black respondents, 60%, reported feeling a sense of security where they live, compared to 85% of white surveyees. While 76% of white respondents felt at ease raising concerns of suspicious or inappropriate activity to law enforcement, only 50% of Black participants expressed that same comfort. Just 25% of Black respondents trusted corrective action would be taken following a report, while the white population was found to have more confidence at 35%.
"This should be a real wake-up call to all of us," Zapple said.
School board member Hugh McManus said as a former principal, he knows firsthand bullying is the most crucial and most difficult issue in schools. He said if administrators attempt to address it, the victim will be "eaten alive" on social media.
"Somehow, we have got to figure out a way to deal with the bullying," McManus said. "But you've got to protect the kids and so when a parent would say to me, 'But Mr. McManus, they'll be on social media before I get home.' I say, 'You're right … I cannot deny that.' But I can't do anything anonymously. I have to be able to talk to people."
In late January, commissioners are slated to consider an initial $3.3 million in funding requests to begin addressing some of these concerns. This first ask is part of a greater three-year, $36.5-million plan that will continue through summer 2025.
The initial money will come from the county's fund balance and a portion of its $45.4-million American Rescue Plan Act allocation.
Originally commissioners had voted unanimously to dip into the hospital sale's $350-million pot — likely using around $89 million of that money in total. But the plan has been modified multiple times since then. In October, a majority of the board directed staff to explore other funding options. Chair Julia Olson-Boseman expressed strong opposition to doing so, accusing her colleagues of hindering the process.
County Manager Chris Coudriet said hardscape improvements proposed for the schools will now be bankrolled through the annual budget process. Previously, the county manager presented plans to pay for physical security upgrades on school campuses over five years, using $43 million from the sale of New Hanover Regional Medical Center. He explained Tuesday the county would roll those capital improvements into the yearly budget instead. It's unclear whether this change will alter the extent of the investments or timeline.
To back the latest version of the spending plan, the county staff has identified $10.5 million in American Rescue Plan dollars (which means the approved draft framework needs to be reshuffled to make room for this new expenditure); $14.2 million from the fund balance over the next several years; $4.5 million in escrows' interest that can be used in the back half of the multi-year plan; and $7.3 million in expected revenue growth from property and sales tax.
One of county leadership's early goals, hoped to be accomplished by this spring, is the creation of a call center where residents can report threats to the community. The center would also use software capable of monitoring social media. When information is uncovered, the professionals of the center would tap law enforcement, the school system or possibly nonprofits, depending on the case.
Vice Chair Deb Hays described the center as teams "dedicated to just scouring social media to see where the issues are, where the problems are, what we can do to address and help."
"That is something the community wants and needs," Coudriet said during the joint meeting. "It may not be expecting it, but it certainly wants and needs it."
A handful of North Carolina's public school districts have already tried out emerging private companies that scan sites like Facebook and Twitter for potential threats. The software then alerts officials of alarming posts, according to a WRAL News investigation, sometimes related to shootings, fights, bullying or self-harm.
Orange and Dare county schools both contract with Social Sentinel for less than $15,000 a year. Vance County also used the service at one point but discontinued it due to budget concerns, and an unsatisfied Onslow County opted out of renewal, the Raleigh news station reported.
The companies and school systems that engage with these types of companies often face criticism from those who view it as an invasion of privacy.
New Hanover County has not discussed, at least not publicly, hiring a specific company to do such work.
Coudriet suggested people are utilizing social media to send messages when incidents are expected to transpire. In a discussion with student leaders, he said the teens told the adults they are blind to social media. "They didn't say it once; they said it over and over and over," the county manager said.
The first ask in January will also likely include funding to: funnel money to existing nonprofits; expand Elements, the violence intervention program within the New Hanover County Sheriff's Office working directly with at-risk youth, and Too Good for Violence; establish a violence interruption model similar to Durham County's Bull City United, where the local government hires people with ties to the community to intervene in rising tensions; and assign more school resource officers to elementary schools.
It would also base more than 20 community resource coordinators, who will work with nonprofits, in schools to identify families' needs, connect them to resources and conduct follow up.
In the survey, less than a quarter of respondents answered that it was easy to find information about programs or resources to support their social, emotional and physical needs. Even fewer shared that they regularly access community programs.
In fiscal year 2023, the county plans to double its pre-K from six to 12 classrooms and scatter another round of significant investments in nonprofits. The county would once again fund more school resource officers at the elementary level.
Coudriet said the school system's safety and security audit valued officers in elementary schools for safety reasons and for cultivating relationships with students. For similar purposes, the fiscal year 2023 round of funding would include school transportation support, assigning a second staff member to every bus to foster connections with students.
In fiscal 2024, the county plans to help more community members pursue career and technical certifications by aiding with the costs of attendance, in partnership with Cape Fear Community College and nonprofits.
"Paying tuition is one small problem to continuing education," Coudriet said. "There's the lost wages. There is the childcare. There's the transportation limitations."
The county also intends to help LINC foot the bill to renovate an old fire station on Princess Place Drive into a boarding school. Once open, it will serve around 10 to 12 at-risk young men per cohort. The City of Wilmington donated the property to the nonprofit, which is known for its work helping released prisoners transition back into society.
Also on Tuesday, Coudriet mentioned plans are in the works to initiate the development of a full-service grocer in Wilmington's Northside neighborhood. The grocery store would complement the Northside Food Co-Op, which has gained momentum toward opening a store in the community after multiple failed attempts by others. An independent group from 1996 didn't see it through after collecting money from locals, and the City of Wilmington once broke a promise to ensure one was built by 2005.
The county manager indicated the legislature has opened up opportunities for the local government to step in and help.
"We're not asking you to commit to building and operating a grocery," Coudriet told the commissioners. "But what we would be asking as part of that budget amendment is to appropriate the resources to determine what is the most effective path forward to have a for-profit … full-service grocery? And how can the county perhaps participate in that?"
---
Send news tips and comments to alexandria@localdailymedia.com or Tweet @alexsands_