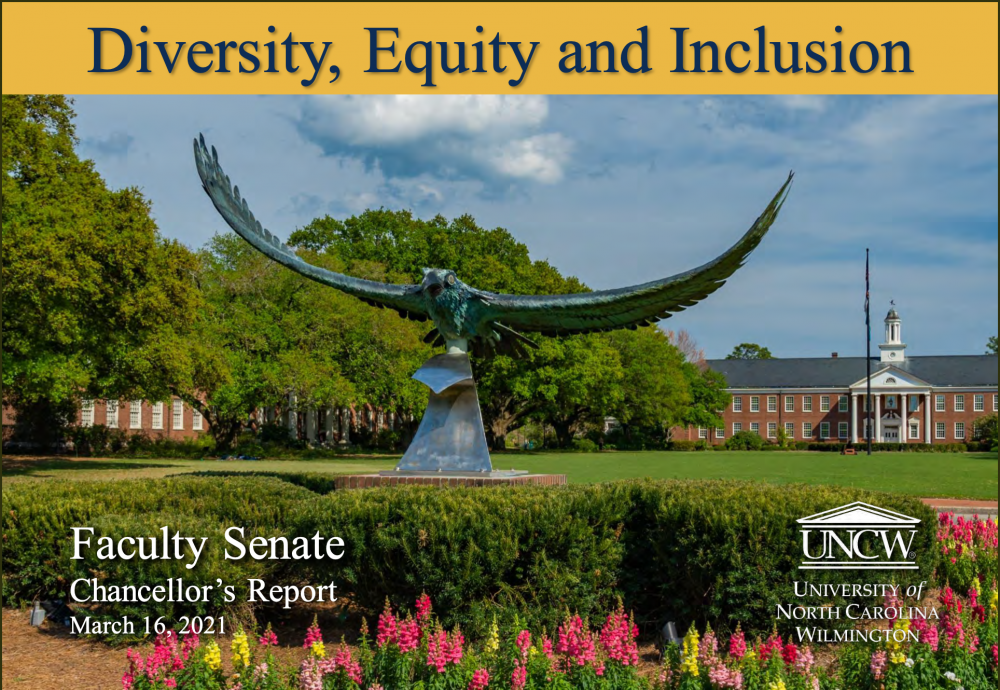 WILMINGTON — A group of UNCW professors, unsettled with Chancellor Jose Sartarelli, instigated a process in November designed to publicly express a lack of confidence in his leadership. Initially, a group of 23 faculty used parliamentary procedure to bring a vote of no-confidence against Sartarelli, but many saw that route as too extreme.
The chancellor ultimately was censured by the majority of the UNCW Faculty Senate in December, and requested to return to the group in March with an update on matters of "diversity, equity and inclusion" at UNCW.
While professors have lobbed insults and concerns toward the chancellor over his handling of the Black Lives Matter protest movement last summer, how UNCW dealt with Mike Adams and other situations, the board of trustees has stood solidly in his corner. Since Sartarelli came to UNCW in 2015, enrollment growth has skyrocketed and Fortune 500 companies have keyed in on recruiting UNCW graduates, university leaders have said.
In Sartarelli's report, which marks a plateau in the standoff between him and professors who want his reputation harmed, the chancellor produced 72 slides that span a range of topics.
The report focuses on the developments in the 2019-2020 fiscal year. In a emailed statement attributed to Sartarelli, the chancellor said: "The report presented to the Faculty Senate highlights the collective journey our campus community began last summer in response to a compelling request from Black students, alumni, faculty and staff to take comprehensive action to enhance diversity, equity and inclusion at UNCW.
"While we have made significant progress in many areas, there is much more work to be done, and I look forward to continued commitment throughout the Seahawk community to addressing these concerns."
Here's the breakdown:
Office of Institutional Diversity and Inclusion
UNCW plans on more than doubling the square footage of its three cultural centers for diverse students, and bring in more staff and a higher budget for the Upperman African American Cultural Center, specifically.
Student Affairs
UNCW lists hiring Black counselors as a priority.
"There is one full-time Black counselor in the University Counseling Center," according to the report.
"This year we also have added a Black Post-Doc and a Black time-limited counselor. So of 10 counselors in the University Counseling Center, three are Black."
Implementing policies "that hold students/faculty/staff accountable for hate speech/workplace violence" is listed as an action item. Interim Chief Diversity Officer Donyell Roseboro conversed with peers at N.C. State University on the topic. According to the report, two "diversity and inclusion fellows" will present a proposal this spring on information-collection and acting on incidents.
Office of University Relations
Updates to the university website are in the works. The university relations office identified allocating "time and space for major Black events" as an ongoing action item.
Academic Affairs
Within the College of Arts and Sciences, UNCW spurred on a "cluster hire initiative," which identified six new positions across five departments, according to the report, with an emphasis on increasing diversity.
"Interviews are wrapping up and offers are being negotiated," the report noted. "These searches should be complete by the end of March."
UNCW also hopes to establish a "pipeline of faculty" between itself and N.C. A&T University, by setting up a formal faculty diversity pathway program.
Further, the in-the-works Africana Studies major will add at least two new courses to the university's curriculum. Two staff in the admissions department "are now dedicated to diversity and inclusion efforts."
The university is hiring a grant writer to bring in funds on academic projects in the diversity landscape. The action item that is interrelated with a separate goal of addressing the 1898 Massacre through the curriculum.
Through a data science company, UNCW plans to purchase the names of 42,575 diverse students in five different states and Washington, D.C.
According to the report, $632,000 in new scholarship commitments has been secured since last April, while $750,000 scholarship dollars will be available next admission cycle to "increase access for historically disadvantaged and low-income students."
University Advancement
The Office of Alumni Relations recruited a collection of Black alumni, who have held two meetings with the chancellor, and three with the University Advancement leadership, focused on pushing diversity, equity and inclusion strategies.
Business Affairs
While projected costs for these initiatives are expected to creep over $1 million during the upcoming fiscal year, the allocations rise to over $1.4 million in future projections.
From 2016 to 2020, the number of Black graduate students at UNCW increased by 136, and the number of Black undergraduates decreased by 14, from 674 in 2016 to 660 in 2020.
Chancellor Report Mar16 2021 DiversityEquityInclusion by preston lennon on Scribd
---
Have ideas or comments? Email info@portcitydaily.com
Subscribe to Port City Daily now and get your first month free! Then sign up for our morning newsletter, Wilmington Wire, and get the headlines delivered to your inbox every morning.