WILMINGTON — In 2016 residents of a predominantly Black, low-income neighborhood in northeast Greensboro joined together to find a solution to the food desert they'd endured for two decades.
The result was a community-owned grocery store called the Renaissance Community Cooperative. Locals had chipped in money to open the business.
Related: Podcast – The Northside Food Co-Op, food deserts, and community ownership [Free]
Although cooperative stores ordinarily exist to stock organic products, the idea of a co-op grocery store for the purpose of bringing fresh food into an underserved part of a city was revolutionary — one of the first of its kind.
But after roughly two years in business, The Renaissance shuttered after failing to continue communicating its purpose to the target market.
On Tuesday, Evan Folds kept its shortcomings in mind as he delivered free boxes of food to residents on Princess Street.
"They didn't get their community connected to the project," Folds said of The Renaissance. "They didn't truly educate about . . . what a cooperative business is and get that buy-in."
The failed project in Greensboro serves as a lesson for his group – the Northside Food Cooperative, Inc. – as it strives to retry that model by bringing a cooperative grocer to Wilmington's food desert.
The game plan
To avoid making the same mistakes, Folds and other leaders of the Northside Food Co-Op held a holiday food pop-up Monday at the site of their future pilot grocery store to inform people of their mission.
As people walked by or drivers pulled over to take advantage of the free collard greens and sweet potatoes, Folds shared with them the group's game plan: If enough people in the community would financially support a new grocery store, they could make it happen. Then when it opens, those investors would have a say in how it operates.
For example, they could vote for the board of directors or run for a seat themselves. Those board members would then make business decisions such as hiring the general manager. Plus, partners would receive discounts on items and other benefits.
"What it really amounts to is one person, one share, one vote," Folds explained. "There's nobody that can come in and buy 51% of the company and make decisions. It's going to be community-owned."
Since April 2017, a steering committee has planned this initiative. The Northside Co-Op formally incorporated in March and started selling patron shares in the past couple of weeks. The organization is aiming to capture 300 owners in its first push and more than 1,000 total over time, Folds said.
Frankie's and other familiar faces
A pilot store, tentatively called "Frankie's," could open as early as April out of a building at 1019 Princess St. The building is owned by Frankie Roberts, the co-founder of LINC and one of the familiar faces on the Northside Food Co-Op's board of directors.
Frankie's will be the first store in 30-plus years to provide quick access to healthy food to the northside.
Although Folds prefaced an April ribbon cutting is "ambitious," he said it is possible to get it done that soon.
"Now it's not going to have kind of the polish and the finish that we would like for the full-service grocery, but the idea is to cut through all that and say, 'How fast can we actually do it?'" Folds said.
The organization used its first event Monday to spread the word about the mission. Organizers need to ensure people understand what a cooperative business is, and they also have to make up for any skepticism stemming from past promised projects that never came to fruition.
At least two attempts to bring fresh food to the area have failed since the 90s. An independent group in 1996 collected money from neighbors but never completed the project. Then, in 2003, the city of Wilmington proposed a grocery store to open in the northside by 2005; it never happened.
But now, with the number of dependable community partners supporting the effort, more residents are gaining confidence in the idea of a co-op.
At the event, chef Keith Rhodes of Catch served vegan jambalaya; Nourish NC handed out snacks; Food Bank of Central and Eastern NC contributed a truckload of boxes of staple items. Other organizations such as Feast Down East, Wilmington Compost Company and LINC are also backing the effort.
Tracy Sloop, who lives one block down 11th street, said she checked out the organization's website and recognized the listed nonprofits. She plans to contribute the $100 to become a partner.
While Sloop can drive herself to the Food Lion on Dawson Street or Harris Teeter on Oleander Drive, she recognizes that's not realistic for a lot of her neighbors who rely on public transportation.
"I'm lucky I have a car, but something close would be much better," Sloop said.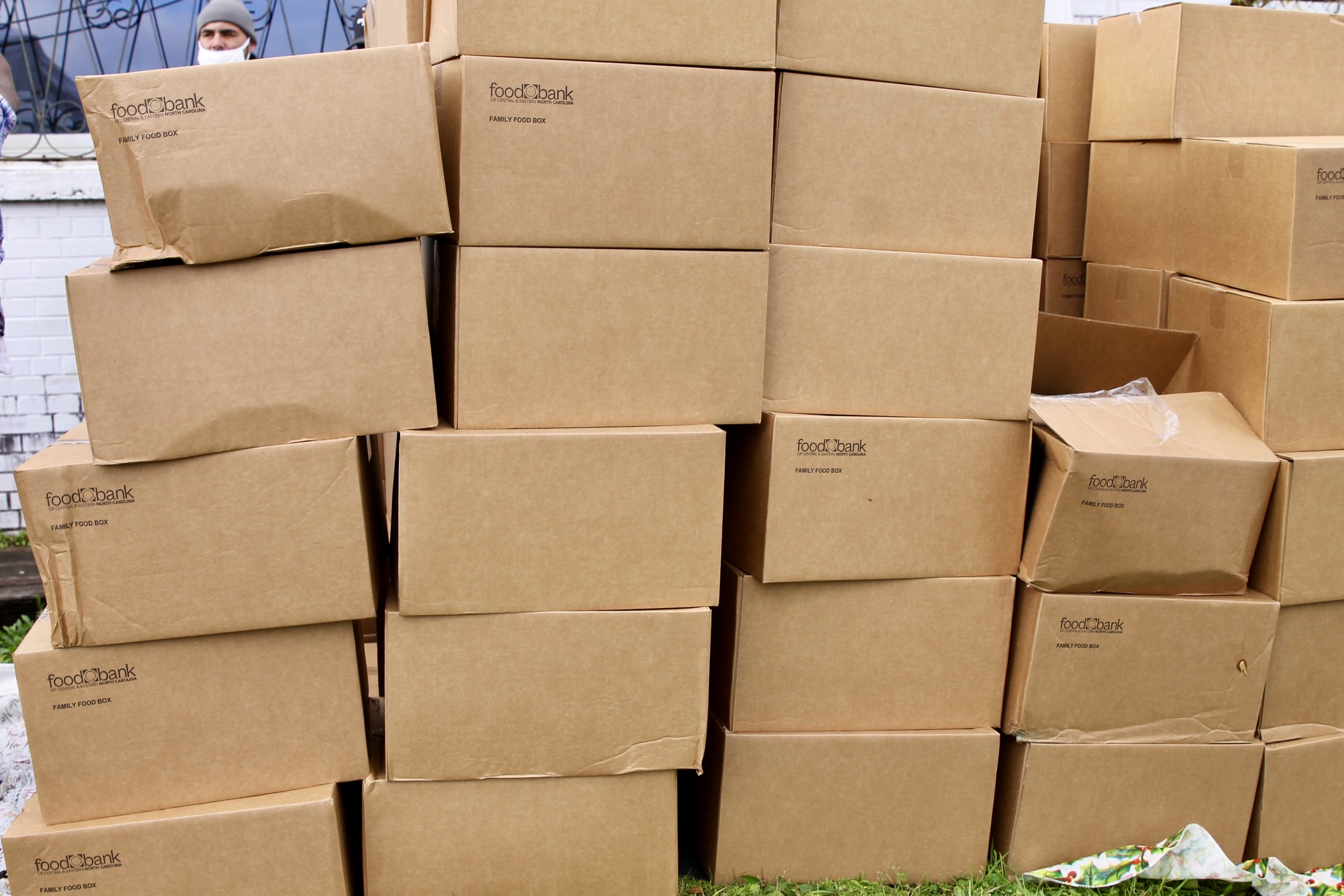 The big picture
After some time running the pilot, the organization aims to open a full-service grocery store. They're eyeing a spot on Princess Street across from the Coca-Cola building, but it would be at least two to three years before it became operational.
"Rather than say, 'Hey, buy an ownership for $100 and wait three years,' we're going to actually start a pilot project here that will be a streamlined grocery," Folds said.
The pilot store will have staples and ready-to-cook meals, with a focus on convenience and affordable prices.
"The idea is to make the cooking aspect of it convenient and get people making foods more for themselves as kind of a lead up to the overall grocery store," Folds said.
Future customers have the opportunity to complete a community input form, answering questions such as: "Where do you think the best location is for a grocery store in the Northside?" "What are your favorite products to purchase at the grocery store?," and "Do you have access to the internet?"
Residents are also asked what they would like to see as part of the community business. Folds envisions the store could also contain bank services, a health care clinic or a bakery.
Some of those enterprises could be vital; in case a chain grocer does in fact move into the area in the future and poses competition, the cooperative will have the opportunity to pivot.
"We're sort of inventing a business model in real-time, which is really exciting to me personally," Folds said. "Ultimately, we want anyone who sees the value in it to invest."
---
Send tips and comments to Alex Sands at alexandria@localdailymedia.com