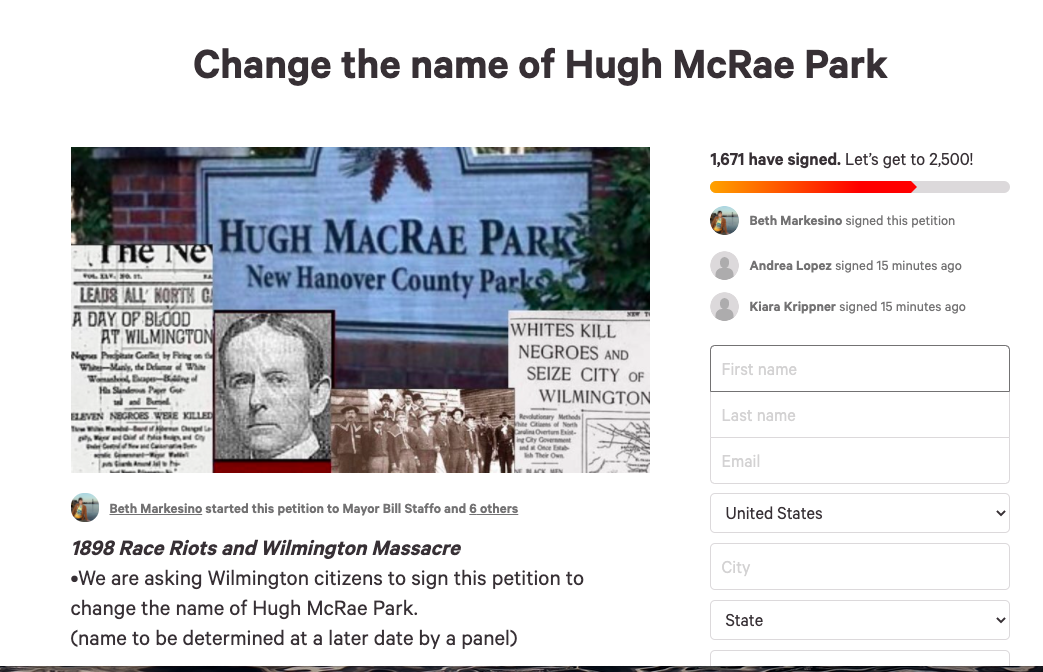 WILMINGTON — It's one of New Hanover County's most well-known parks, and it is named after one of the leaders of the only successful coups in America, Hugh MacRae. Not only was it America's only successful overthrow of an elected government, but it was also a massacre of Wilmington's thriving black population led by white supremacists.
"The events of November 10, 1898, in Wilmington were a turning point in North Carolina history. By force, a white mob seized the reins of government in the port city and, in so doing, destroyed the local black-owned newspaper office and terrorized the African American community," according to the North Carolina Department of Natural and Cultural Resources.
MacRae donated the land to the City of Wilmington in 1913, asking that it be turned into a park for "white citizens" (a 'racially restrictive covenant,' as it was called, that was — disturbingly — fairly common up until the Supreme Court outlawed them in the years after WWII ended). The land was later incorporated into the county park system.
MacRae had — and still has — his defenders, including those who point to more virulently racist like Alfred Moore Waddell, who took power as Wilmington mayor after the massacre, and those who claim MacRae's racist beliefs were simply a product of his time; during a previous round of public debate over the park's name in 2015, arguments on both sides were documented by Ben Steelman for Star News.
Five years later, many are still asking: why is a park named after a man that played a role in a massacre that left more than 60 people dead? Even if MacRae was only a product of his time, surely Wilmington's history can provide at least one better name for the park? (Some have suggested Alex Manly, the black editor-publisher of The Daily Record which was, up until white supremacists burned it down, the only black-owned daily paper in the state).
Now, a petition has been started that has more than 1,500 signatures as of Monday afternoon.
"We are asking Wilmington citizens to sign this petition to change the name of Hugh McRae Park (name to be determined at a later date by a panel). Hugh MacRae was a key player, along with Alfred Waddell, in instigating a very dark time and aspect of the state's history," the petition reads.
"In 1898, he was a leader in the conspiracy to overthrow the legitimately elected black-white fusionist leadership of Wilmington, North Carolina. MacRae organized the white supremacist mob and campaign that kept blacks from the polls during the 1898 election and then led a vigilante group, along with Alfred Waddell, that took to the streets in Wilmington to murder blacks the next day," it continues.
The petition also states that signatories of the petition will not participate in any events at the park unless the name is changed.
It also calls for Wilmington citizens to gather en masse at County Commissioner meetings to demand no more tax dollars go to the park until the name is changed.
The next Board of Commissioners meeting is June 15 at 9 a.m.