HAMPSTEAD — National developer Jamestown Properties is looking to rezone 562 acres of land between Topsail High and the Castle Bay subdivision for a sand mine, causing a petition to circulate among residents and school parents to prevent the rezoning due to dust, noise and air pollution, and traffic concerns. The property also borders the Holly Shelter Game Land.
"We just don't have any other real options because we're not going to be able to develop the property," Russell Weil, an applicant on behalf of Jamestown Pender LP, said Tuesday afternoon.
RELATED: Plans for Hampstead shopping mall submitted to Pender amid court battle with NCDOT
Two petitions, totaling more than 560 signatures as of Wednesday morning, aim to gather opposition to the project prior to a required public input meeting scheduled for Tuesday, February 18, beginning 6:30 p.m. at the Hampstead Library.
Bypass means limited development options
Jamestown is currently involved in a lawsuit with the NCDOT over an unconstitutional taking of a portion of its property for the future Hampstead Bypass, which will cut through Jamestown's 684-acre property. The two sides are currently awaiting a court date to determine how much the state owes Jamestown.
The developer once planned a massive mixed-use project called The Preserve that, if completed, would have been considerably larger than developments like The Avenue in Wilmington. It was designed to include 891 single-family residential units and 255,000 square feet of commercial space.
Plans were submitted in January to go forward with the commercial portion of the project, a shopping center called the Market Place at the Preserve. Including outparcels reserved for future development, the amount of retail and service space is expected to total 344,000 square feet.
But the 891-unit residential project is a thing of the past. Once the bypass is built, a proposed access by NCDOT at Jenkins Road would only allow for 30 residential units to be built under the county's land use ordinance, according to the zoning request submitted to county planners.
"We don't think that you got a whole lot of other things you can do with [the property]," Weil said. "We think at the end of the day it'll be a better use for the community, and be turned back into a conservation property when we're done."
The bypass is designed to cut through the property along the northwestern perimeter of the Topsail schools before merging on to Highway 17, according to Jamestown's rezoning request.
Jamestown is only looking to use 175 acres for sand mining.
Opposition from residents and school parents
Peter Rawitsch is a resident of the Castle Bay subdivision on the west side of Jamestown's property. He and his wife are currently circulating a petition among Castle Bay residents and parents at Topsail's elementary, middle school, and high school. As of Tuesday evening they had collected 210 signatures from residents, according to Rawitsch. By late Wednesday morning, there were over 350 signatures on an online petition aimed at parents of Topsail students.
"Their concerns have to do with the destruction of the quality of life — the amount of noise, the fumes from the diesel trucks, the excavators making noise," Rawitsch said. "And it's projected that this will go on for 10 years, maybe more than that."
Weil confirmed the project is projected to last a decade, but said people's concerns should be held in check when compared to the construction of a busy highway bypass cutting between the subdivision and the school.
"It's interesting that everybody's concerned about us having one excavator back there filling up sand and putting it in trucks and the state's getting ready to come through with a 300-foot wide highway bringing 60,000 cars a day — that's going to be 50 feet off the boundary of the school," Weil said.
Rawitsch said he was told by Weil that trucks will first enter and exit the property from an access road opposite Annandale Trace, next to the Hampstead water tower and north of Topsail Middle School. When the bypass is built, Weil told him that trucks will use St. Johns Church Road then take a right on Jenkins Road to get on Highway 17.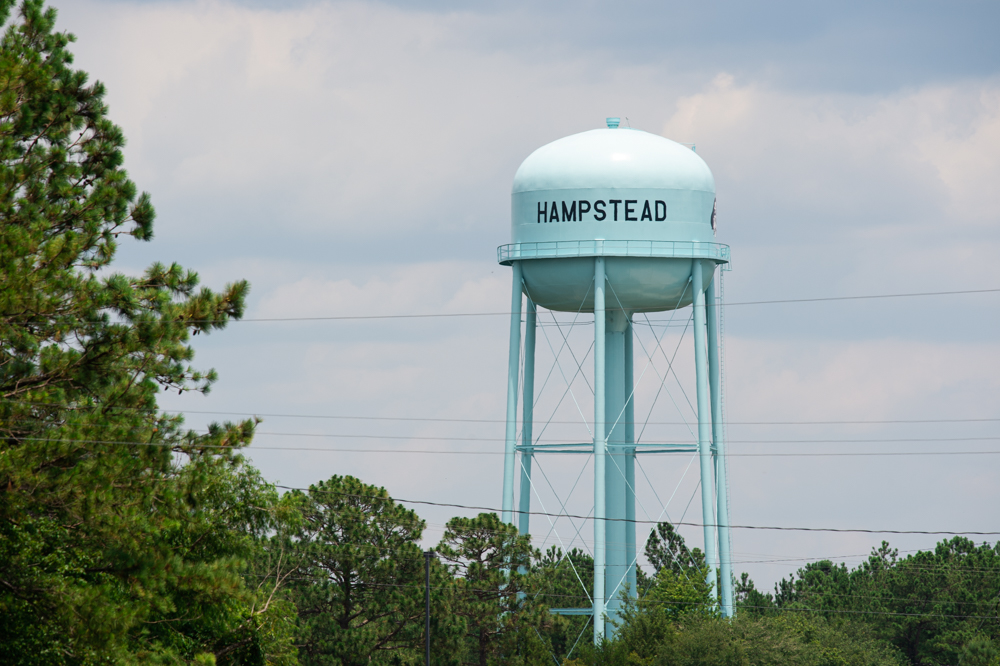 But Weil said he could not confirm whether Jenkins Road — which is now used as a south entrance to the school campus — would be used by trucks in the future, as final land designs are not completed.
Rawitsch also said he was also told by Weil that excavated soil would be placed directly into trucks, and he expected 25 to 50 truckloads leaving the site daily. Excavations would not go deeper than 20 feet, and no chemicals would be used in the operation, according to what Rawitsch said he was told by Weil.
Weil said he was unable to confirm further details of the project at the time.
After Rawitsch went door-to-door Tuesday in the Castle Bay subdivision, he said many residents were surprised by the news of a proposed sand mine. A letter was only sent to homeowners who live within 500 feet of the Jamestown property line, according to Rawitsch, as is required by the county.
"It's a destruction of the peace and quiet we have here in this community. And they're mad. Because they didn't know [due to the county's 500-foot requirement] … So many of them were really shocked to hear this was happening," Rawitsch said of his door-to-door visits.
Jamestown is seeking to rezone its property from a Planned Development (PD) property to Rural Agriculture (RA) so that it can create a sand mine, "NAICS code 2123 Nonmetallic Mineral Mining and Quarrying," according to the request.
"The proposed property for rezoning already borders the Holly Game Shelter, other conservation properties and a large tract zoned RA. Jamestown intends to utilize the good soils on the property to sell to local homebuilders, developers, and other entities as Hampstead grows around the new bypass," according to the request.
It said that mined areas "could eventually be converted to ponds that will benefit waterfowl, game and wildlife in the area."
"As with the previous mixed-use plan, the mining plan will specifically preserve a large area bordering the Holly Game Shelter to provide habitat for red cockaded woodpeckers. In addition, the planting of long leaf pines throughout the property is being considered," according to the request.
Rawitsch said he plans to bring his petitions before the Planning Board during its March 3 meeting, and ultimately before county commissioners on April 20.
Updates on the Jamestown case
The law used by the state transportation agency to reserve the land without fairly compensating Jamestown, called the Map Act, was declared unconstitutional by the N.C. Supreme Court in 2016. This caused a wave of lawsuits across the state.
Jamestown is now awaiting an N.C. Supreme Court ruling on a Map Act case in Cumberland County, Chappell v. NCDOT, before scheduling a trial to determine how much it will be compensated by the state.
According to Jamestown's attorney handling the case, Ryal Tayloe of Ward and Smith in Wilmington, one of the main issues that will be clarified by the Chappell case is how much interest will be applied for each year after the land was taken.
This occurred when the Wilmington Urban Area Metropolitan Planning Organization (WMPO) filed a "protected corridor" map, on behalf of the NCDOT, to make way for the bypass. The map restricted Jamestown's rights to develop its property and affected its resale potential. Jamestown then filed a lawsuit against the NCDOT and WMPO in 2014.
Tayloe also said there was an issue with the specific area taken by the Map Act land grab.
"The map showed just a two-to-three-lane highway going through property, when in actuality, a huge interchange was going to be there," Tayloe said. "The plan all along was going to be an interchange there."
---
Mark Darrough can be reached at Mark@Localvoicemedia.com or (970) 413-3815