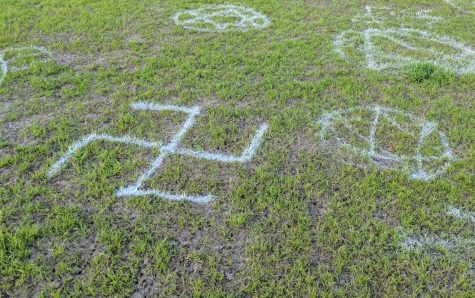 (Editor's note: This article contains a social media post with imagery that could be upsetting.)
WILMINGTON — The Cape Fear Rugby Club's practice field at Flytrap Downs was defaced with swastikas, Star of David signs, and explicit images and phrases over the weekend.
According to the Cape Fear Rugby Club, the graffiti was discovered on Monday; the Club believes the pitch was vandalized at some point over the weekend. The field is located at Flytrap Downs (between Chesnut Street and Princess Place Drive, near 21st Street.
The images, some of which are explicit, include both right-facing and left-facing swastikas, a Star of David, and what is either a failed attempt at another Star of David, or a pentagram, paired with the words "you like." The B'nai Israel synagogue is located five blocks away at Chestnut and North 26th streets.
There are also several crudely drawn images of male genitalia, as well as what may be a name tag, "Lil Redd."
The Cape Fear Rugby Club posted a statement on its social media account, asking for help to find the person or people responsible (a warning to sensitive readers, the post contains obscene and potentially upsetting images):

The statement, in its entirety, reads:
Sometimes bad things happen to good people. Yesterday, we discovered that our pitch (which is open to the public) had been vandalized. Although we have a sense of humor and understand that people make dumb decisions (we've all seen American Vandal), we DO NOT tolerate hate.
Cape Fear Rugby is an all-inclusive organization that loves and supports its community. Since 1974, we've called Wilmington our home. We've had members of all shapes, sizes, religion, sexual orientation, social class, and race. Fear Rugby members have been your neighbors, your family members, your friends, and your local politicians. WE LOVE WILMINGTON!
Although we hope to catch whoever did this to our pitch, we're realistic, and know that it's not going to be easy. Please consider sharing this in hopes of maybe catching the eye of someone that knows something about what happened.
The Wilmington Police Department said it was sending an officer to the rugby club this evening to get a statement for a formal complaint.
This is a developing story and will be updated with any new information when it becomes available.