WILMINGTON — Taste the Olive is headed downtown, expanding into a new space to open as a wine bar, in addition to the specialty retail shop.
At Taste the Olive & Vine, owners Randy and Deedee Hall and Chef David Andersen will continue to offer specialty olive oils and balsamic vinegars, along with a menu and drink list that is focused on flights and pairings.
According to Andersen, the 25-seat wine bar will concentrate on maximum "shareability," from drinks to food to dessert.
"We want to make sure people can taste a lot of things, come in with a group and get a couple of tapas plates – cheeses and charcuteries – and everyone can try something," Andersen said. "Same with our drinks, we'll offer craft beer flights, wine flights. Our desserts too, we're going to offer a pannacotta flight (among other dessert flights), with four different versions, so it's all about new experiences."
Can't travel the world? Bring the world to you
Taste the Olive & Vine will also carry on Andersen's tradition of regional-based pairing parties, focusing on food and wine from specific countries and wine regions. Andersen said he started with South Africa and has since covered 14 different regions, including the unique food of the Pacific Northwest states, Chile, Argentina, and the similar but distinct food of Austria and Germany.
 Related: True Blue Butcher and Table now open in The Forum
"The United States is really one of the only places that produce wine just to drink, everywhere else the wine is produced to go with food," Andersen said. "So, it's an opportunity to get a feel for the country, through the food and the wine. And, as a chef, I enjoy learning all these little things. For example, everyone thinks gelato is Italian, but when we did our Argentina meal, we discovered it came from Argentina and the Italians just copied it."
Andersen added that gelato – or, rather its American cousin, ice cream – will also play a role at Taste the Olive & Vine. With the help of an ice-cream machine, TTOV plans to offer a range of flavors utilizing balsamic vinegars and olive oils, including a "kicking Key Lime," made with Persian lime olive oil, key lime balsamic and vanilla wafers.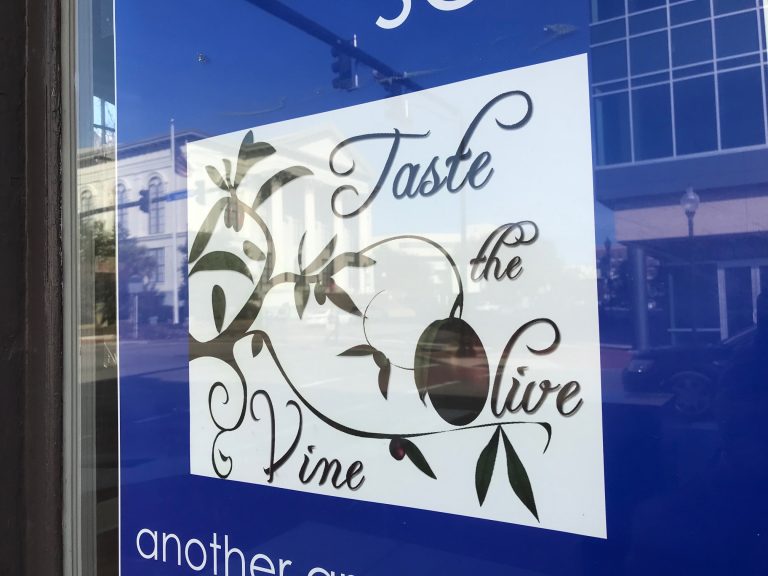 Learn to cook it yourself
For years, Taste the Olive has been centered around oils and vinegars, and Andersen hopes that the recipes and even occasional cooking lessons offered at the downtown location will help people take those ingredients "beyond the salad world" and into other applications.
Taste the Olive and Vine's menu will also prominently feature the ingredients on sale at the store.
"Every dish we make will feature one of our oils, or a vinegar, or a sea salt or rub," Andersen said. "I want you to be able to go home and make the same dish. All of our recipes will be available – I'm not one of those chefs who hides behind a secret recipe. There's some tricks of trade, of course, but if someone tells me 'I went home and cooked that dish and my spouse loved it,' then that makes me so happy."
The Halls hope to have Taste the Olive and Vine open between mid-March and the first day of April.
"We definitely want to be open for the Azalea festival – we'll also have a booth there," Andersen said. "We'll also have outside seating when summer rolls around."
Taste the Olive & Vine will be located at the corner of Princess and Third streets, at 25 N. Third St. The wine bar and retail shop will offer both veteran's and city employee discounts.
For more information on the opening date, hours, and menu options, follow Taste the Olive and Vine on Facebook.
---
Send comments and tips to Benjamin Schachtman at ben@localvoicemedia.com, @pcdben on Twitter, and (910) 538-2001.