WILMINGTON – With over 150 players competing this spring in the Miracle League, its parent organization, ACCESS of Wilmington Inc., was recently in Raleigh to receive the area's first ever grant from National Hockey League's Carolina Hurricanes.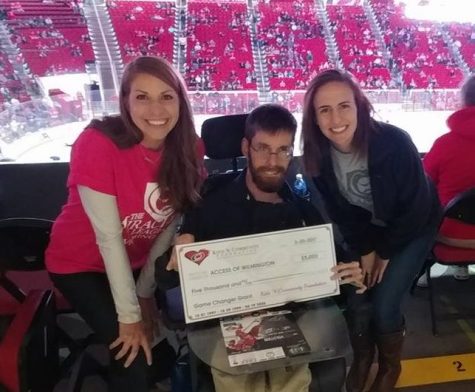 ACCESS of Wilmington Executive Director Jennifer Bell accepted a $5,000 Game Changer Grant from the Hurricanes' Kids 'N Community Foundation on the ice of PNC Arena during intermission on March 30 in a game between the Hurricanes and Columbus Blue Jackets.
The accessible baseball program for children and adults with disabilities was the first ever local charitable group to receive money from the NHL organization.
"We are so grateful to the Carolina Hurricanes, and are thrilled to be the first ever benefactors from the Kids 'N Community Foundation in the Wilmington area," Bell said. "With their support, even more children with disabilities will have even more opportunities to gain physical activity and experience the power of playing a team sport."
Since the establishment of the non-profit Foundation in 1997, the Hurricanes' Kids 'N Community group has given out over $13 million in cash to non-profit organizations that focus on enhancing the lives of youth.
The Kids 'N Community Foundation awards monetary grants to qualified organizations with the fall Goal Grant, spring Game-Changer Grant and summer Future Canes Grant cycles each year.
As part of a growing partnership between ACCESS of Wilmington and the NHL franchise, the Carolina Hurricanes will extend their support by attending the annual Eddie Biedenbach Celebrity Golf Classic at the Country Club of Landfall on May 21-22, 2017.
In 2015, Rod Brind'Amour, Brian Tatum, Shane Willis, and Chuck Kaiton (Voice of the Carolina Hurricanes) all joined in the spirit of giving back to the local charity.
Over 150 children and adults, ages 4-68 living with various disabilities are currently playing in the eighth Miracle League of Wilmington baseball season at The PPD Miracle Field every Saturday until April 29.
For information on how to get involved with the Miracle League of Wilmington, visit: http://www.accessilm.org.