Where We Live: A weekly look at the homes in the Cape Fear Region
SOUTHPORT — Rick and Cathi Ulrich weren't looking to own their own business or a bed and breakfast when they were searching for their retirement home in Southport. But when Cathi Ulrich walked into the Bell-Clemmons House and saw the kitchen, she had to have it.
This week's "Where We Live" takes you inside the historic Bell-Clemmons House, a Civil-war era home built in 1864. This 3,000-sq. ft. home is located at 313 E. Moore St., near the heart of Southport. The Bell-Clemmons House has had many guests since it's construction more than 150 years ago.
Originally a privately-owned home, the house was sold for $400 in 1873 and later became a boarding house in the early 1900s. A century later in 2004, it was completely renovated and then turned into a bed and breakfast. The Bell-Clemmons House has since had several innkeepers operating the house as home and a business.
In December 2014, Cathi and Rick Ulrich purchased the Bell-Clemmons Home, and made it their own.
Related: Inside the Historic CW Worth House, the longest operating bed and breakfast in Wilmington
"We started looking for houses to live in … and we came into this house, and I saw the kitchen," Cathi Ulrich said. "I said, 'I want this.' So, that's how we got the B&B. We weren't looking for a business or a B and B."
Now, the couple is helping create memories from their kitchen, which is described as the "heart of the home." There, they supply guests with made-from-scratch food, while providing a comforting stay within the four-bedroom house.
The kitchen includes a large island with a wooden top that doubles as a bar. It also has a 5-burner gas stove, double oven and lots of storage space. The kitchen is open to the dining room and living area, which invites guests to mingle, Cathi Ulirch said.
On the second floor of the home, visitors to the Southport area have the option to stay in one of three Bell-Clemmons House suites; the Savanna Room, Outer Banks Room, and Key West Room. Each guest room has its own attached full bathroom. The fourth bedroom is home for the Ulrichs.
The Bell-Clemmons House still has some of its original features, which were either restored or repurposed during the renovation. But the recent update, along with Cathi Ulrich's seasonal decor, gives the house a modern feel.
"It's not your grandma's bed and breakfast," Cathi Ulrich said. The house has a unique character, in which Cathi Ulrich incorporates into the decor an eclectic mix of antiques and cottage-style pieces. Many of the items found in the Bell-Clemmons House are purchased from Southport shop owners or found in the surrounding area.
The house is within walking distance of many the shops and restaurants in Southport, as well as views of the waterway.
"There's just this sense of peace in this town. It's just absolutely beautiful. It's still very untouched. You can pretty much walk wherever you want to walk. There's a diverse group of people … and the weather is wonderful," Cathi Ulrich said about the town.
But guests don't need to travel for breakfast. The Bell-Clemmons House has a unique fare prepared daily in the kitchen that reflects the local inspiration and ingredients Cathi Ulrich gets from the Southport area.
The breakfast includes a mixture of fruit, dessert and a main dish, each with an artful presentation, Cathi Ulrich said. The Bell-Clemmons House strives to keep the ingredients and products as local as possible, and made to fit anyone's dietary needs, she said. On top of breakfast, guest can always snack on a bit of homemade baked goods during the day.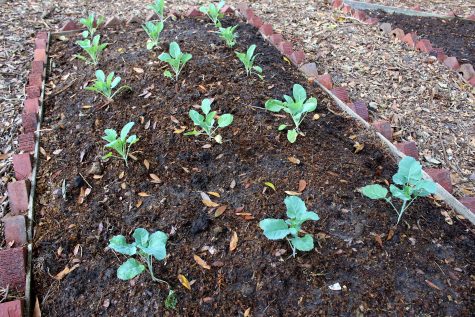 In addition to the offerings inside the home, Rick and Cathi Ulrich has added a 500-sq. ft. of garden space to the Bell-Clemmons grounds in 2017. The Ulrich couple has turned their backyard into a locally-sourced food supply, that will eventually bring in fresh food they'll incorporate into guests' meals. Cathi Ulrich said a garden space of that size can feed a family of four for one year.
"As much as we can take it to the limit of how fresh can we get this – as far as being able to make not only the ingredients that go in it, but the dish itself is fresh – that's what we like to do," Ulrich said. "We're even looking at making our own mozzarella cheese, goat cheese … it's amazing when you start looking to see how you make stuff, that it's a lot easier. There's certain ingredients you need, but it's really not that difficult to do."
The Bell-Clemmons House is "pushing the envelope" in foods one normally wouldn't think of, Cathi Ulrich said.
"Last summer I bought the bigger watermelons … and all the sudden I had so much watermelon, I didn't know what I was going to do. So, I started making watermelon pie, and watermelon Mojito cupcakes and things like that," Cathi Ulrich said. "We started making all kinds of different pancakes and we came out with a pulled pork pancake, much like the chicken and waffles. Different takes on things that we can do, that's really, what I would say, is a distinguishing factor about us is our focus on food."
The food the Ulrich couple prepares goes into the vision of the bed and breakfast model they have worked to instill in the Bell-Clemmons House; to create good food and lasting memories for their guests.
Before becoming Innkeepers themselves, Rick and Cathi Ulrich were brought together by an innkeeper at a bed and breakfast in Beaufort, North Carolina. It's by coincidence the couple is now creating memories with their own bed and breakfast at the Bell-Clemmons House.
"In a three-, or even four-room B and B you're not going to make a lot of money. It's not what you're doing it for," Cathi Ulrich said. "It's a life style choice. You're doing it because you enjoy meeting new people all the time. And really, the best piece is that you are in the business of helping them create really wonderful memories."
For more information about the Bell-Clemmons House Bed and Breakfast, visit its website or follow its Facebook page. To take a video tour of the Bell-Clemmons House, click here. The bed and breakfast can also be reached by calling 910-742-7999.