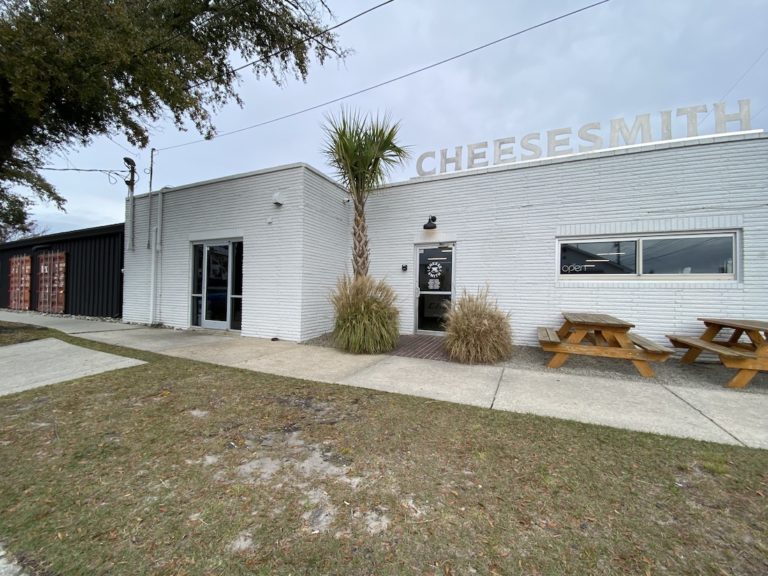 ​​WILMINGTON — From gourmet grilled cheeses to fanciful ice cream, the owners behind CheeseSmith are expanding their business footprint by next spring.
Soft-serve has been on the minds of Molly and Brendan Curnyn for quite some time. The husband-and-wife team started CheeseSmith as a food truck in 2018, before opening a brick-and-mortar in July 2021. They expanded their working space from 135 square feet to roughly 2,500. Once open, the two immediately began ruminating on plans to carve out 700 square feet as an offshoot operation.
READ MORE: More cheese, please. CheeseSmith officially opens in The Cargo District
Molly's Soft Serve will open by April 2023 next door to CheeseSmith.
"To be honest, we've been considering this idea ever since CheeseSmith was featured on an episode of 'The Best Thing I Ever Ate' in 2019," Molly said.
CheeseSmith serves adult versions of the old-school handheld, with upgraded ingredients like havarti, pulled Buffalo chicken, housemade ranch, quick-pickled carrot and celery slaw (known as "Buffalo Baby").
The Food Network show also featured a Brooklyn ice-cream shop, Mister Dips, that honed in on a similar concept with another childhood favorite treat.
"[Their] carrot cake-dipped soft-serve cone got us thinking how cool it is to elevate something simple and nostalgic, like soft-serve, similar to what we did with the grilled cheese," Molly said.
The invention of soft-serve ice cream has been debated for years, between ice cream trucks of Carvel and walk-up stands of Dairy Queen, some even questionably attributing it to Margaret Thatcher, who worked as a food chemist at an ice-cream firm pre-service as Britain's prime minister. Yet, the soft-serve appeal — consisting of 60% air, as compared to regular ice cream's 30% makeup — continues to gain popularity; it's experienced a bit of a resurgence throughout cities worldwide over the last five years.
In the modern-era, the sweet treat gets an upgrade from the mere chocolate-vanilla swirl to chai and Thai iced tea flavors served in Boston's Chaji Creamery. Chloe's Soft Serve Fruit in Union Square in New York City dishes out fruit-based healthy swirls in interesting vessels, like halved coconuts.
"We'll be doing flavors like lavender-honey, matcha, and then have fun and eccentric toppings, like potato sticks, miso caramel sauce, flakey salt, crushed Captain Crunch," Molly said.
The focus will be on high-quality, homemade combinations, starting with four to six flavors. Vanilla and chocolate will be mainstays, but Molly said they'll be turned up a notch — such as vanilla cereal milk and Mexican chocolate pie. The other options will rotate and there will be vegan varieties once the restaurant is up and running.
The Curnyns also plan to bring in boozy ice cream options for adults. Collaborations are planned with local breweries and distilleries, such as End of Days, located two blocks from CheeseSmith in the Cargo District.
The menu launch will be small to "execute orders very fast," Molly added. "We are big believers in quality over quantity. Absolutely everyone should find something they love."
Molly's Soft Serve will have a small dining area, enough to hold around 20 people.
"It will be more of a long-bench-with-side-tables vibe than formal sit down tables and chairs," Molly said.
Facing Queen Street, across from the Starling Whiskey Bar, it will be situated between CheeseSmith and The Plant Outpost at 624 S 17th Street.
---
Tips or comments? Email info@localdailymedia.com.
Want to read more from PCD? Subscribe now and then sign up for our morning newsletter, Wilmington Wire, and get the headlines delivered to your inbox every morning.