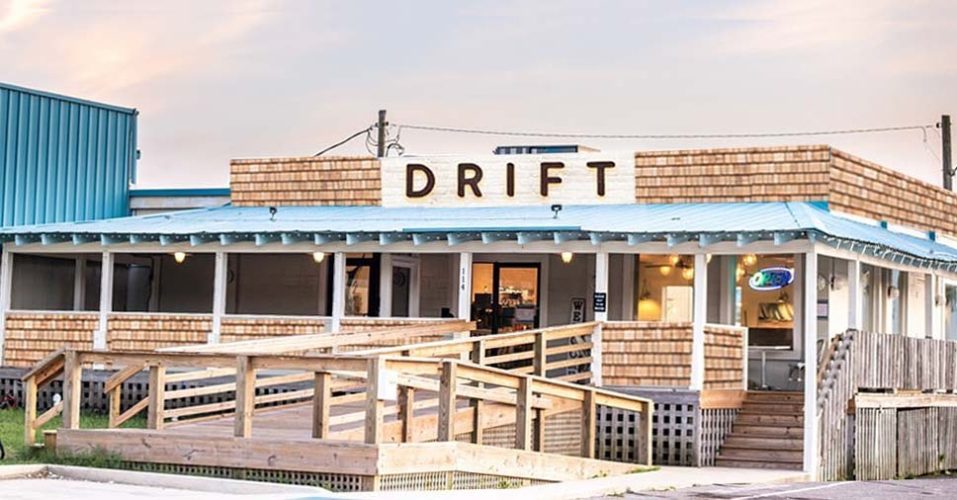 SOUTHEASTERN N.C. — Lots of movement happens around the Port City when it comes to restaurants, food trucks, bars and bottle shops, not to mention organizational and nonprofit foodie events and festivals. While Port City Daily already covers most of this news, "Small Bites" offers another way for readers to stay in the know.
READ MORE: Catch up on other food news of the week
Weekly, PCSB will unveil newsworthy tidbits, whethe rit's smaller shifts and changes to local menus, or expansions of existing establishments, temporary closures and renovations, added hours or grand openings, pop-up events and, of course, openings and closings.
Have something for us to consider? Email info@portcitydaily.com
Gulfstream leaves WB, Drift Café to take over the space
From Causeway Café to Gulfstream, the iconic blue building at 114 Causeway Dr. in Wrightsville Beach will undergo renovations over the next eight weeks. The owners of Drift Coffee + Kitchen have taken over the restaurant to launch their first expanded restaurant concept, Drift Café.
Ben and Michael Powell opened the first Drift Coffee + Kitchen in Ocean Isle Beach in 2014 before extending into Wilmington in 2018, with shop number two at Autumn Hall. In 2019, they opened in Mayfaire as well.
"We didn't expect to be expanding so quickly," Powell said. "But we have really been lucky."
Ed Thomas announced at the end of February that Gulfstream Restaurant — founded on Pleasure Island 43 years ago, which Thomas purchased in 2014 — would consolidate operations. Thomas took over the former Causeway Café location in July 2019.
Though steady at the onset, operations weren't always easy. They endured Hurricane Dorian in September 2019 and thereafter went into the down season. Thomas said they were gearing up for a solid tourist season in spring 2020 when Covid-19 hit and shuttered Gulfstream WB through June 2020.
"We had a decent summer that year," he said, noting most of his Wrightsville Beach staff returned. Seating was reduced per Covid-19 protocols, but he made due with outdoor dining and coasted through winter. Then, last spring, he started losing staff.
"And we couldn't keep up," Thomas said. "It's not like our Carolina Beach location; I've got servers that have worked there for over 25 years. I've had a harder time finding cooks."
Also, his Wrightsville Beach managing partner got married and decided to make a career change. A 30-year restaurant veteran, Thomas took on both operations solo. Despite matching higher pay to compete with other restaurants — "a $3 an hour difference or more" — he said he couldn't find lasting help, nor a manager to fill the exit of his partner.
Thomas said he made the decision to close Wrightsville Beach for the winter in November 2021, with the intention to reopen by this spring. However, running two restaurants as the sole partner during the downtime was taxing. At full speed, he knew he would be spread too thin, he said — not to mention food shortages and increased prices adding to the adversities of the business.
"My food cost is probably up 8% to 10%; labor's up 20%. Restaurant margins typically run between 6% and 20%, depending on what kind of operation you run," he said. "I just had to make a decision to coordinate my resources."
Thomas decided to put the Wrightsville business on the market at the beginning of the year.
The timing was kismet for the Powells. They had begun shifting plans for Drift, to offer an elevated version of the coffee shop, already known for serving a variety of java drinks and breakfast and lunch bowls.
"There are a lot of traditional diners in town," Ben said. "We want to create a modern, lively café atmosphere at Wrightsville."
Surfers, the Powell brothers said their Drift concept originated from travels to Australia and South Africa, where spaces felt more communal — lots of interaction with more face-to-face conviviality.
"We want Drift Cafe to be a place where people feel taken care of — a social, engaging place," Michael said. "And we knew we wanted our first full-scale restaurant to be on the beach because there's not a sit down breakfast place right now that I know of open on Wrighstville. There's a lot of coffee — a ton of coffee."
Unlike the coffee shop, Drift Cafe will offer tableside service for breakfast and lunch, both indoors and outdoors. The brothers are still hashing out details on the menu, but Ben said the food will continue to have Drift's thoughtful, fresh appeal. The menu will include some of their standards, like loaded avocado toast, and also larger plates including Benedicts.
Drift's coffee drinks will be served, but the restaurant will have a limited alcohol menu, mimosas included.
"It's a larger undertaking to manage a team of 30 to 40 people versus a team of 20," Michael said, "We want to continue to grow with Drift, but in a controlled way."
The Drift team is looking for an April opening, if all goes according to plan. Currently, they're hiring and have open interviews for all staff planned for Thursday, Mar. 10, 10 a.m. – 2 p.m. at the Causeway Drive location.
Thomas said Gulfstream in Carolina Beach will stay put. He cut back dinner hours at the Pleasure Island staple last year; however, with his attention fully focused on the flagship operation, dinner will come back with tourist season.
"I love the business and the clientele," Thomas said. "We have people that have come in there for 30 or 40 years, have brought their kids, their grandkids. It's just unique to Carolina Beach."
[Ed. note: This article has been updated, as it incorrectly named Rich Johnson as the Wrightsville Beach managing partner of Gulfstream. Johnson is involved with the Carolina Beach restaurant. PCD regrets the error.]
Burney's Sweets and More headed to Leland
Leland will get a touch sweeter as Burney's Sweets and More has put up a sign that a location will be headed to Waterford at 503 Old Waterford Way, Ste. 105. No word on the official opening date.
A family-owned operation, Burney's is known for its fried, sweet croissants, glazed plain or coated in powdered sugar. It also offers dozens of stuffed varieties, filled with creams and fruit spreads, from chocolate to Bavarian cream, raspberry to blueberry.
The bakery also serves 15-layer cakes, cheesecakes and cupcakes. While sweets are the bread and butter, so to speak, the bakery also has savory options, like leek and Parmesan or tomato-olive-basil pasties.
Burney's was founded an hour west in Elizabethtown a decade ago. It has 11 franchised operations across the state, including locations in Hampstead and Southport. It opened its first location in Wilmington at Mayfaire Town Center in 2020.
Owner Anthony West said he is hoping to be open by Easter after the space undergoes renovation.
Rx temporarily closed
Sarah and James Doss have announced the temporary closure of Rx Restaurant on Castle Street. Its last service was held Sunday, Feb. 27, and will reopen in a few months.
The Dosses will be making renovations, Sarah confirmed. According to a social media post from the restaurant, it is preparing for a new chapter. Though, details have yet to be released.
Since opening in 2012, Rx has become known for creating elevated Southern cuisine, with fresh, local ingredients.
"One of the things we've been proudest to see is that now so many of you personally know and support our local organic and sustainable farmers and fishermen, who have always been the true rockstars and the reason for what we do," the Dosses shared on Facebook.
During the last two years of Covid-19, the restaurant closed operations numerous times to protect staff and customers — many times before restrictions mandated it. The Dosses shifted Rx with the needs of the community, offering family meal packages when people weren't dining out.
It even expanded the restaurant's blueprint, adding a covered patio, constructed by Old School Rebuilders of Wilmington, outfitted with greenery and an art installation by Michael Van Hout. The addition almost doubled the restaurant's seating capacity, at a time when required social distancing often decreased the amount of covers a restaurant would do in a night.
The Dosses expect to reopen Rx by late spring or early summer.
---
Have tips or comments? Email info@portcitydaily.com
Want to read more from PCD? Subscribe now and then sign up for our morning newsletter, Wilmington Wire, and get the headlines delivered to your inbox every morning.