SOUTHEASTERN N.C. — Lots of movement happens around the Port City when it comes to new openings and closings of restaurants, food trucks, bars and bottle shops, as well as the launch of organizational and nonprofit foodie events and festivals. While Port City Daily already covers the majority of such news, smaller shifts and changes sometimes fly under the radar.
ALSO What's open for Thanksgiving? More than 20 restaurants are ready to serve Cape Fear diners this holiday
"Small Bites" fills in the gaps of coverage, and lets readers know what to expect when it comes to expansions of existing establishments or menu changes, temporary closures and renovations, added hours or grand openings, pop-up events or other newsworthy tidbits that may get overlooked during the daily grind.
Indochine opens renovated Saigon Sushi Room
One of Wilmington's most popular restaurants, Indochine, has renovated an area on its sprawling restaurant campus at 7 Wayne Dr. The Saigon Sushi Room at the front of Indochine — in the area where diners pick up takeout orders — is now open after having been closed since the end of summer.
"It took about two months to complete," according to owner Niki "Solange" Thompson, who worked with interior designer Denis Castro. Castro helped Thompson with her restaurant Café Chinois, located in the Pine Valley area, which opened in spring 2021.
With the same eye for bright colors, the designer and restaurateur transformed the dining area — once serving as runover for large parties — into Saigon Sushi Bar with a red-and-white color scheme. Lotus light fixtures hang over eight four-to-six-top tables, each refinished with camellia and rose appliques. A sushi bar proper oversees the space and can seat an additional four-to-six diners.
Castro utilized Thompson's vast Asian art collection to bring color to the walls. Upward of 50 canvases and framed works hang throughout the space, with Asian pottery, artifacts and other regalia, from fans to fabric screens, filling out the vibe.
"We didn't want it to be a traditional Japanese sushi bar," Thompson said. "We wanted it to be eclectic, include art from my personal collection, and you will see posters from my son's travels too."
The menu features a dozen or so rolls, priced $8.49 and up. However, diners in the sushi bar can also order from Indochine's vast curry, noodle, and signature chef's dishes.
Indochine and the Saigon Sushi Bar open for lunch Tuesday through Friday, 11 a.m. – 2 p.m., and Saturday, noon – 3 p.m., plus dinner from 5 p.m. – 10 p.m. seven days a week (closed Thanksgiving).
READ MORE Catch up on previous Port City Small Bites
Stoked to host wine- and cocktail-pairing dinners
Stoked Restaurant in Carolina Beach is taking reservations for two wine and cocktail dinners coming up in December. It will cost $50 a person for four courses, each served with a drink pairing.
The "M'Rockin Wine Dinner" on Dec. 1, 6:30 p.m., will be Moroccan themed, utilizing ingredients like lamb, olives, and cous cous, along with spices like cumin, paprika, garlic, ginger, cinnamon, coriander, saffron, turmeric, among other flavors. The first course will be a Moroccan-chicken-and-olive pastry, featuring blended cheeses and oil-cured olives, served with a Valdadige pinot grigio.
The second course will feature acorn squash with garbanzos, cous cous, raisins, and spices, paired with a Conundrum white wine blend. Thereafter, a tagine rabbit and lamb dish will be served, accompanied by Moroccan-spiced vegetables and paired with Languedoc Close des Mures.
Dessert will be a traditional Moroccan vanilla sponge cake with ganache, served with a Barista pinotage.
The Dec. 15 dinner will be a Cape Fear Distillery cocktail pairing. It will start off with Bloody Mary oyster shooters, paired with Gamefish vodka, followed by an entree of salmon-belly sashimi with sticky rice and seaweed salad, paired with Maritime gin.
Served next will be Oaxacan black mole chicken thighs, with chipotle sweet potatoes and Brussels, paired with Solera whiskey. The final course will consist of an apple-cinnamon bread pudding, alongside Cape Fear rum.
Stoked is located at 313 Canal Dr. and reservations for either dinner can be made by calling 910-458-8300.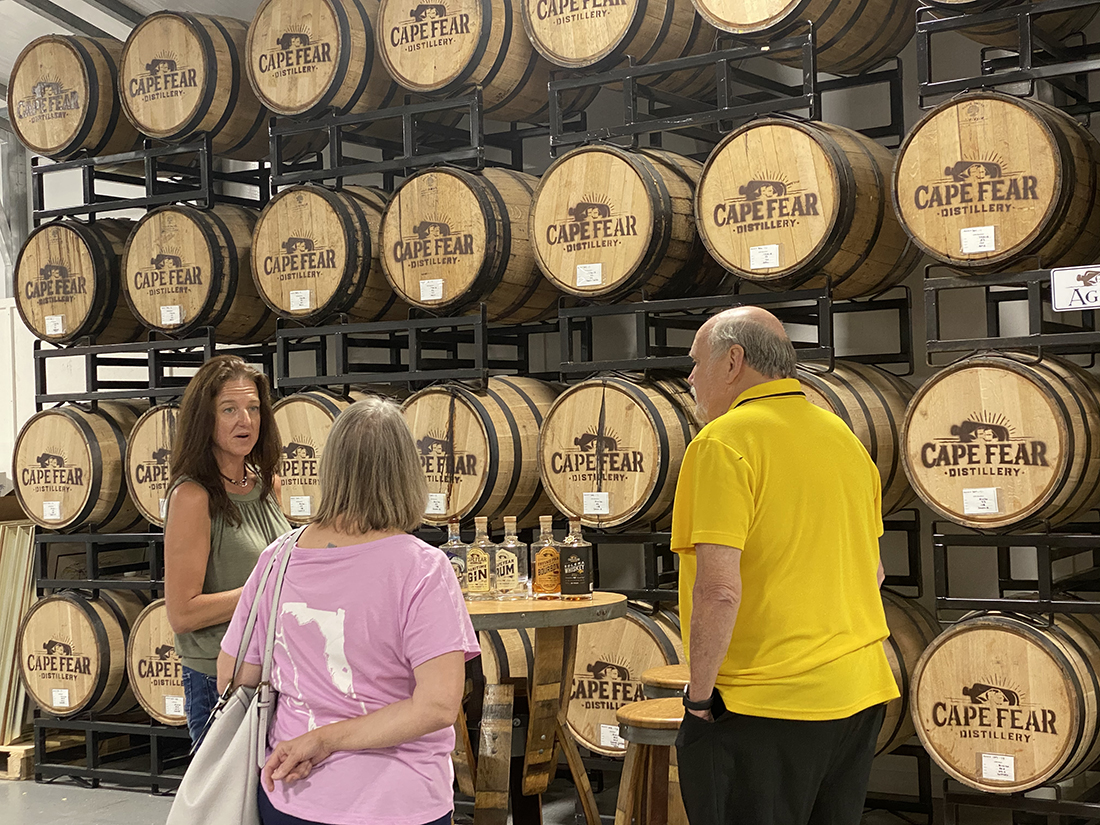 Cape Fear Winery's gin goes for the gold
Speaking of Cape Fear Winery, located an hour west in Elizabethtown, the vineyard and distillery has taken a few honors from PR%F, the largest tasting competition in the nation, hosted by Food and Beverage Magazine and Delta Sky Club. Held in Las Vegas in September, judges consisted of buyers, distributors, online retailers, bar, nightclub and restaurant management, and hotel/resort and hospitality beverage decision-makers.
Cape Fear Winery scored two gold medals for its Maritime gin. Head distiller Judith Scott told Port City Daily in June they took a different approach to flavor the spirit, avoiding heavy pine-needle notes indicative of the liquor.
"We went really low on the Juniper and we added lavender," she said. "So it's a touch sweet and it has a citrus base, which makes it unique and light.
Local restaurants carrying the gin in the Port City area include Catawba Brewing, The George, Copper Penny, Triangle Lounge, Crust, Tavern on 17th, among others.
End of Days Distillery releases handcrafted Madagascar vanilla extract
It's the season of bake-a-thons aplenty as the holidays approach. While End of Days can provide all the spirits one desires for rum balls and Egg Nog, they're also getting into the extract game.
Before stocking up on run-of-the-mill vanilla flavors, try End of Days handcrafted gourmet version that will amp up every batch of cookies, bars, cakes and pies to be made in coming weeks. The brewery has added Madagascar vanilla to its award-winning Port of Entry Vodka to "yield spectacular rich and creamy flavors that every culinary enthusiast, crafty cook, and dedicated baker will appreciate," according to its website.
Supplies are limited, but the extract is $19.95 for 4 ounces and can be ordered online. End of Days also has a mercantile store at its distillery in the Cargo District, 1815 Castle St.
Wilmington Brewing Co. launches The Venue
The Venue at Wilmington Brewing Company officially opened at 800 S. Kerr Ave. earlier in the week. Brewery founders Michelle and John Savard began the process three years ago, after purchasing the 3-acre lot next door to its flagship building.
The Venue expands 5,000 square feet of space to host special events and celebrations, from weddings to anniversary parties, corporate meetings to seminars, and of course WBC can releases. For the foreseeable future, however, it's operating as the brewery's homebase.
The Savards are turning their attention to renovating the neighboring WBC next, in order to increase production. Therefore, they are using the new Venue as its main taproom for as long as renovations take.
"Hopefully, about a year," Michelle said.
The Venue comfortably welcomes up to 250 people, with an indoor space beaming with natural light and six garage doors that open to bring the outdoors in. The interior was designed by The Coastal Manifest and is furnished with high- and low-top tables, comfy chairs and a sofa in a lounge nook.
"There is a lovely patio along the wooded back space and a stream," Michelle added, speaking to the deck that runs the length of the new building. "You really don't feel like you're on Kerr Avenue back there."
The Venue will host food trucks on weekends, plus it has games, including cornhole and life-sized Connect. It also will remain dog- and family-friendly, while serving over a dozen beers plus wine. WBC will continue to sell four- and six-packs, as well as growlers and crowlers. Yet, one area of service will cease as WBC evolves.
"After 10 great years, we will no longer be selling homebrewing supplies," Michelle said. "We will utilize the shop space, as well as our old taproom, to renovate and create one larger taproom for our brewery. We are forever grateful to our start as a homebrew supply store, but we are pivoting our business model, and we know we need a bigger taproom to create a fun community environment."
The brewery hours are Sunday through Wednesday, 11 a.m. to 9 p.m., Thursday until 10 p.m., and Friday and Saturday until 11 p.m.​
Felix Café now serving breakfast
At the beginning of November, Felix Cafe in Monkey Junction expanded its hours to include breakfast services. Open from 7 a.m. – 11 a.m., diners can enjoy Southern classics, like chicken and waffles and shrimp and grits. The menu also features a build-your-own breakfast sandwich option, an omelet, scrambler, and Felix's famed Monte Cristo.
Prices range from $8-$20. Felix Cafe is located at 5226 S. College Rd.
Michael's Seafood has new executive chef
Across Snow's Cut Bridge on Pleasure Island, Michael's Seafood has a new chef leading the kitchen. Eric Walsh worked his way up the line at Michael's through the summer season and took over the executive role at the beginning of October.
Michael's is well-known for its plethora of seafood offerings, from award-winning chowder to blackened fish and grits to Bill's crab pie flatbread. The restaurant will be hosting a Thanksgiving Eve oyster roast on Wednesday, Nov. 24, 11 a.m. – 9 p.m., with oysters 50% off dine-in and 20% off to-go. Reservations aren't needed. It also will launch a new holiday menu of cocktails.
Michael's is located at 1206 N. Lake Park Blvd.
New event space at Johnny Luke's
Johnny Luke's has expanded operations by adding a private event space to its restaurant. It also has an onsite event director to help clients plan their happenings as needed. The space is outfitted with custom lighting, and has audio and visual options to help with presentations, slideshows and music as needed.
The restaurant can provide menu packages, too: breakfast, brunch, buffets, hor d'oeuvres, bar packages, even plated dinners are available.
Johnny Luke's is located at 5500 Market St., 910-769-1798.
---
Have restaurant and/or bar news to consider for Port City Small Bites? Email shea@localdailymedia.com