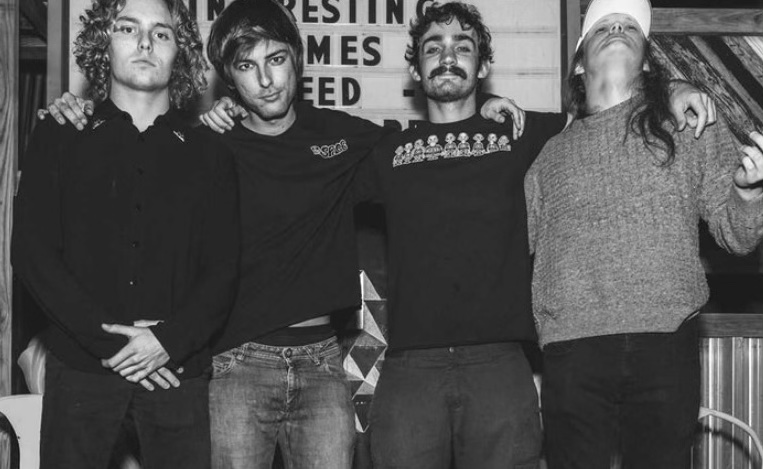 WILMINGTON — The concert season has officially arrived with more national acts touring through the area on a frequent basis. But Wilmington's music scene goes deeper than just headliners. Local musicians add spirit and vivacity, many performing on a weekly basis, sometimes even for free.
Port City Daily launched a five-part series to introduce local sounds to concert-goers in support of new artists hitting the scene. "Listen Up" will feature five acts who have just begun playing local clubs and venues, performing a variety of styles from surf rock to soft rock, indie to garage pop, alongside classic and grunge rock.
READ PART 1: New band Free Drinks energizes ILM's music scene
Next up: NARAH, a four-man, grunge-rock group that originated in 2019. Performing together for over two years, the band aims to "bring something unique to the industry," lead singer and guitarist Evan Feus explained.
"I was stumped on what to name the band for our first few months of practicing together. I thought of my ancestry and looked online for Scandinavian terms and came across the word 'Narah' – Scottish for 'Queen of the wolves,'" Feus stated.
Along with Feus, NARAH consists of Dawson Newman on bass, Luke Vanderwoude on drums, and Jordan Simmons on guitar.
The band started playing to smaller crowds at the underground Basement House — a private home in the New Centre area that often hosted live music for the college crowd (it stopped in 2019).
NARAH's former drummer, Nick Tsaousis, left right before Covid in late February 2020. Following his departure, Feus met Vanderwoude — who used to play with CANCEL. Vaderwoude's heavier style fit the band's musical tastes.
NARAH draws influences from nu metal and punk-rock genres — and bands like Queens of the Stone Age, Green Day, and Nirvana. The group has become known for their "in your face" performances, Vanderwoude described. It's not uncommon for them to perform stunts during shows.
During the band's St. Patrick's Day show at Barzarre, Feus climbed atop a 12-foot wooden fence directly behind the stage mid-performance. He is also known for frequently crowd-surfing and dancing with his bandmates.
"Evan is just a pure showman," Vanderwoude said.
"We went from standing and just slightly moving to actually looking comfortable in our own skin by letting the music take over," Feus added.
Their varying personalities mesh well together live, according to Vanderwoude.
"I'm very ADHD," he said. "Dawson is super laid back, but can explode on any song in a minute. Jordan is really quiet, but is probably the most talented musician I've ever met."
NARAH created its first self-titled EP over the course of the 2020 pandemic and released it during the fall of 2021 (available on the band's Apple Music and Spotify pages). The four-song EP has garnered nearly 4,000 listeners on multiple platforms.
The EP was produced by Feus' friends Paul Ritchie (former guitarist for Parlor Mob) and Colin Carhart (friend of Feus) at a recording studio, New Future, located nine hours away in Asbury Park, New Jersey. Ritchie and Carhart were able to connect NARAH with studio drummer Sim Cain "because we did not have one at the time," Feus explained (Vanderwoude ended up joining one month later).
Feus writes the majority of NARAH's songs, though as a whole the band calls the process a "natural" experience.
"We don't really have a lack of ideas or trouble writing our songs, but we sometimes struggle on what we want to record," bass player Newman explained.
While tracking their newest single, "Mesmerator," the band decided to stay closer to home (they're all seniors at UNCW). They tapped Jacob Adams, a local music producer who goes by "Blue Karma," to help.
"I've known Jacob since high school, and there hasn't been a local producer as good as him to record with. He put so much effort into our song," Feus added.
Feus sent Adams a video of Nirvana frontman Kurt Cobain's recording style from the '90s — he wanted something similar for "Mesmerator." Adams said capturing the heavy sound of NARAH was a welcoming challenge.
"We experimented with ideas from the video, including recording vocals with multiple mics simultaneously for a stereo effect," Adams stated. "It took me over 10 mixes to finally get it right, but my goal was to make 'Mesmerator' as heavy as possible, and I think we achieved that."
The end result is a hard metal sound backed by Feus' harmonious vocals. Though it tips its hat to vintage '90s grunge, NARAH's modern twist gives the song depth, originality, and relatability, especially within the lyrics.
The song discusses common struggles of the everyman, specifically tackling mental health. It highlights taking accountability instead of merely ignoring hardships in life, as heard when Feus sings "I'm through playing victim" in the hook.
"I think both women and men can agree that men's mental health is very underlooked," Vanderwoude explained. "Just not being able to express your emotions or when you do express them, not having them acknowledged is really what we are trying to address."
Feus and Vanderwoude talked about their own struggles and how the song acts as an "avenue" to release frustrations in a positive way.
"That's why I love this [music] scene so much; we all can relate to each other in that we love what we do," Vanderwoude said. "It's just about directing bad energy in the right direction and making people happy instead of bumming people out."
The band hopes to bridge the gap of acceptance among its fans, creating music that inspires common ground.
"I see kids of every single style, of every single background," Vanderwoude said. "I see frat kids, emo kids, goth kids, and nerdy kids, and everyone is there just to have fun. In college, people are always so grouped off, and in this scene, it's just a nice way to escape your box."
To complement the heavy, dark vibe of the lyrics and instrumentals, the band reached out to friend and local artist Eddie Janosko to create the art for "Mesmerator." Janosoko's "old school tattoo" aesthetic appealed to the band. Newman and Feus had the idea to feature "someone's face being mesmerized," Feus said.
"They wanted 'pulp' and sharp text," Janosko said, "so my mind went to classic cartoons, and while the design is a bit rough, I feel like it gets the point across in a genuine and creative way."
NARAH will release "Mesmerator" on Apr. 19 on Spotify and Apple Music. It will be the first new material since their 2021 EP.
Booking shows in Wilmington every weekend, NARAH is currently planning a "mini tour" with local act Ridgewood in Wilmington this July. Venues and show dates have yet to be announced, but the band updates their schedule almost daily on Instagram.
---
Have tips or comments? Email info@portcitydaily.com