---
Editor's Note: The following is part of a series written by Anthony 'Tony' Peele, a social entrepreneur who co-founded Swahili Coast with his wife Caroline and a volunteer and board member of the Full Belly Project.
Peele recently embarked on a trip to work on projects for both groups in Zambia and Tanzania. And, while southern Africa is certainly out of Port City Daily's coverage area, the groups doing work there are proudly based in Wilmington. Port City Daily is partnering with Peele to offer a first-hand look at that work.
---
At 7 a.m. I take a bajaji (Indian motorized rickshaw) to the beadwork cooperative Ushirika wa Shanga Maua Pwani. Today I'm working with the cooperative director Kennedy on new designs for sandals and bracelets that we're debuting for this fall and spring. We gather with the beadwork team leaders and pore over the diagrams of beadworking patterns that my fellow Swahili Coast co-founder Caroline (and wife) crafted. Each design has a laminated chart to diagram the patterns that beadworkers will use as a guide for each piece. The wind blows through the co-op, and we weigh the diagrams down with half kilo packs of beads that glitter in the sun. For this trip, I've brought roughly 50 pounds of Czech and Japanese seed beads that are unavailable in local markets in Tanzania, but can add something special to our beadwork designs.
Related: You can also check out Part I, Part II,  Part III, Part IV, and Part V.
Beadwork has a long history in Tanzania, and from many tribes and cultures across Africa. The most prized beads are the Czech glass seed beads, which have been traded for centuries – predating colonial period. Many of those diverse beadwork traditions have been reinvented as beaded sandals, bracelets, and jewelry — modern goods which have been shaped and formed from traditions that are familiar to East African people. Today, there are many small producers of beadwork sandals in Dar es Salaam, with a couple of notably large sandal factories that make sandals for regional sales.
My company, Swahili Coast, is the only major US importer of Tanzanian beadwork, although now we have a few imitators with our success. Our mission is simple–we take a product, a beaded sandal or bracelet – and we market it in the USA to capture as much value as we can, and deliver that value back to our artisan partners here in Dar es Salaam so they can earn much higher wages than through local trade alone. Our artisan partners are earning as much as five times the usual local wages for their beadwork.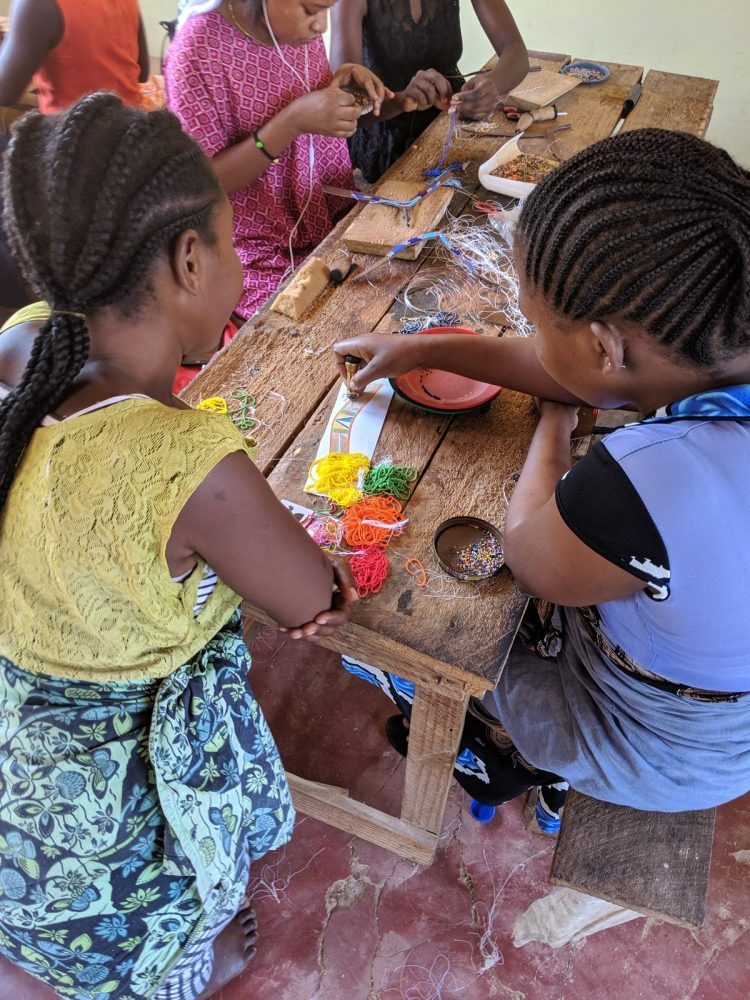 When we dreamed this project up, we wanted to prove to ourselves and the world that business can be a force for positive change. Since the beginning of the project, we have focused on capturing value and delivering it to the workers making the sandals. However, we realized that we needed to have systems in place to make sure that the money sent was making it all the way down the chain to the workers. The solution was to fund the startup cost of a new beadworking and sandal workshop which became Ushirika wa Shanga Maua Pwani. We retained no ownership–instead, we gifted the money through a non-profit, and agreed that the co-op would operate on a transparent model of worker ownership. Today, the co-op is 100% worker-owned and managed, and exports sandals regionally to the Congo, Mozambique and Zambia.
And, of course, they export to the USA through my brand Swahili Coast, where they are moved to one of our roughly 200 wholesale retail accounts throughout the USA.
As we focus on growing work for the cooperative, we focus on developing products that will appeal to American consumers. Anyone can go to another country and import goods, but to create a brand based on the talents of East African artisans, you have to have an eye towards what will sell to a wider market. Tanzanian designs are fun and exciting, but the style choices of Tanzanian women are different than what American buyers generally prefer. Caroline works in Wilmington designing collections that balance what the members of the co-op can create, and also fit the tastes of American women.
The first samples are completed quickly. The narrow bracelets can be completed in only 30 minutes, so they're the first to arrive. Most are stunning. A few were made wrong, so we head back to the design table and clarify. Inevitably, some look better on a sketchpad than in real life, so they won't make it to production.
At 2 p.m., the heat of the day has arrived, but I'm the only one that seems bothered by it. But we have a deadline to keep, and we've promised our wholesale accounts a glimpse at what bracelets they can pre-order while I'm here, so I sweep a dusty corner and make a makeshift photo studio. The stationary shop is out of white poster board, so a natural brown leather background will have to do. I spend an hour taking photos, and then the rest of the afternoon editing them on my laptop before uploading them to our website. It's a quick turnaround, but as a small company, we have to have an edge to be competitive and keep growing, and here among the co-op members, I'm reminded that the stakes are high. Bigger orders mean more money for everyone here.
It's easy to sit back and pat myself on the back, but the experience of doing this work is challenging. The hard truth is that here in Dar, I'm the lucky one in the room. I'm the one that was born in America and had the privilege of a college education, an American passport and all the benefits that come with being a white American. In America, it is sometimes easy to look past that privilege, but here in Tanzania, to look past that privilege would require a blindfold.
Make no mistake, the realities of economic injustice in the world today are vast and demand action. MLK wrote from a Birmingham jail that "Injustice anywhere is a threat to justice everywhere," so we must act in the face of injustice. I'm painfully aware of tendencies within the "ethical" industry to position the white people who work with people of color as the heroes of the story–and we do our best through our imaging and language not to promote this problematic narrative. But helping, as an agent of change, is a constant balancing act of using my abilities for good, while also operating in collaboration and partnership, and being ready to take a step back and have my partners take the lead —while also acknowledging the (white) elephant in the room. To pretend otherwise is irresponsible.
You can follow along with my travels at @Anthony_Peele on Instagram
Find more information about Full Belly Project online.