WILMINGTON — The Wilmington area continues to grow its reputation as an "Asheville East" of craft breweries — there are now 18 in the region — and we'll be here to keep you in the loop. Our craft beer tracker is a place to keep up with scheduled beer releases, festivals, special casks, and more for the week ahead. We'll publish every week and update as information comes along.
Schedules can fluctuate inside the brewhouse, so check the breweries' links for updates on their Facebook pages. Brewers and taproom managers: keep us informed at pcd@localvoicemedia.com.
In the news
Wednesday, June 19: Mad Mole Brewing crowned America's favorite solar-powered microbrewery
Friday, June 17: Donations encouraged? Craft beer alliance speaks out, hopes WDI considers local Wilmington brewers
This week in craft beer Monday, July 1 – Sunday, July 7
Bill's Brewing Co. | 4238 Market Street in midtown Wilmington
Upcoming Release (Wednesday, July 3): Passonfruit Lemon Wit.
Can Release: Two New England IPAs — Legend of MoTraNotus and Dog Haze of Summer — are now available in 16-ounce cans from the taproom and in local bottle shops.
Brewing Philosophy: "We strive to create beer that everyone can enjoy, from the craft beer connoisseur to individuals new to the craft beer scene."
Brewers' Top 3: Dog Haze of Summer NEIPA, Schwarzbier, and Wave Break IPA
Founded: June 2016
Broomtail Craft Brewery | 6404 Amsterdam Way, King's Grant area of Wilmington
Upcoming Tap Release: Loopy Fruity Gose, a batch of their Galloping Gose with blended fruits. Stay tuned to their Facebook page (link above) for the release.
Recent Tap Releases: Double Black Currant Gose (kegged on Monday, June 24) and Double Dry Hopped Jus Sayin (kegged on Wednesday, June 26).
Brewing Philosophy: "To enrich the world by using scientific art coupled with the natural resources and living organisms provided by Mother Nature developing unique, high-quality beer for all to enjoy."
Brewers' Top 3: 

Galloping Gose' – series of light sours using natural lactobacillus and brewers yeast in fermentation to develop smooth, refreshing, true to style Gose'; 

Acerbic Ecstasy – flagship IPA, a hybrid English / West Coast IPA; 

Moe Beer – signature brown ale, highly crushable and pairs well with almost any dish.

Founded: 2014
And keep up with their souring/barrel aging facility and taproom in Ogden, The Sour Barn (7211 Market Street).
Check Six Brewing Co. | 5130 Southport-Supply Road in Southport
Check out their most recent beer list here.
Brewing Philosophy: "Make the finest ales and lagers possible, using local ingredients whenever possible."
Brewers' Top 3: 

Harley Pope Vanilla Porter, Aerial Aggression Double IPA, 

B-17 Bock
Founded: June 2016
Edward Teach Brewery | 604 N 4th Street in downtown Wilmington
Recent Can Release (Thursday, June 27): Devil's Son IPA (6.5% ABV).
About: "Set in a historic firehouse in Wilmington's Brooklyn Arts District, we craft beers for everyone. Try our German or Black Lagers, Peach Wheat Ale, and IPAs."
Founded: December 2017
Flying Machine Brewing Co. | 3130 Randall Parkway in midtown Wilmington
Limited Release (Friday, June 28): Flying Sandals Fruited Gose Sour Ale, part of their rotating fruit sour series; brewed with blackberry, pomegranate, passion fruit, and tangerine.
Collaboration Release (Thursday, June 27): Breakfast with Pegasus, a "Hay Ale" with vanilla, lactose, and high-grade hay that "creates a 5.5% decadent vanilla ice cream libation." Available in the taproom on draft and in 4-pack cans to-go.
Upcoming Collaboration Release: the Boats! Lime IPA will debut on the Brew Voyage departing downtown Wilmington Saturday, July 13. The beer was brewed with Wilmington Brewing Co., Ancillary Fermentation (Raleigh-Durham), and Wooden Robot Brewery (Charlotte). Eight beers from all four breweries will be pouring for guests to support the Cape Fear River Watch.
Brewing Philosophy: "

We want to mix new age ideas with old school techniques to bring a new era of innovation to the marketplace."

Brewers' Top 3: 

Vimana (a Kölsch), Hollow Bones (a Roggenbier), and 

Hollow Wolf Lord (a double New England IPA)

Founded: June 2016
Flytrap Brewing | Located at 319 Walnut Street in downtown Wilmington
Tap Release (Friday, June 28): Blueberry Saison (7.2% ABV), aged on local blueberries from Carol Sue Farms.
Brewing Style: "

A neighborhood brewery specializing in small batch American and Belgian style ales that are guaranteed to be at the peak of freshness."

Brewers' Top 3: 

Our Saisons, our Rotating House IPA, and our Kettle Sour Ales

Founded: October 2014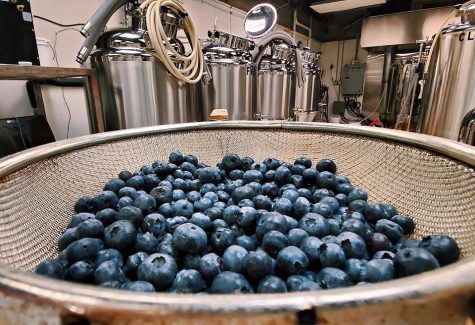 Front Street Brewery | 9 N. Front Street in downtown Wilmington
Bash in the Beam Room (Saturday, July 6): Brewmaster Christopher McGarvey and Distiller Daniel Safley of Mother Earth Spirits will be on hand to talk booze as Front Street releases beers aged in Mother Earth's gin barrels.
Recent Releases: Bourbon Barrel Baltic Porter (8.3% ABV) and Sour Peach Kids, a barrel-aged sour with local peaches.
Brewing Style: "Specializing in American and Belgian style ales and small batch brews."
Brewers' Top 3: Amberjack ESB, Napoleon Rye-namite, Tiny Tim's Christmas Ale
Founded: 1995
Good Hops Brewing | 811 Harper Ave in Carolina Beach
Recent Tap Release (Friday, June 21): Georgia on My Mind, a cream ale brewed with Georgia peaches and jalepeños, released for their 5th year anniversary.
Mission: "To make and drink damn tasty beer, offer a comfortable neighborhood gathering place and support all things local."
Flagships: Donna Golden Ale, Flip Hop IPA, Stanky Yankee Hazy IPA
Founded: 2014
Ironclad Brewery | 115 N. 2nd Street in downtown Wilmington
Release: Expedition Pale Ale (5.8% ABV), a modern American Pale Ale brewed with Azacca and Motueka hops.
Brewing Philosophy: "

We strive to provide each beer enthusiast with a unique experience by infusing traditional styles with unexpected ingredients: Fermentation of the Imagination!"

Brewers' Top 3: Smoked Honey Lager, Cukes of Hazard, and Navigator Double Bock
Founded: 2015
Mad Mole Brewing | 6309 Boathouse Road near Bradley Creek in Wilmington
Brews from the Sun: Mad Mole beat Charlotte's Birdsong Brewing Co. in a tight finish for the title of America's favorite solar craft brewery.
About: 

"Wilmington's first solar-powered brewery. Spun off from a local software company, Mad Mole combines technology and art to brew better beer."

Founded: June 2018
Makai Brewing Co. | 5850 Ocean Highway W. Unit 1 in Ocean Isle Beach
New Release (Friday, June 28): the Windward Wheat, Makai's first ever wheat beer.
Brewing Philosophy: "E

xtending the reach of North Carolina craft beer 'toward the sea' with consistent flagships and diverse small-batches inspired by the Hawaiian Islands, the Carolina Coast, and our local community."

Brewers' Choice: 

Carolina Tropical IPA, Nightingale Coffee Porter, Fire Knife DIPA

Founded: 2017
New Anthem Beer Project | 116 Dock Street in downtown Wilmington
New Beer Release (Wednesday, June 26): Hammer Of God, an unfiltered pale lager. The beer is a tribute to MARSOC Marine Aaron Torian, who was killed in Afghanistan in 2014 while on his sixth combat deployment. All profits from the beer will go to the Marine Raider Foundation.
Recent Releases (Friday, June 21): Flossy and Secret Chord, both double-dry-hopped IPAs.
Brewers' Choice: Rusty Cage, Five Thieves, Hillbilly Prophet
Founded: 2016
Red Hare 34 North Experiment Station | 4802 Main St in Shallotte
Recent Release: the Lemon Lime, their latest of their SPF 50/50 series, with sweet zest mixed with citrusy hop flavors.
Brewing Style: "Our style is fun, approachable beers. Specialize in lagers and crushable IPA's to experiment wilds and sours, all usually with a classical and historically accurate base but with our innovative spin."
Brewers' Top 3: Soft J IPA, SPF 50/50 Tangerine, and Putin's Paradise Russian Imperial Stout
Founded: 2012 (Shallotte location opened April 2018)
Salty Turtle Beer Co. | 103 Triton Lane in Surf City
Latest Releases: Summer Sands American Light Lager and Manila Mango NEIPA.
About: "

Veteran-owned brewery located in Surf City, consisting of 10 rotating taps and a family friendly taproom featuring food trucks and live music. "

Brewers' Choice: Coastline Kölsch, 

Hey Zay NEIPA, Swingbridge Breakfast Stout 

Founded: Dec. 2017
Waterline Brewing Co. | 721 Surry Street in Downtown Wilmington
Keep up with their current beer list.
Brewing Philosophy: "Brewed Under the Bridge with a focus on traditional, easy drinking beer styles with the occasional twist."
Brewers' Choice: Our top-selling Kolsch, awarding-winning Coffee and Cream Pale Ale, and the annual release of our Whiskey Barrel Aged Tennessee Tripel.
Founded: 2014
Waterman's Brewing | 1610 Pavilion Place near the Wrightsville bridge
Tap Releases: Tides of Tangerine, a fruited summer wheat ale brewed at 7% ABV; and Just Camping 5.2, an American stout that is a lighter version of their original Glamping stout.
Brewing Philosophy: "Love your liquid!"
Brewers' Choice: Abundant Sunshine IPA, Knothead ESB, Makin' Me Hazy IPA
Opened: July 2017
Wilmington Brewing Co. | 824 Kerr Avenue in midtown Wilmington
Collaboration Release: the Family Session IPA, brewed with Flytrap Brewing. Cans of the tangerine session IPA are available at WBC and Flytrap.
About:

"Homegrown from a small home-brew shop to an 11,800 square-foot facility. WBC includes a 3bbl and 25bbl brewery, tasting room, and a home-brew supply store."

Brewers' Choice: Tropical Lightning IPA, Blair's Breakfast Stout, 

Jalapeño Saison

Opened brewery/taproom: 2014
Wrightsville Beach Brewery | 6201 Oleander Drive near Bradley Creek
Re-release: Shark and Stormy Blonde Ale, brewed with 60 pounds of fresh ginger root.
Brewing Style: "Wide variety perfect for sipping on the beach, including a year-round selection of lagers."
Brewers' Choice: Carolina Harvest Ale, Raspberry Berlinerweisse, bourbon barrel-aged Masonbarrel Barleywine
Founded: 2016