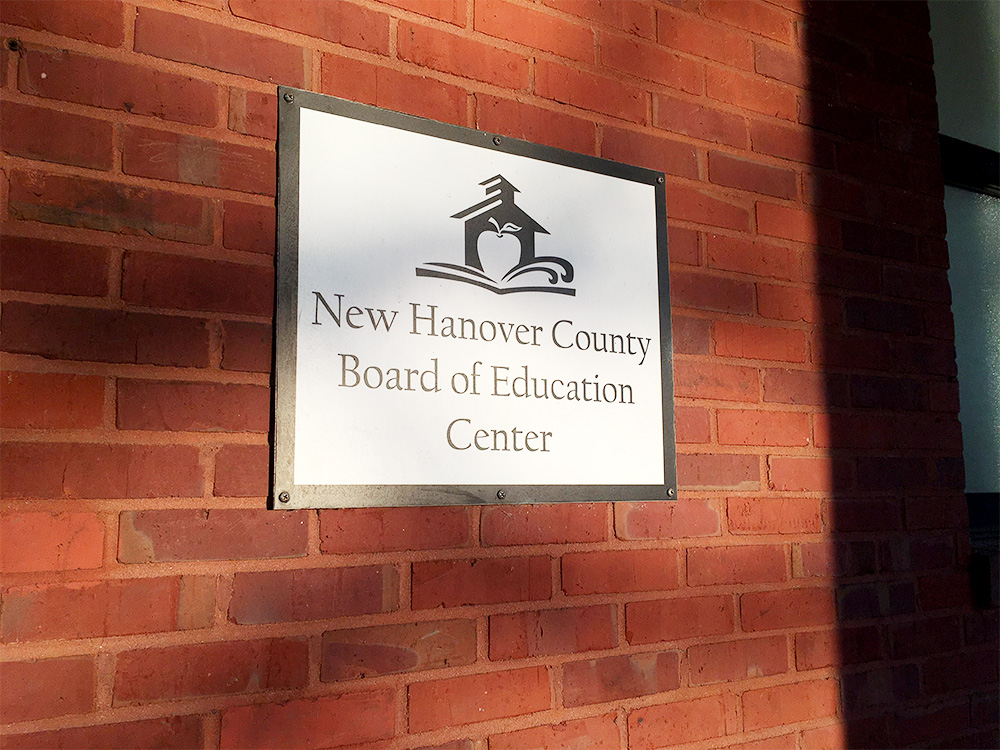 NEW HANOVER COUNTY — There may be another avenue to resolve New Hanover County Schools sexual harassment violations pending a school board vote at Tuesday's meeting.
The text changes would amend New Hanover County Schools' current Title IX policy, a federal civil rights law that prohibits discrimination based on sex in educational settings. It bans behavior listed under the umbrella term "sexual harassment" and unwelcome conduct that impedes equal access to learning.
READ MORE: Brunswick schools tighten policy language after NHCS' Title IX survey draws national controversy
Title IX outlines a reporting, formal complaint and grievance process for violations; the school board's amendment to the policy would add verbiage to include an "informal process." Instead of being required to file a formal investigation, Title IX victims could choose an alternative method more attuned to their healing process to hold the violator accountable.
The amendment follows years of Title IX issues at NHCS. In 2015, the school district was in trouble with the Department of Education's Office of Civil Rights for allegedly failing to provide a "prompt and equitable" response to a female student who was assaulted off-campus by a male peer. OCR investigated the potential Title IX violation after multiple complaints were made by the Hoggard High School student's mother.
A 2020 resolution between OCR and NHCS mandated the district provide reports on its response to the initial complaint and investigation into allegations of retaliation against the parent. That same year, the board adopted Title IX policy language from the North Carolina School Boards Association, but without the informal process language.
"We chose not to include the informal grievance process at those times so that we could fully train district staff on them," school board member Stephanie Kraybill said. "We are including it now as it will allow us to handle more complaints in a timely manner."
Kraybill is a member of the school board's policy committee along with Nelson Beaulieu and Pete Wildeboer, who did not respond to requests for comment by press.
Earlier this year, NHCS reported results from a February 2022 student survey that revealed 47% of gender-nonconforming students, 33% of female students and 10% of male students in high school experienced behavior that could be considered sexual harassment. For middle school, 22% reported experiencing sexual assault.
Around 62% of middle and high-schoolers responded to the survey from November 2021 to February 2022. Reports of sexual assault were revealed to be a great deal less than the survey's findings.
Under the policy change, an informal route would be offered for people that forgo filing an official investigation, which triggers an evidence-gathering process to build a case. Instead, mediation or restorative justice tactics could be used to provide closure for affected parties that don't rely on verdicts.
Restorative justice methods have gained popularity over the last few years as more people reject the high, and historically discriminatory, standards of the criminal justice system. According to RAINN, 975 of 1,000 perpetrators of sexual assault will walk free.
As the justice system often proves to some inadequate, more people are in favor of holding wrongdoers accountable through rehabilitation and crime reduction, rather than punitive measures that may not address the root of crime. Restorative methods in school systems could provide victims with more control over their healing process and potentially decrease the school-to-prison pipeline.
However, cases where an employee is accused of sexually harassing a student are excluded from an informal pathway, according to the North Carolina Department of Education.
The current policy states students and employees can report a case of sexual harassment directly to the school's Title IX coordinator. They also can report it to another employee, who is then mandated to notify the coordinator.
From there, the Title IX coordinator will contact the complainant and offer supportive measures, including an explanation of the formal complaint process. However, that option can only move forward if the complainant shares his or her name and the identity of the accused.
A Title IX coordinator can also file a formal complaint even if the reporter decides against it. According to NHCSB policy, the coordinator should file if the respondent is a school employee and the complainant is a student. Also, one should be filed to avoid being "indifferent to known allegations of sexual harassment."
If someone chooses the formal option, it starts the grievance process, including the divulgence of allegations and parties involved. An investigation will be held where a "decision-maker," someone inside the school community other than the coordinator, will determine if the respondent is guilty of violating Title IX. A hearing, involving cross-examination, is optional in K-12 settings.
As far as punishment, NHCSB policy states if a student is found responsible for violating Title IX, he or she could face short- or long-term suspension, expulsion or transfer to an alternative school or program.
An employee could be suspended, demoted or terminated.
The new guidance offers a less-intense conclusion. The informal process could result in an apology, intermediated discourse, mutual acceptance of a no-contact order, academic adjustments, participation in educational programs and other determinations. Any disciplinary sanction or action must be agreed to by the violator.
The informal path still requires an official complaint. Either party can choose to end this process at any time before an agreement is reached and the option to file a formal complaint will remain.
The school board will vote on the Title IX amendments at their meeting on Aug. 2 at 5 p.m.
---
Reach journalist Brenna Flanagan at brenna@localdailymedia.com
Want to read more from PCD? Subscribe now and then sign up for our newsletter, Wilmington Wire, and get the headlines delivered to your inbox every morning.