Editor's Note: This article contains some photos with profanity displayed.
WILMINGTON — For the first time since Black Lives Matter protestors began occupying the area around City Hall in late May, 'Back the Blue' counter-protestors gathered across the street in support of law enforcement Thursday afternoon.
Two BLM protestors were arrested, according to the Wilmington Police Department, one for disorderly conduct and the other for damage to a City Council sign. Another BLM protestor kicked the car of an independent journalist, Zachery Wickes, as he attempted to leave amid rumors circulating among BLM protestors that he is a "pedophile" — rumors that he strongly disputes, saying those who made the claims failed to provide any evidence.
According to WPD spokesperson Jessica Williams, the department is currently trying to identify "a person of interest for damaging Wickes' vehicle."
RELATED: Podcast: Independent journalist Mr. Wickes on Wilmington's protests and the Brandon Smith shooting [Free]
Wickes, who has been filming the BLM protestors since they first began demonstrating in late May, said the rumors were an attempt to smear his reputation weeks after he posted a video criticizing the movement — particularly recent demands by a group known as lower case leaders to ban white videographers from the protests. He said he was currently working to uncover the identity of the two men, who had been harassing him and calling him a pedophile while he was filming the group of BLM protestors.
"Along with others in the BLM group, they started saying, 'We don't support pedophiles. We have proof, screenshots of you trying to get photoshoots with underaged girls.' I deny that fully. I told them, 'Put out any evidence,' and they replied, 'We'll put it out when we're ready to,'" Wickes said.
Lily Nicole, who has led the organization of BLM protesters since late May and is the chairwoman of the lower case leaders, said the move to ban "white filmmakers" arose to prevent distortion of what they were trying to accomplish through the protests.
Nicole said emphatically that the man who attacked Wickes' vehicle, along with another man who was with him during the incident, was not in any way associated with the lower case leaders. Another of the group's leaders, Denny Best, said he did not recognize the two men.
Tensions between the two groups
Tensions between the two sides flared up throughout the day, escalating when law enforcement supporters — including members of local Knights of Columbus councils and American Honor Guards of North Carolina, a veterans' motorcycle group — marched silently through downtown sidewalks. Scattered along their path were BLM protestors, some attempting to give out printed pamphlets concerning the two Wilmington Police officers caught on tape arguing for genocide of Black people and the murder of a Black judge.
"These are the 'blue lives' they are talking about," one BLM protestor yelled to them. Another walked against the line of marchers on Front Street, repeating, "Blue lives are not lives!"
Karen Ashburner was standing beside a store on Market Street as marchers passed. After she told them to avoid having "blind faith in the police, in law enforcement," one woman reached behind her back after she walked by and flipped her the middle finger above her waistline.
"She said, 'Keep your comments to yourself.' But they have a right to walk down the sidewalk and say they support the police. I have a right to advise them not to have blind faith in law enforcement," Ashburner, who was visiting from Liberty, North Carolina, said.
Another man standing outside a business on Front Street beside a police officer, who would only provide his first name, Conrad, said the silent marchers were a welcome contrast to the BLM protestors who have marched through downtown in recent months.
"They come by with megaphones and signs and screaming in people's faces, blocking intersections," Conrad said. "That's not protesting. This is protesting. This is people holding their sings, getting their point across without getting in your face."
Back the Blue protestors were gathered in the square outside the New Hanover Library, across the street from BLM protestors. Four WPD officers stood between the two groups, attempting to deescalate moments of tension.
Keylon Armstrong, a member of lower case leaders, got into a verbal altercation with a Back the Blue protestor holding an American flag. The two were separated by WPD officers.
As heavy rain began to fall, the majority of people in both groups dispersed. According to reporting by StarNews, around 2 p.m., two Back the Blue protestors walked through the BLM group. Armstrong said he lunged at a Back the Blue protestor after the man called him a "n—er."
"WPD then arrested Armstrong before releasing him shortly after," according to Jonathan Haynes of StarNews. Haynes also reported that Armstrong alerted officers that one of the Back the Blue protestors had a gun. Several protestors also said a protestor displayed a firearm. As demonstrated in earlier protests, where arrested several BLM protestors for possessing firearms during a protest, this would apparently be illegal.
According to WPD, the Back the Blue protestor who allegedly displayed a gun was not arrested "because it didn't happen in the presence of officers." WPD said it is still reviewing video and investigating the incident.
Mr. Wickes' account
According to Wickes, members of lower case leaders issued a "media blackout" of white filmmakers, including freelancer Evan Pye, shortly after Pye filmed the protestors at City Council in mid-May. Shortly after, Wickes said he posted a video criticizing the group's move.
"That's why these people are f—ing pissed, because I called them out, despite the fact that I went way out of my way previously to put lower case leaders in a positive light," Wickes said.
He said the two men involved in the attack on his car Thursday afternoon had followed him around earlier in the day while he was filming protestors. They followed him to his car, trying to instigate a fight because they thought he was a pedophile, according to Wickes. He returned to the group of protestors when he saw police cars passing, where he saw Armstrong being arrested.
When he walked back to his car again, parked near Fourth and Chestnut Street, he said they again tried to provoke a physical confrontation. When he started his car, one of the men approached his window, he said.
"He popped in my window and said, 'So here's the deal — they say that you're a pedophile,'" Wickes said. After again denying the claim, he pulled out of the parking space while one of the men kicked his car's headlight and taillight, breaking the latter. (Wickes posted photos of the damage to the light on his Facebook page.)
Overall, he said the allegations are "bulls—t."
"This community knows my integrity," he said.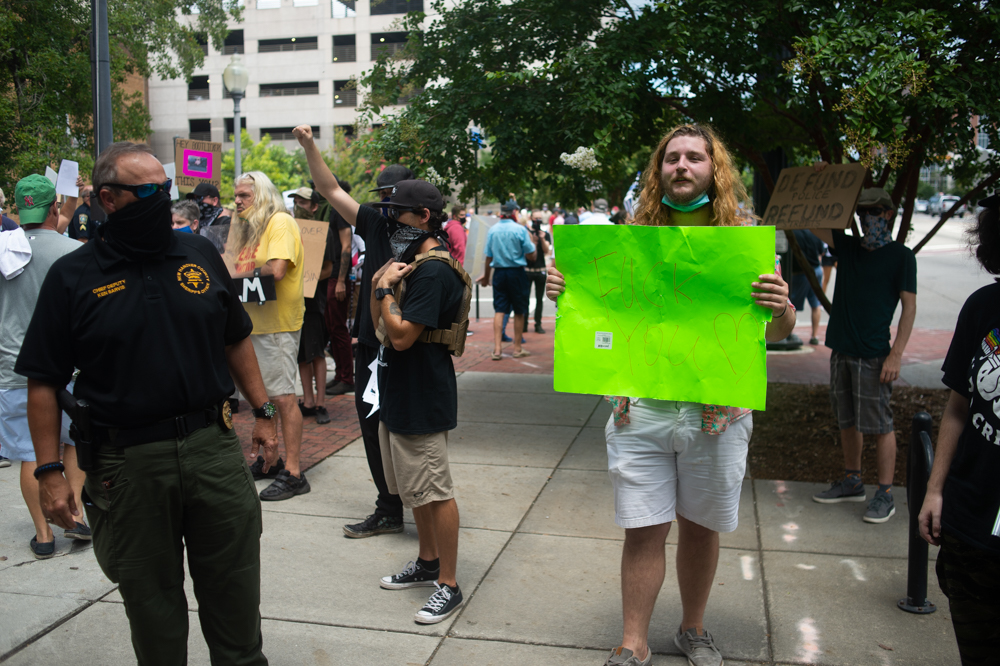 ---
Send tips and comments to the reporter at mark@localdailymedia.com or (970) 413-3815