BRUNSWICK COUNTY — Brunswick County will soon pay an estimated $1.2 million to replace 45-year-old filters at its Highway 211 Water Treatment Plant.
The existing sand filters have been in operation since the plant opened in 1975, only equipped to filter out turbidity and sediment. Brunswick County does not plan to enhance this plant's treatment technology; existing filters will be replaced with exactly the same product.
Related: Brunswick County Schools walks back decision after PFAS report, won't indefinitely supply bottled water
Aquifer-sourced water pumped at the 211 Water Treatment Plant (WTP) contained no detectable levels of the 25 per- and polyfluoroalkyl substances (PFAS) compounds analyzed, last tested May 12, 2019.
However, finished water at the groundwater plant tested July, 5, 2017 contained 3.7 times the maximum concentration of 1,4 -Dioxane the Environmental Protection Agency (EPA) recommends in its drinking water cancer risk assessment level (this represents an advisory, not a requirement). Later that month, finished water contained no detectable amount of 1,4 -Dioxane in all 10 wells tested, lower than the .35 parts per billion federal advisory.
According to Brunswick County, the July 5, 2017 sample may have "been a mix up in laboratory reporting or sample bottle labeling." The same amount of 1,4 – Dioxane was detected in raw water tested the same day from the Northwest Water Treatment Plant, according to the county, "which is where the suspected mix up occurred."
In the two-and-a-half years since, the county has not tested for 1,4 – Dioxane at the 211 WTP. Traditional sand filters — including the filters the county soon plans to purchase — are not capable of filtering out 1,4 – Dioxane.
Still, since groundwater typically contains far less industrial contaminants compared to surface water, advanced filtration technology is not always necessary.
"The 211 Water Treatment Plant is not tested as frequently for 1,4-Dioxane as the Northwest Water Treatment Plant because it pulls its water from groundwater wells served by the Castle Hayne aquifer, which is located further south and away from industries that typically produce these kinds of contaminants," the county's spokesperson explained.
More than a decade ago, the county floated the possibility of installing a new membrane treatment facility at the 211 WTP site, but this idea never materialized. Instead, the county is actively planning a $90 million low-pressure reverse osmosis system upgrade at the surface water-sourced Northwest Water Treatment Plant, while the county awaits necessary environmental permits.
A much-needed expansion is planned too, which will nearly double its capacity, from 24 millions of gallons a day (MGD) to 45 MGD (the planned reverse osmosis system could treat up to 36 MGD while conventional systems could produce the remaining 9MGD in a high-demand scenario).
Reverse osmosis technology is capable of removing more than 90% of known and testable PFAS compounds, March 2018 pilot test results show (nearly 5,000 persist in the environment but existing testing methodology has not yet caught up to detect each compound). Pilot tests indicated reverse osmosis could filter out 90% of 1,4-Dioxane, while other treatment methods, including Granular Activated Carbon, are less effective at removing the toxin, which is unrelated to the PFAS family.
Groundwater at 211
Capable of treating about one-fifth of the county's total water supply, the 211 WTP typically services southeastern Brunswick County. The communities of St. James, Oak Island, Caswell Beach, and Southport receive blended water from the 211 WTP and the Northwest Water Treatment Plant, according to Brunswick County. Bald Head Island sources most of its water from its own groundwater wells and purchases water from Brunswick County as needed.
With a maximum treatment capacity of 6 MGD, 211 WTP sources raw water from 13 wells pumped from the Castle Hayne aquifer.
The bulk of the county's water supply is treated at the Northwest Water Treatment Plant, currently capable of treating a maximum of 24MGD. This plant sources raw water from an uptake station 13 miles upstream on the Cape Fear River. Testing in recent years has revealed the public vulnerability to industrial contaminants like PFAS found in surface water, including the Cape Fear River, that conventional treatment systems are not capable of removing.
Since news broke that public drinking water collected at Belville Elementary School topped a national PFAS contamination list, many county residents report feeling frantic. Though the study did not reveal new information related to Brunswick County, it did put the region in a national context and uneasy spotlight (in fact, earlier tests collected in May 2019 revealed a concentration of the compounds more than twice as high as the Environmental Working Group study).
Some residents living in southeastern Brunswick County, serviced by the 211 WTP, shared a (false) sense of relief on social media at the sense their aquifer-sourced water does not contain PFAS compounds. Others shared feelings of uncertainty.
Customers in the 211 WTP service area do not receive 100% water treated by the 211 WTP. Typically, southeastern customers are serviced with "blended" water treated at this plant and the county's Northwest plant; however, because the entire water system is dynamic, there are no guarantees.
Asked if it was feasible for the county to notify residents in its southeastern service area when they were receiving surface water treated at the Northwest Water Treatment Plant, the county's spokesperson explained it's not a possibility:
"No, system demands and localized pressures fluctuate multiple times per day at various points in the piping network. This dynamic system will change the amount of water received from each plant on an ongoing basis."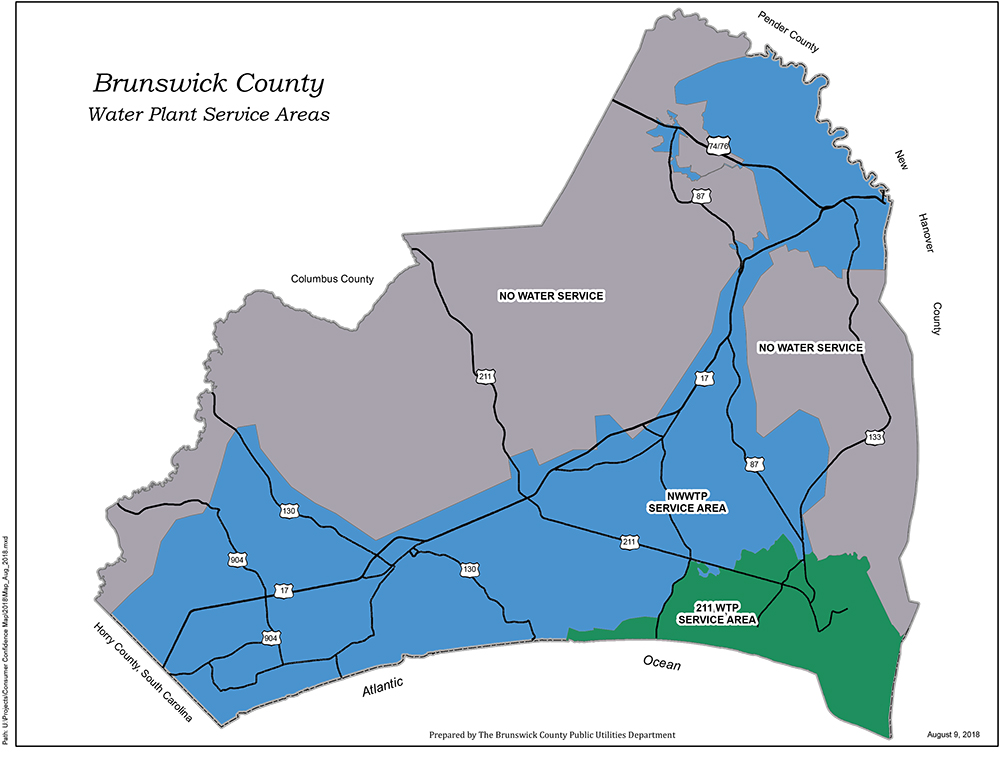 New filters
It's worth noting Brunswick County Commissioners voted to approve the $1.2 million budget amendment needed to replace the 211 WTP filters the day before EWG's study was released, landing in national headlines.
At this point, it's not clear whether the impact of the recent news cycle may cause the county to reexamine plans for the 211 WTP filters.
Throughout the years, the 45-year-old filters were repaired to extend their useful life. The same lifetime can be expected of the new replacements, Brunswick Public Utilities Director John Nichols told Commissioners Jan. 21.
Brunswick Public Utilities is looking to complete the project in a tight window. Officials aim to maximize the plant's available treatment capacity before peak season begins in May or June as work begins on the Northwest Water Treatment Plant.
"In case something happens during that project we want to have as much available capacity as possible," Nichols told Commissioners. "It is a bit of a tight timeframe. But the work itself can be done relatively quickly." 
Last May, water demand broke the county's all-time historic record when a regional drought ensued as tourist season began. Water demands averaged 92% of total system capacity in June 2019.
There may be some overlap between the two projects, Nichols said. "This is one of the key pieces of the 211 plant. The filters are kind of the heart and soul of that process."
Update: This article originally misstated Boiling Spring Lakes' source of water. Boiling Spring Lakes only receives water from the Northwest Water Treatment Plant, not the 211 Water Treatment Plant.
---
Send tips and comments to Johanna Ferebee Still at johanna@localvoicemedia.com
Comments