BRUNSWICK COUNTY — There are four possible routes for the Cape Fear Crossing, but if the project gets fully funded, each one is certain to pass through recently developed residential areas in Leland — and that could mean eminent domain and demolition of homes in the future.
Until the full $1 billion cost of the bridge is financed, the North Carolina Department of Transportation (NCDOT) cannot stop or slow development in Cape Fear Crossing's path –even if that development is ongoing and likely to be swallowed up by new the bridge, which is 26 years in the making.
Related: Feds rule out Cape Fear Crossing's Eagle Island route to protect historic district
Why? For 30 years, the state had a mechanism at its disposal to stop development in transportation corridors where roadways were planned but not yet fully designed or funded: North Carolina General Statute § 136-44.50. Three years ago, the North Carolina Supreme Court overruled the use of NCDOT's "land freezing" tool, citing its interference with constitutionality-protected property rights.
The Map Act
One thing is certain: the Cape Fear Crossing puts the NCDOT in a tricky spot.
In the absence of its corridor-freezing device, NCDOT is left without the ability to stop development in the path of whatever route it ultimately chooses. Condemnations – the actual taking of land through eminent domain – can only begin once the project gets fully funded and about two-thirds planned.
With brand new houses being build out, right in the path of all NCDOT's remaining routes, does the department's job get more complicated?
"It can," Chad Kimes, NCDOT deputy division engineer, said. "It definitely can."
The Map Act empowered NCDOT, local governments, and transportation authorities to adopt transportation corridor maps for certain long-range projects. Within one year of the map's adoption, the law required work to begin on an environmental impact statement or preliminary engineering.
"Which kind of makes sense, in a way," Kimes said. "But what was happening was, when DOT filed that map, it may have taken 10 more years to get it designed and let out to construction." 
Indeed, the Map Act set no time limit on DOT's land freeze. Property owners located in the corridor couldn't sell or make significant changes that required local approval (i.e. obtain building permits, rezone, subdivide, etc.)
Although the government hadn't technically taken the land, properties owners were basically locked out of any benefit from owning it. And that was a problem — because they weren't compensated.
In the North Carolina Supreme Court opinion for Kirby vs. NCDOT, issued in June of 2016, Justice Paul Newby described unconstitutional implications of the Map Act: "The Map Act's indefinite restraint on fundamental property rights is squarely outside the scope of the police power," he wrote.
"By recording the corridor maps at issue here, which restricted plaintiffs' rights to improve, develop, and subdivide their property for an indefinite period of time, NCDOT effectuated a taking of fundamental property rights… Justifying the exercise of governmental power in this way would allow the State to hinder property rights indefinitely for a project that may never be built," Newby wrote in the opinion.
Cape Fear Skyway
In August 2010, WMPO's Transportation Advisory Committee approved a Transportation Corridor Offical Map for Cape Fear Skyway. Preliminary plans in the map show parcels owned by familiar names in both New Hanover and Brunswick Counties: Mallory Creek Land and Timber, Stevens Home Investments, Funston Land and Timber, Lanvale Corporation, City of Wilmington, National Gypsum, Independent West Properties, Cameron Company, and dozens more.
But WMPO's approval wasn't enough, since it wasn't one of the government organizations approved by statute to use the Map Act.
So, the WMPO board urged New Hanover County, Wilmington, Leland, and Brunswick County, all of which were authorized to implement the Map Act, to freeze several hundred acres for the project. 
That never happened. In October 2010, New Hanover County approved a resolution 3-1 supporting preserving the corridor. Brunswick County Commissioners also voted to support the northern corridor. In November 2011, Leland voted to decline preserving it.
Despite resolutions of support from both counties, the maps were never actually filed to freeze the land needed for the project. Just one corridor – a few acres on the corner of Independence Boulevard and Carolina Beach Road – was frozen by Wilmington in 2006 for the skyway. It expired in 2009, according to WMPO's director.
After some fiery back-and-forth that year between Wilmington Mayor Bill Saffo and Leland's then-mayor Walter Futch, opposition to the entire project from Leland's leadership in 2013, map changes and re-routed paths including southern options, NCDOT is back to the drawing board on the skyway, since-renamed Cape Fear Crossing.
In the meantime, hundreds of people moved into new homes in Mallory Creek, Brunswick Forest, Snee Farm, and Stoney Creek. At approximately $733 million, the least expensive route left to construct — Alternative T — also relocates the highest number of properties: 108 homes and 74 business. That's according to a 2017 study impact comparison, which has likely been tweaked since. No new data on the routes is available yet, according to the NCDOT.
Last month, North Carolina State Historic Preservation Office weighed in, elimating one route to protect historic areas in Wilmington. That left five routes, all of which will cut through some portion of Brunswick Forest in Leland, an area that is rapidly filling out with new homes.
Fair warning?
Brunswick Forest doubled Leland's town limits when it was annexed in 2004. It makes up 25 percent of Leland's tax base. And a billion dollar bridge could very well cut through it.
No law or policy permits Leland, Brunswick County or the state from intervening to stop or slow development in Brunswick Forest and Mallory Creek, new subdivisions in Cape Fear Crossing's path — and the development is growing fast, even considering a Special Assessment District (SAD) to further accelerate construction.
Alternatives M and N Avoidance — endorsed by WMPO in 2017 — cut through the area where the SAD would have sped up development. The two routes also appear to cross Cape Fear National, Brunswick Forest's golf course. All remaining routes divide already-developed neighborhoods in the subdivision.
At a Leland Transportation Oversight Committee meeting Feb. 7, hundreds of residents came to see a 1:30 p.m. mid-week presentation at Town Hall. Mike Kozlovsky, WMPO's director, presented an update on Cape Fear Crossing. 
During the meeting, some residents raised concerns about the developer's disclosure of the project in closing paperwork and not earlier in the home sale process.
"It's kind of interesting that the developers are continuing to sell property, the builders are continuing to profit by building homes, and really the residents are not properly informed," Jill Vargas, a Brunswick Forest resident, said at the meeting.
"So we're spending quite a bit of money, quite a bit of tax money [on the Cape Fear Crossing]. We're not being properly informed at the time of the [home] purchase. So if they're slipping this in with closing documents and not addressing it with the enormous amount of paperwork that closing documents have, it's actually being minimized by saying, 'Oh, don't worry, you'll never see it in your lifetime,'" Vargas said.
According to other Brunswick Forest residents, home-sale disclosure documents mentioning the Cape Fear Crossing were made available at the time of closing. But others said they could not locate or recall disclosure documents. A large portion of the subdivision's homeowners moved in from out-of-town or state, and may have not otherwise had awareness of the $1 billion bridge project.
It's not clear when those documents first appeared in Brunswick Forest closing paperwork. A Brunswick Forest representative did not respond to a request to comment on this article. It seems that any disclosure documents introduced to prospective homeowners was done of Brunswick Forest's accord — not due to the instruction of a local authority.
Leland's hands tied
Leland can't stop development to preserve the bridge corridor, even if it wanted to.
Pat Batleman, Leland's mayor pro-tem, said failing to issue building permits because of the bridge could open the town up to litigation, or worse.
"The quickest way to lose your [town] charter is to pull something like that," she said. Because the bridge is roughly $970,000,000 away from full-funding, Batleman said the longer it takes, the more development is sure to occur in the project's way.
"If this bridge isn't built for 10 years, then there will be 10 more years of development," she said.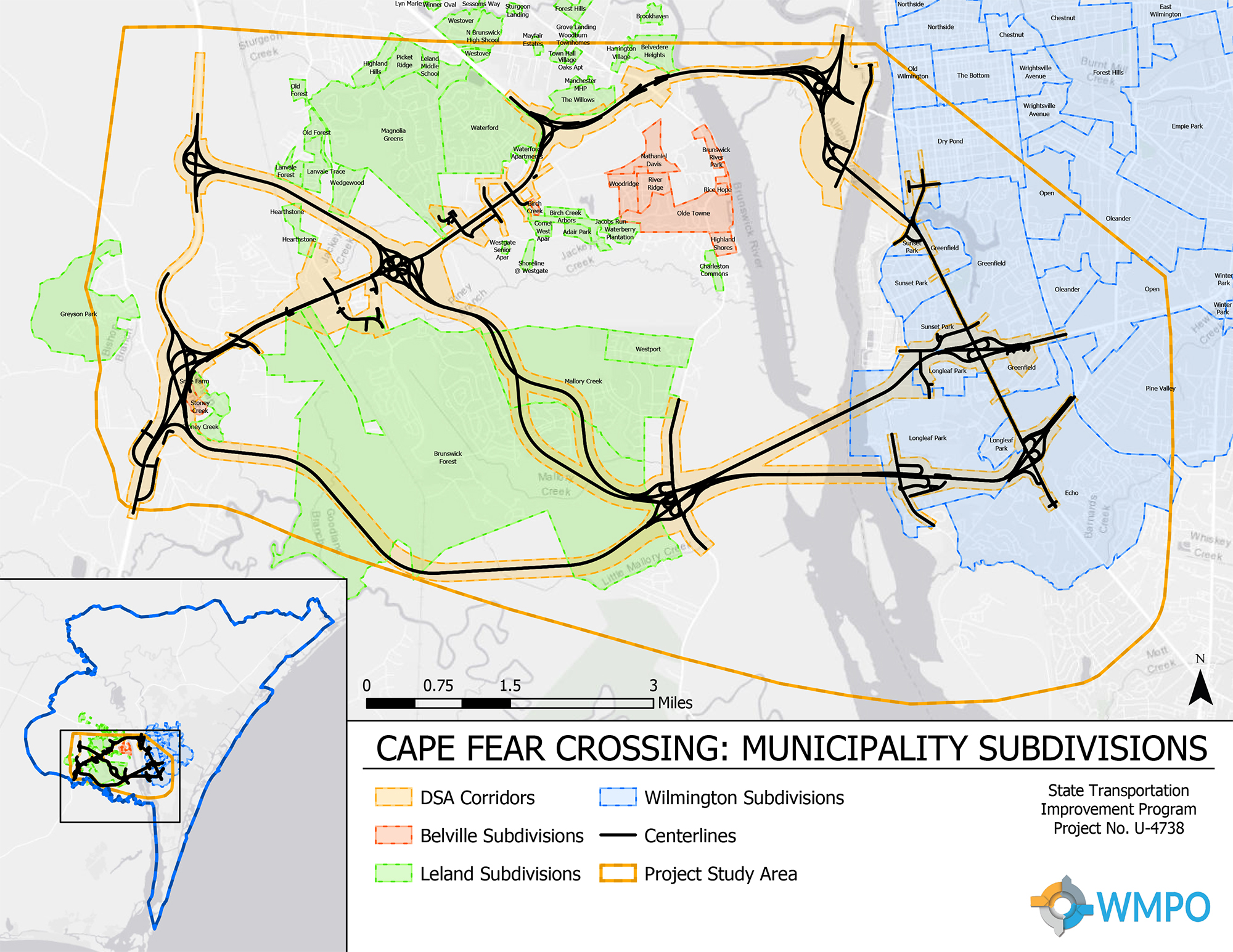 No middle ground
The Map Act was ruled an unconstitutional overreach of the NCDOT's government power, but without it, NCDOT faces the opposite problem: it's powerless to stop new houses from being built, even when some of them may face demolition in the path of the Cape Fear Crossing.
The only thing that can empower NCDOT to step in is the actual eminent domain process, which would allow it to take land before it gets built on. But for that to happen, the project needs more funding — a lot more.
Every two years, the state appropriates approximately $2 billion for transportation projects. With just $30 million earmarked for Cape Fear Crossing, approved in January, it'll take several prioritization rounds to get the remaining 97 percent needed to cement Cape Fear Crossing.
"It's going to take us a while to get that amount of money," Kimes, NCDOT's deputy division engineer, said. 
Only once the project is fully funded and design plans are about 65 percent complete, can NCDOT start freezing property use. Until then, NCDOT will keep crunching figures, looking decades ahead.
In the meantime, getting homes and businesses built – possibly at an accelerated pace – is a potential strategy for developers looking to make a route through their property less attractive. According to Kimes, all NCDOT can do is keep abreast of developers' plans and hope local governments can discourage development in the potential path of bridge routes.
"There are some concerns that there may be some developments that occur on the stretch," Kimes said. "That's where coordination with the county who's signing off on the permits, if they're working with us and know about our plans, there might be some assistance there. But yeah, we would prefer not to have new developments going on where we just chose a corridor."
Area residents with public comments and concerns are encouraged to redirect their input to the soon-to-be-announced public hearing in April. If comments cannot be held until the April hearing, NCDOT would prefer comments be sent to capefear@ncdot.gov. Learn more about the project here.
Author's note: This is part one of a two-part series on Cape Fear Crossing. Stay tuned for part two, covering Brunswick County and Leland's seat at the table for the planning process. 
View the original Transportation Corridor Official Map for the Cape Fear Skyway, approved by WMPO in 2010 but never adopted by local governments with the authority to freeze land, below: 
Skyway by Johanna Ferebee on Scribd
Update March 11: Additional information about Cape Fear Skyway's transportation corridor maps has been included. The information clarifies that though New Hanover and Brunswick County passed resolutions supporting preserving the corridor, the 2010 map was never actually filed that would have frozen land between both counties.
---
Send tips and comments to Johanna Ferebee at johanna@localvoicemedia.com