WILMINGTON — Bone & Bean BBQ will close this week for a month-long renovation, but new owner James Smith said that, when the restaurant reopens, it will still have all the things people loved about it.
That's the promise Smith made to the previous owners, husband-and-wife team Chris and Pam Valverde, who opened Bone & Bean last year. The two decided they had to sell the restaurant for personal reasons, but wanted the legacy of Texas-style barbecue to live on. Smith, a San Antonio native, said he was just the man to do that.
"Pam and Chris were facing some family circumstances, but they put so much into Bone & Bean and didn't want to see it go to just anyone, or be something else," Smith said. "I promised them I'd honor that and, you know, just promised to keep it Texas."
Smith, who also owns The Fork'n'Cork in downtown Wilmington and Smoke on the Water at RiverLights, said he wasn't interested in changing the classics on the menu.
"It's a good menu, I mean, I wouldn't be buying the place if I thought it wasn't solid," Smith said.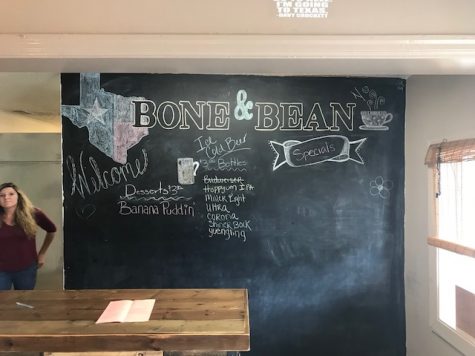 Also staying the same: the restaurant's name, phone number and Facebook page. Smith added the restaurant will continue to honor gift and Save30 certificates.
One thing Smith does want to add is a new variety of sauces, something less common in Texas-style barbecue.
"One thing with my food is that Wilmington is kind of a melting pot of people from all over the place. You get people from up north and people from further south and people from here. So we're going to make a bunch of barbecue sauces in house. I call them the five mother sauces of barbecue," Smith said.
Smith plans a vinegar-based eastern Carolina style, a "Texas-style, spicy black pepper," a South Carolina mustard-style, a Tennessee-style "Jack Daniels kind of sauce, sweet and smoky," and lastly the little-known Alabama-style white sauce, a tangy mayonnaise-based sauce.
"You think it's weird at first but it's delicious," Smith said of the white said, which he tried just recently. "You put in on chicken or pork and it's incredible."
Smith also said he plans on adding appetizers – including smoked jalepeno poppers and deviled eggs – fresh pickles and specials, including the Texas-style chicken-fried rib-eye steaks.
Smith does intend some upgrades to the place, including plans for new seating, an outside deck with room for about 20 to 24 people, and "real glassware and silverware," in place of plastic cutlery.
"I mean, you should be able to eat brisket with a plastic fork – you should be able to eat it with a plastic spoon because it's so tender – but I also want this to be the kind of place you want to come to, to sit down and dine," Smith said.
Smith aims to have renovations complete and the restaurant reopened on Dec. 1. It's a quick turn-around, but it does mean the restaurant won't be able to deliver smoked Thanksgiving turkeys.
"I have to issue an apology for that, we're not going to be able to do it this year,"  Smith said. "But it will be back, I promise. Smoked turkey will be back."
Bone & Bean BBQ is located at 3530 Carolina Beach Road. You can check out the restaurant's Facebook page for updates on renovations and information about re-opening. The phone number will still be (910) 833-7383 when it reopens.
---
Send comments and tips to Benjamin Schachtman at ben@localvoicemedia.com, @pcdben on Twitter, and (910) 538-2001.