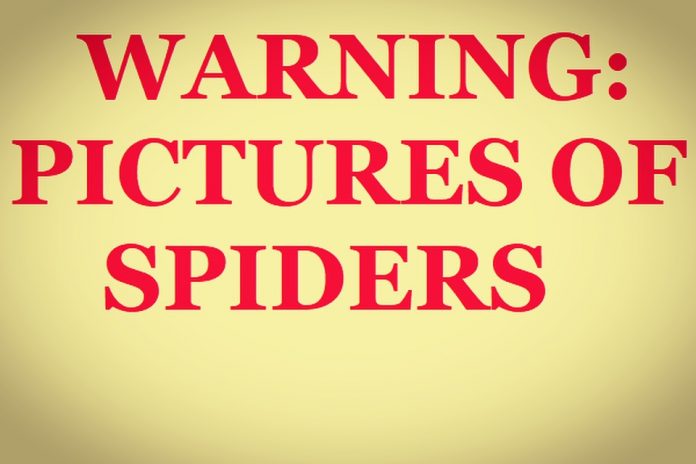 WILMINGTON — If you been outside this summer, you've probably seen a Golden Silk Orb Weaver. In fact, you've probably seen a few of them, more this year than last year.
Golden Silk Orb Weavers (Nephila clavipes), also known as banana spiders or giant wood spiders, can be imposing looking, especially the females, which are considerably larger than the males. With bright yellow abdomens and a "death's head" pattern on its back, the large spiders can usually be seen high in their sprawling webs, which have a golden hue and can span several meters.
Golden Weavers have become a common sight in the Carolinas, both in wooded areas and – increasingly – in developed areas. But questions abound: why are their numbers multiplying? Are they dangerous? What's up with the tiny spiders hiding in the corners of the web?
Sam Marshall of the Brunswick County Cooperative Extension said he finds the spiders fascinating, and took some time to answer a few questions about them.
Are you seeing more of them?
"You are definitely seeing more of them. They're not a native species, they're a tropical spider and we are a semi-tropical region. But as we are seeing warmer summers we're seeing a lot more of them," Marshall said.
Warmer, longer summers give female spiders longer to mate and secure their eggs, leading to larger populations. In turn, larger populations are pushing spiders into new areas.
"They are not social spiders at all, some insects are but Golden Orb Weavers are not going usually going to share space," Marshall said.
The spiders prefer to spin their webs in the branches of trees were they can catch flying insects, but with space at a premium, they will make their home in the stairwells and breezeways of apartments, Marshall said.
Are they dangerous?
"People see them more and more often, and closer to their homes, and they naturally ask if they're dangerous… but they're pretty benign. That said, the females have pretty powerful jaws so it can be a pretty painful bite," Marshall said.
The main risk might actually be to your pride, Marshall added.
"It's more that you're walking through the woods and you come face to face with one of these things, or put your face into a web — there's just an absolute, instant terror that comes over people. Nothing can really prepare you, you just kind of lose it and freak out," Marshall said.
Can they kill larger animals?
Golden Silk Orb Weavers are an apex predator in the insect world, Marshall said, but that's about as far up the food chain as they go.
"They have very strong webs, so just about anything that gets stuck in those webs, they can kill. We've definitely seen them eat very large dragonflies, cicadas, basically any other insect," Marshall said. "I haven't heard of them eating birds or bats, around here at least."
That said, some the Golden Orb Weaver's relatives in warmer climates have taken down larger prey. Nephila plumipes, the tiger spider, has been known to catch and kill small birds and snakes. Native to Australia and parts of the south Pacific, the tiger spiders may have grown larger after migrating to urban areas with fewer birds, less pesticides and more available food.
Attack of the 50 ft. woman
If you've seen a Golden Silk Orb Weaver, it was likely a female, Marshall said. Females are considerably larger than males; they can grow ten times longer and fifty times heavier than males.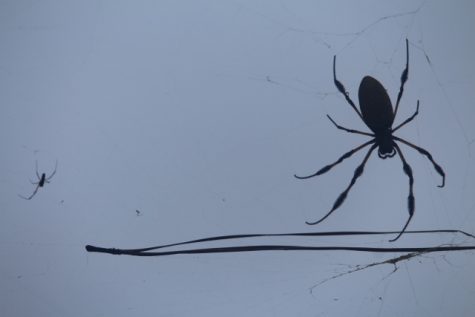 "That would be like a fifty foot woman," Marshall said. "Which explains some of the behavior of males."
Male spiders, as Marshall pointed out, spend much of their time hiding at the edge of a female web.
"They males are pretty useless," Marshall said.
Males scavenge leftovers from females and wait for an opportunity to mate. There's good reason for their standoffish behavior.
"That whole grasshopper thing, it's an old wives' tale, but in this case it's true, the female will turn on the male, kill him and eat him," Marshall said. "Males can only try to sneak up on a female."
Even when females don't eat them, males still don't fare very well.
"The most fascinating part to me is, how can I say this, the male's reproductive organ is left behind after mating," Marshall said.
Where do they go?
When winter comes you won't see the Golden Silk Orb Weaver around. That's because, even with the milder winters North Carolina has experienced recently, the spiders still die when the temperatures drop. They do however leave behind nests, cocoon-like protective homes for future spiderlings that hatch in the spring.
For some, that's the stuff of nightmares. For others, like Marshall, it's a fascinating part of the circle of life.
---
Send comments and tips to Benjamin Schachtman at ben@localvoicemedia.com, @pcdben on Twitter, and (910) 538-2001.