WILMINGTON — A national advocacy group has labeled the Cape Fear River at number seven in the top 10 of the most endangered rivers in the United States for 2017. In addition to the Cape Fear, North Carolina's Neuse River was included as well.
The report, released each year since 1984 by American Rivers, is used to "encourage decision-makers to do the right thing for the rivers and communities they support," the report states. "It presents alternatives to proposals that would damage rivers, identifies those who make the crucial decisions, and points out opportunities for the public to take action on behalf of each listed river."
So what's the problem?
According to the list, the Cape Fear River and Neuse rivers are threatened by "industrial agriculture waste in the floodplains, putting clean water and public health" at risk.
North Carolina is the second largest pork producer in the country, and third largest producer of poultry products. Many of these so-called Controlled Animal Feeding Operation (CAFO) facilities lie in the Coastal Plain region, right in the floodplains of these rivers. Animal waste from these facilities is often stored in waste ponds, so when storms bring large amounts of rainfall, like 2016's Hurricane Matthew, the rivers overflow their banks, washing tons of animal waste downstream.
According to Kemp Burdette, river-keeper for the Cape Fear River Watch, these floods can lead to drinking water issues, as well as environmental ones.
In the past 20 years, North Carolina has experienced two 500-year floods. Heavy rains brought on by Hurricanes Matthew in 2016 and Floyd in 1999 allowed the rivers to flood well above the high-water line.
"As the world continues to experience climate change and rising sea levels, we're going to see more and more and more flooding brought on by these stronger storms," Burdette said.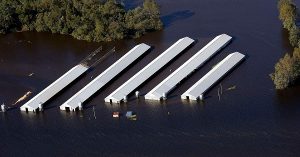 Roughly two out of every five North Carolinian's get their drinking water from these river basins. As this polluted water makes its way downstream, communities are forced to issue drinking water bans or face serious health issues.
"Wilmington gets most of its water from the Cape Fear, the main stem for that water is located behind Lock and Dam Number 1, near East Acadia," Burdette said. "The idea behind this was that, no matter how high the saltwater rises, that water source is safe."
But that's not entirely the case when it comes to pollution. According to Burdette, two of the Cape Fears tributaries, the Northeast Cape Fear and the Black River, have the highest concentration of CAFO farms in the world. These farms are sprayed with nutrients that are easily washed away in heavy rains. When these wash downstream, they can settle in lock ponds, which in turn allows harmful algae to bloom.
Burdette noted the most harmful type to humans, blue-green algae, thrives in conditions made optimal during a North Carolina summer. A combination of heavy rains, warm, slow moving water, and high levels of nitrogen and phosphate brought on by runoff, combine to allow these organisms to bloom.
According to Burdette, when the algae blooms, it deprives the sunlight necessary for life to thrive. Plants cannot photosynthesize, and animalsthat rely on those plants cannot feed. When the algae die, the decaying process uses large amounts of the oxygen in the water, depriving fish of oxygen and causing massive die offs in the process. This goes on down the food chain, until the water reaches our estuaries and ocean, affecting shellfish and shrimp as well.
Is it CAFO's, or something else?
But according to Andy Curliss, CEO of the N.C. Pork Council, the livestock industry is not to blame for these issues.
"The livestock industry does not imperil the Cape Fear River, that's what DEQ says, that's just fact," Curliss said.
"The real problem with the rivers, as it relates to these events, is municipal wastewater plants," he said. "They're at the lowest points, they're set up to discharge into the waters …livestock operations are not allowed to discharge."
"The power goes out, and they just open the valves. This happens time and time again," he added.
According to Curliss, during Hurricane Matthew, more waste went into the rivers from wastewater plants than the entire livestock industry of North Carolina combined has ever produced.
"If you really do care about the waterways, you really should spend time looking at the municipal waste plants, and what happens with them," he said.
Curliss and Burdette both acknowledged the N.C. Pork Council has backed conservation efforts since Hurricane Floyd in 1999. The CAFO buyout program offers opportunities for existing farms to be purchased and moved out of the floodplains away from the state's rivers.
"Yesterday, the full board of the Pork Council, the board of directors, unanimously adopted a resolution to support re-establishing a voluntary flood plain conservation program," Curliss said. (You can view the full resolution online)
"Both sides asking for the same thing is pretty powerful," Burdette said. "It doesn't seem like a huge step, but if we can acquire funding for these buyouts, everybody wins."
The report, released in April, calls for a removal of existing industrial CAFO facilities from the floodplain, and for the General Assembly to include funding in the Hurricane Matthew relief fund. In addition, they demand that the North Carolina Department of Agriculture fully support this measure.
American Rivers is a national advocacy group based out of Washington D.C. Their stated goal is to protect wild rivers, restore damaged rivers, and conserve clean water for people and nature. Port City Daily reached out to American Rivers for comment, but the call was not immediately returned.
For information, visit its website at americanrivers.org, or call (202) 347-7550. You can find the full "Endangered Rivers list online.
The N.C. Pork Council was chartered in 1962 as a North Carolina non-profit corporation. It is the oldest state pork producer organization in the nation that has operated under a mandatory checkoff funding system since its inception. More information can be found on its website, ncpork.org.
Cape Fear River Watch (CFRW) is a 501(c)3 nonprofit organization founded in 1993 by a group of local citizens concerned about the future of our River and our Region. Its stated goal is to protect and improve the water quality of the Lower Cape Fear River Basin through education, advocacy, and action. For information, visit capefearriverwatch.com.