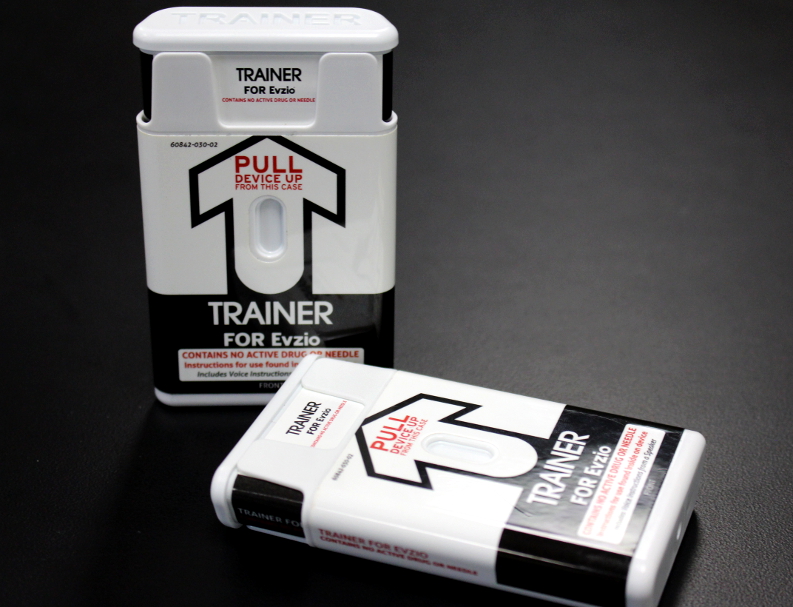 In the local effort to combat the growing heroin epidemic, the Wilmington Police Department is now the third agency in the Cape Fear area to get the life-saving drug Naloxone to use in opioid overdose response. With the help of the local EMS system and other partners, a newly established protocol in New Hanover County has already provided the training officers need to administer the drug.
Last week, Wilmington City Council unanimously approved the donation of 250 units of Naloxone to supply the city's police department. The drug is provided by Kaleo, a pharmaceutical company that makes an auto-injector form of the life-saving drug. While the donation comes at no cost to the city, it is valued at about $143,750.
The FDA-approved overdose-reversing drug Naloxone (or Narcan) is being introduced into local law enforcement agencies throughout the area. Naloxone is already being used at the New Hanover County Sheriff's Office. And the Brunswick County Sheriff's Office has supplied patrol units with the drug since December. Law enforcement officials have said the drug will help save lives.
"As we know, we have a heroin problem throughout the entire country," Wilmington Police Chief Ralph Evangelous said at last Tuesday's council meeting. "There's an epidemic of heroin use and abuse and…we're part of that, also. And since our officers are the first to respond to these incidents many times, this will be an opportunity for us to be able to try to save a life."
In numbers released by the Wilmington Police Department, the officers responded to 36 overdose situations in 2015. In May 2015 alone, the police department responded to 10 overdoses, which was equal to the total of all overdose calls in 2014. In 2013, officers responded to 19 overdose situations; in 2012, they responded to eight.
Local law enforcement agencies have been preparing to equip their officers with the drug for nearly two years.  They've entered into an agreement with New Hanover Regional EMS that allows police to operate under the authority of emergency personnel to administer Naloxone in an overdose situation, according to Wilmington Police Department Deputy Chief Mitch Cunningham.
"Because our officers sometimes respond to the scene prior to the arrival of EMS, we want to give them every opportunity to have the tools to engage in life-saving practices," Cunningham said. "And one of the things that we ensured is that the 911 center will simultaneously dispatch police and EMS when these types of events take place. So we know we will be notified as quickly as possible and be able to get our officers out on the scene to render life-saving measures should they be appropriate."
New Hanover Regional EMS Battalion Chief Tim Corbett said the new protocol is all part of a county-wide initiative to bring in law enforcement into the EMS system for overdose response. Including law enforcement in that protocol took several measures, both through the state and locally, but the main goal was for a more collaborative effort between all local agencies. Agencies included in the EMS umbrella for overdoses are the New Hanover County Sheriff's Office, the Wilmington Police Department and eventually, the UNCW police department.
"The way we set it up is much different than…other law enforcement agencies who have been issued Narcan," Corbett said. "At least in New Hanover County we made sure they were part of the EMS system, there's oversight of the protocol, we're all working on the same page, and we ensure that they had specific training."
Annual training through the EMS system was a big part in including law enforcement within the newly formed protocol, Corbett said. The training includes teaching law enforcement about why the drug is administered, how it works, how to administer it and what to expect from the patient after they are revived from an overdose, he added.
"I think it's important to note that not only here in Wilmington but across North Carolina there's a huge partnership between EMS and law enforcement to try to tackle this issue," Corbett said. "This drug is intended to reverse opiate overdoses and that could be a heroin overdose, but it could also be someone in a pain management program taking other [opiate] medications."
Now, even if law enforcement is the first to arrive on scene of an opiate overdose with only a single dose of Narcan, Corbett said it's a way to start the life-saving process and officers have a way to alert EMS units responding to the same call.
"And that's the importance of the system — knowing someone is there and has identified it as being a potential overdose — it helps EMS know to prepare for an overdose, something that is huge for the overall effort to save lives," Corbett said.
In numbers released by New Hanover Regional EMS for Naloxone administration year to date as of Dec. 22, 2015, EMS responded to approximately 500 calls for service in which Naloxone was administered, with 388 (or 77 percent) of those administrations possible overdoses.
Cunningham said the police department could get auto-injector Naloxone doses within about two weeks of council's approval. The donations will "more than cover" the patrol units and some specialized units out on the streets that would have the potential to respond to an overdose-related situation, he added.
With the ever-growing population of heroin and opiate users, Cunningham's said he hopes that Kaleo's donations will prove as a model for other pharmaceutical companies in the future.
"We have repurposed our police officers to begin sharing the role with EMS," Cunningham said. "Given that in some cases the over-prescriptions of opioids are in part of this demand, then I would like to see more pharmaceutical companies like Kaleo, step up like Kaleo has done to help us fight this."