BURGAW — Two weeks ago, people on the western side of Pender County had few options — if any — for a locally-owned pizza joint.
That has changed with the opening of Fat Daddy's Pizza in downtown Burgaw, part of entrepreneur Richard Johnson's Burgaw Now revitalization project. Owner Jay Kranchalk and his young crew (including two of his kids) have been trying to keep up with customers "flocking in" since he opened on August 1.
"The first day was absolutely crazy. … Some local people told us it was going to be nuts, but I don't think any of us were prepared for what it really was," Kranchalk recalled. "It seemed like the whole town of Burgaw came out — and then you throw in Wallace and Rocky Point and everyone in the area. It was nonstop from 11 o'clock in the morning until 6 o'clock in the evening, when we completely ran out of dough."
READ MORE: Fat Daddy's Pizza coming to Burgaw as part of downtown investment project
A few days later, as Hurricane Isaias was approaching southern Brunswick County, Kranchalk said he felt unprepared for the amount of business heading his way; the storm had caused delays in deliveries, adding to the "growing pains" of running a new restaurant with some employees still in high school. So he called two friends who he had sought advice since the beginning — Keith and Drake Norris, owners of Vito's Pizza in Wrightsville Beach.
Drake came to Fat Daddy's the next day, looking over the kitchen layout, giving suggestions, and working with Kranchalk's staff to improve productivity. Drake even returned with a few of his top employees after he had to rush back to Vito's to deal with a power outage from the storm, according to Kranchalk, then lent him extra cheese to make sure they could get through the next shift.
For those who have eaten at Vito's, they may notice a resemblance when they take their first bite of a Fat Daddy's pizza slice — a crisp crust, but soft enough beneath the cheese and toppings to fold in half; a traditional New York-style pizza. Kranchalk said the sauce is his own, but he can't yet claim his dough has been mastered like Vito's.
"For Drake, pizza dough is like a religion," Kranchalk said.
But he has one item on the menu that Drake wants, and one that suits the town of Burgaw well: twisted pizza dough filled with blueberries and coated with icing, then put in the oven. In an area that celebrates its blueberry traditions, Kranchalk said the Blueberry Knots have quickly become his signature product.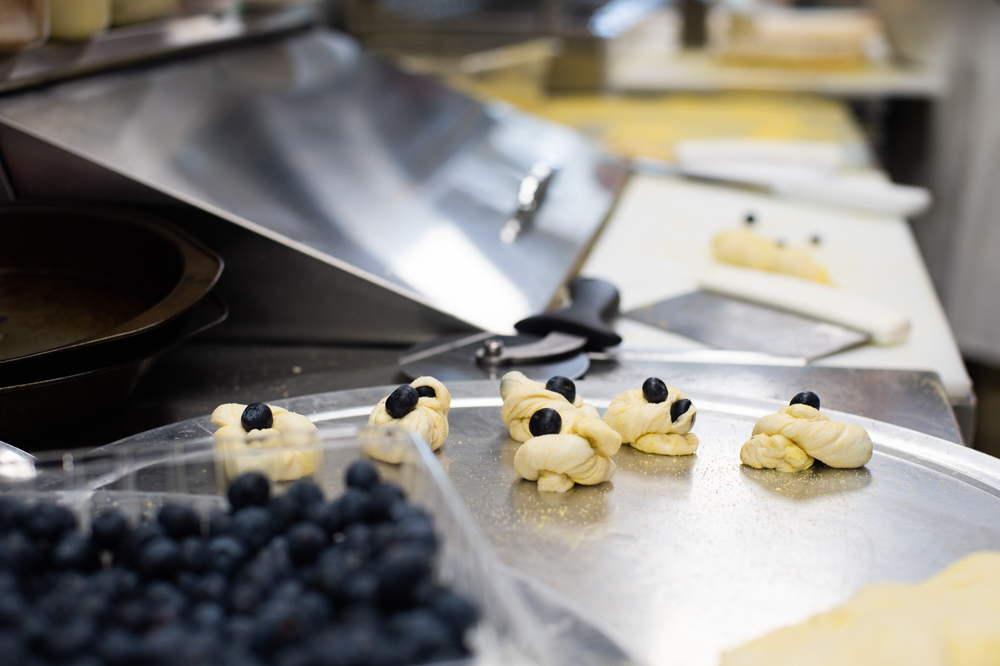 Filling a niche during a pandemic
Paul Parker, who lives files miles west of Burgaw on Malpass Corner Road, was walking out of the shop Thursday afternoon after he ate a few slices of pepperoni and sausage pizza.
"It was outstanding — best pizza I ever had," he said. "Where else on this side of the county can you get homemade pizza?"
For Kranchalk, meeting that demand was a huge reason he transitioned from 22 years teaching at Cape Fear Academy in Wilmington to opening a pizza joint. And he believed in Johnson's vision of revitalizing the old town square.
"It's a great little town that I think people are now rediscovering," Kranchalk said. "The people here were really excited to embrace something that was all their own. We're not a chain restaurant: We're a mom-and-pop shop that they could claim as their own."
While opening a small business in the middle of a pandemic comes with its own set of challenges, he said his takeout model is tailor-made for the times; plus, the pizza industry has prospered as consumers have gravitated toward takeout and delivery options due to governors' stay-at-home orders. (Kranchalk aims to make deliveries in the future.) He also had the advantage of implementing certain health safety measures — like the glass barrier between customers and employees — before he even opened.
And for many customers used to spending at least $10 for lunch, they'll find a welcome surprise at the cash register.
"For $5 you can come over and get two big slices and a soda for lunch," Kranchalk said, adding that he has noticed many lunch clients are attorneys and court employees. "For me it was a no-brainer, especially with the courthouse across street. … But I think we're only scratching the surface until that place gets open again."
As for the coming months, Kranchalk hopes to serve beer by the end of the week (Budweiser, Bud Light, and Michelob Ultra), with higher-end beers possible in the future.
Before he walked back to the kitchen, Kranchalk discussed what his own growing pains after retiring from the school last spring to opening a restaurant roughly 10 months later.
"It's complete insanity," he said. "It was such a long and hard process just to get here, just to get this place built and open. It was supposed to be a 6-month project that turned into 14 months, just because of everything going on in world — the construction delays and other things that come with [the pandemic]. Then all of the sudden it's on top of you. There have been lots of sleepless nights getting ready for it."
Fat Daddy's Pizza is located at 103 W. Fremont Street in downtown Burgaw, next to Brown Dog Coffee Company. View the menu here.
View more pictures below: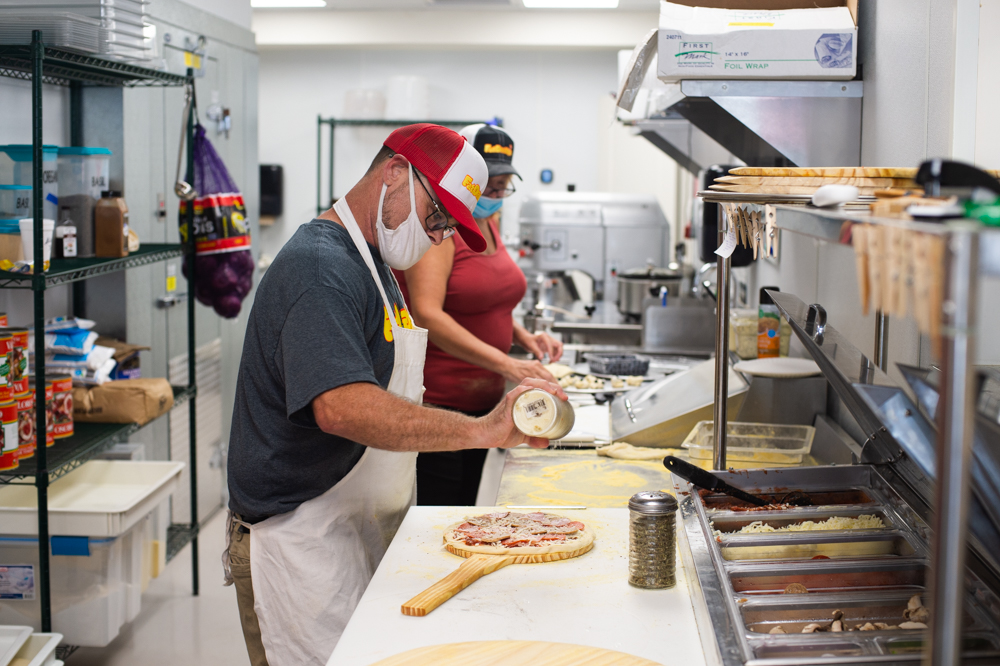 ---
Send tips and comments to the reporter at mark@localdailymedia.com