BURGAW — With the support of an entrepreneur who made a fortune selling HotJobs.com to Yahoo in 2002, Wilmington kombucha-makers Artie and Robin Hill will open a brewpub in Burgaw as part of a push to revitalize the coastal rural town's historic downtown square.
Artie Hill said he expects a mid-Spring 2020 opening for Burgaw Brewing Company, which will take over the old Tim's Heating and Air building at 103 S. Wright St. across from the town's courthouse square.
Pender County's second brewery is a product of Richard Johnson's Burgaw Now movement, focused on partnering with entrepreneurs to create a more thriving, inviting business district in Burgaw. Hill said he first met Johnson three years ago when he began visiting the Hills' kombucha taproom at Panacea Brewing Company in Wilmington.
RELATED: Wilmington's Panacea Brewing Co. now selling 'elevated kombucha,' will soon brew kombucha beer 
Only later did Hill discover Johnson's high-stakes business background, and when Johnson invited Hill to be a part of his Burgaw Now project, Hill was convinced by the former internet CEO's confidence in Burgaw's potential as a charming rural getaway for people in Wilmington and the Cape Fear region.
"That's the hope – that it really brings some industry back to downtown Burgaw," Hill said.
He said the scarce restaurant scene in downtown Burgaw is a product of being overlooked in favor of Wilmington and even Wallace, 15 miles north of Burgaw on the border of Duplin county. But Burgaw's close proximity to Wilmington and it's resemblance to the town Hill grew up in upstate New York were enough to seal the deal with Johnson.
"It looks old-school, you know, like Mayberry," Hill said, referring to the fictional North Carolina town in the Andy Griffith Show. "The buildings are awesome, with all the exposed brick, and the prices are right down there."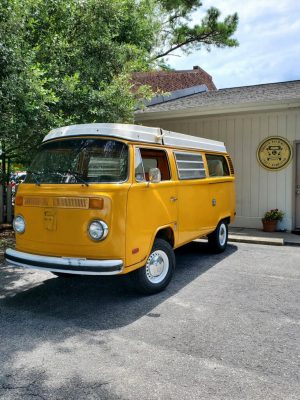 Although the menu and architectural design are still in the works, Hill said the Burgaw Brewing Company will include a 7-to-10-barrel brewing system next to a restaurant serving "traditional American fare." Everything on the menu will be made from scratch, according to Hill, with an emphasis on sandwiches during the day and entrees like steak at night.
"I'm trying to fit the largest system I can in the place," Hill said. "We're only 4,000 square feet. So you stick a restaurant and a brewing system in that space and it starts to fill up real quick."
The beers will reflect Hill's long career as a homebrewer, beginning with his days as a "bottle dog" at a brewery in New Hampshire while attending culinary school.
"I've got some stuff up my sleeve that I've been brewing for a while as a home brewer," Hill said; beers like a traditional cream ale, a brown ale, and an amber he calls Red Cap that he used to brew with his dad in upstate New York. 
Hill also aims to distribute to Wilmington and eventually to Raleigh, piggybacking off the same routes he now takes while delivering kegs of Panacea's kombucha tea. The method of transportation: a yellow 1977 VW Westfalia Camper decked out with taps on the side of the bus, perfect for setting up at events like the summer concerts held at Wilmington's Greenfield Lake Amphitheater.
Aside from the Hills' fondness for Burgaw, there's also the practicality provided by living in Castle Hayne, half-way between both businesses.
"From our front door to the brewery in Burgaw and to the brewery in Wilmington, it's the exact same distance. " Hill said.
---
Send comments and tips to Mark@Localvoicemedia.com