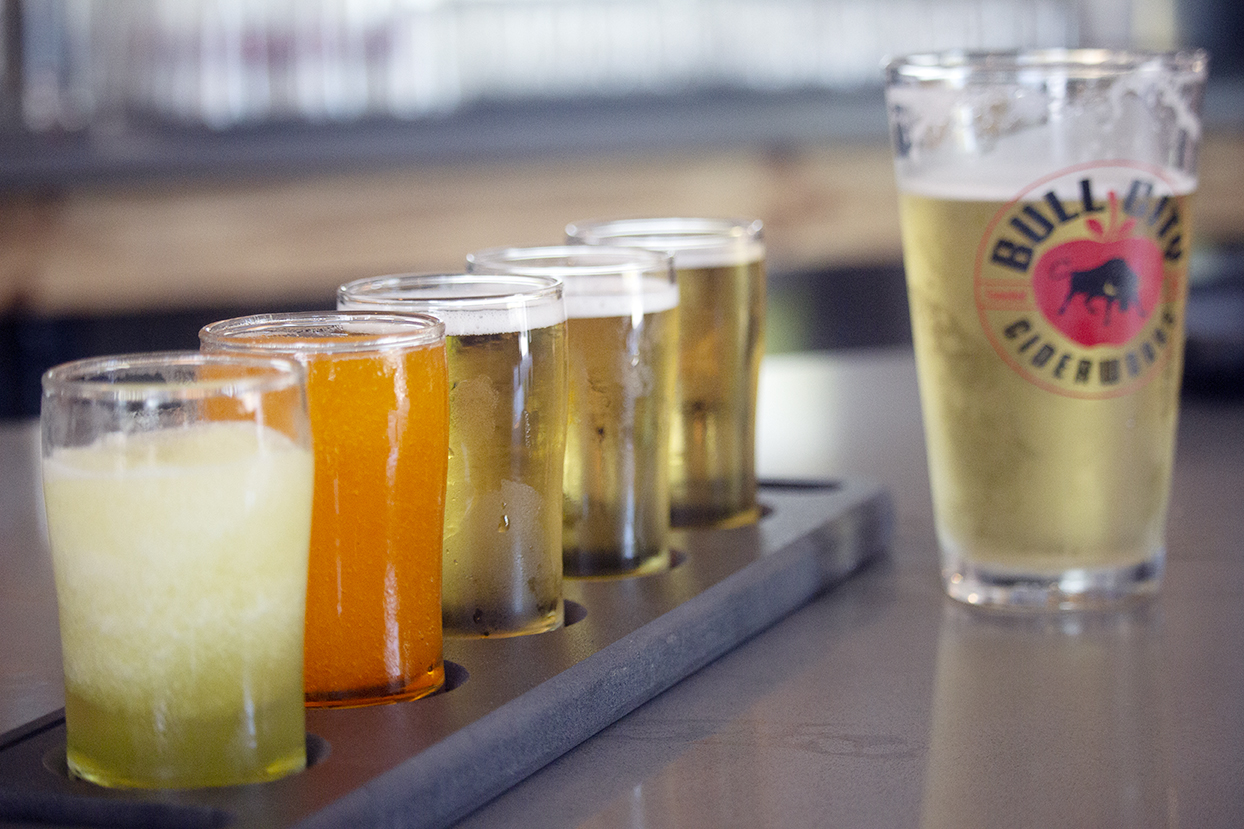 WILMINGTON — It was kismet for Tindall Joyce to become the manager of Wilmington's newest brewery, Bull City Ciderworks — which makes its debut in The Cargo District Friday.
And it all started with a copperhead.
READ MORE: Bull City Ciderworks eyes summertime opening in The Cargo District
Joyce said she and her husband, Jarrett, were living in Winston-Salem when they were bitten by the poisonous snake one month out from getting married .
"We lived in an old house that was attached to a barn," Joyce recalled, "and I was in flip-flops. I went into one of the stalls late at night to get something to pack for vacation the next day."
She said she felt a prick on her foot and thought she had been stung by a bee. Apparently, only one of the snake's fangs punctured skin, while the other went into the tong of her sandal. She asked Jarrett to go out to the barn to remove the hive.
"He also went out in flip flops looking up for a bee's nest," she said. "And he then got bitten."
Once they realized it was a copperhead, they sought medical treatment. Turns out, Joyce had more venom in her snakebite than her husband.
"So we decided to serve snakebites at our wedding as the signature cocktail," she said.
A traditional beverage from the UK, it's made by combining a lager and cider beer. For her drink, they chose to use Bull City Ciderworks' El Matador — which includes habanero peppers and strawberry for more of a "sting" so to speak — and the traditional, honey blend of Sweet Carolina for his cocktail.
Joyce was recounting the story months ago in Wilmington to a gentleman who walked into the brewery she was working at on 4th Street. When he asked what her favorite cider was, she told him Bull City, specifically the El Matador.
"He said, 'Hey, I'm the CEO of Bull City,'" Joyce said. "I couldn't believe it. But that's how this all fell into place."
Joyce came onboard a few months ago as CEO John Clowney, as well as Cargo District developer Leslie Smith and Rob Romero of Romero Architecture, were working to renovate the former Superior Millworks building at 615 S. 17th St. Bull City is the first standalone cidery to open in Wilmington (other craft breweries have churned out their own brands of cider).
"Coastal NC is one of the only places in the state that doesn't have a cidery," Clowney told Port City Daily in March.
It's also the fifth taproom Ciderworks operates; others launched in Cary, Durham, Greensboro and Lexington.
Joyce said it's the largest taproom in the portfolio, with over 7,000 square feet for people to lounge indoors and outdoors.
Currently 12 ciders are on tap, including Bull City's core flavors Upcide Down (pineapple upside down cake), Bludacris (blueberry) and Cherry Tart. Seasonal flavors include Smooth Hoperator (a hopped cider), Resting Peach Face, and Daily Rind (watermelon).
"We will have all 32 soon," Joyce said. "And this will be the second one to have cider cocktails. Cary rolled them out first."
The menu consists of the Moscow Bull, Cherry Tart Float, Pomme Solo Spritz and Cidermosa, among others.
Essentially, the bar will have full ABC permits to carry spirits that make the base of the cocktails. The mule, for example, is vodka, St. Germain, mint and lime juice.
"But we top it with our cider beers instead of traditional ginger beer," Joyce said.
The most popular so far, according to sales from Cary, has been the Oyah Margarita, made with the El Matador. Friday's soft opening won't have them available just yet; staff is being trained now to roll them out in the coming month.
However, folks can enjoy flights of beer, including two slushies — orange and green apple — and if they want to "suicide" the cider (mix and match flavors), Ciderworks welcomes it.
"For instance, some people may think the Bludacris is a little on the tart side," Joyce explained. "But top it off with a little Upcide and it evens out."
Franchy's food truck will be parked on site from 5 p.m. to 8 p.m. as part of the soft opening.
Garage doors open into the cidery's taproom, outfitted with couches and chairs for lounge seating, and multiple tables overlooking two murals, created by Wilmington artist Lauren Yates.
Joyce said every Ciderworks taproom includes a mural, designed with elements specific to the area it's located in. Yates painted the iconic Cape Fear Memorial Bridge, along with beach waves and azaleas, bordered by apples and, of course, a bull.
Over the next few weeks, operating hours include the taproom being closed Mondays and Tuesdays, though eventually it will open seven days a week at noon. It's open until 10 p.m. on Wednesdays and Thursdays, 11 p.m. on Fridays and Saturdays, and 9 p.m. on Sundays.
Live music, trivia and other events will be added to the calendar soon as well. Prices range from $6 to $20, for 10-ounce drafts to 64-ounce crowlers. It will offer local and regional craft bee and wine and non-alcoholic drinks.

---
Tips or comments? Email info@localdailymedia.com.
Want to read more from PCD? Subscribe now and then sign up for our morning newsletter, Wilmington Wire, and get the headlines delivered to your inbox every morning.