BOLIVIA — Five straight days of basketball wrapped up on Friday night at Brunswick Community College as the New Hanover boys and Hoggard girls garner momentum heading into the 4A state playoffs.
Hoggard 53 New Hanover 47
https://twitter.com/JTHWBB/status/832782290149203968
After dropping a pair of games to their crosstown rivals during the regular season, the Hoggard girls made it three tournament titles in a row following a 53-47 victory against New Hanover. The Vikings grabbed wins over South Brunswick (67-26) and Topsail (53-47) earlier in the week as the two-seed in the bracket to earn a chance to play in the finals.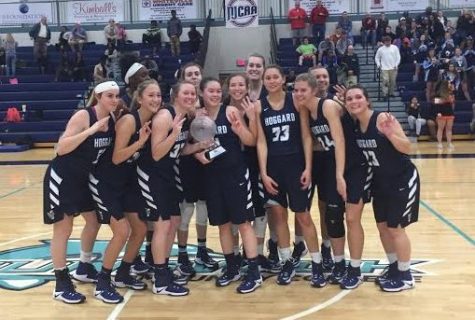 With the scored tied moving into the second quarter, Hoggard outscored the Wildcats 17-6 during the next eight minutes to grab a 27-16 advantage at the break. Alani Fisher hit a pair of treys in the first half to guide the Vikings.
New Hanover responded in a big way and used a 7-0 run to start the third period to get right back in the game. An Elizabeth Criner layup in the final seconds of the frame gave the Wildcats a 33-32 edge moving into the final eight minutes of regulation, but junior Lola Lovitt stepped up for Hoggard when it mattered most to guide the Vikings.
Lovitt finished with 12 points and five rebounds, while Blair Barefoot added 11 points and four assists.
Hoggard moved to 23-4 overall and now await their seed for the upcoming 4A playoffs. New Hanover saw their 16-game win streak snapped, falling for the first time since Dec. 22. The Wildcats will still have a favorable draw during the state tournament at 23-3 on the year.
New Hanover 64 Ashley 46
With a chip on their shoulder after taking a forfeit to close the regular season, the New Hanover boys regained top seed from the division heading into the 4A playoffs after the Wildcats extinguished Ashley 64-46 in the Mideastern Conference Tournament Finals.
Locker room celebration! #MECChamps pic.twitter.com/KlIxbZPklh

— NHHS Basketball (@NewHanoverBB) February 18, 2017
Junior point guard Freddie Taylor pushed the Wildcats to a quick start as New Hanover grabbed a 21-9 advantage after eight minutes. Ashley cut the deficit to nine at the halftime before Blake Smith heated up from beyond the arc after the break. A pair of three-pointers from Blake late in the third quarter helped the Wildcats regain a double digit lead.